The Perch Inn
Popular thatch-roofed 17th-century riverside pub and restaurant accessible from Port Meadow as well as by road from west Oxford; very ...
Popular thatch-roofed 17th-century riverside pub and restaurant accessible from Port Meadow as well as by road from west Oxford; very popular in summer. Serving British pub food. While you're in Binsey, why not visit the original treacle well in Binsey churchyard? Outside bar in summer.
48 reviews
Reviews
---
Miraculously this was my first time coming to The Perch, drawn out to Binsey by the Irregular Folk Summer Sessions Weekender; it won't be my last visit. We spent most of the time inside due to the afternoon's driving rain, but my word would those gardens be stunning in the sunshine. Inside it's quite like Wolvercote's Jacob's Inn for its relaxed affluence and gentrified country feel. There are expensive stoves in each end of the main building, to keep it cozy but unsooty, and appealing jenga-like logs stacked up to the ceiling that are too beautifully cut to have ever been intended for burning.
We were seated in a cushioned corner of a reasonably empty restaurant, though we were told we were lucky to get a table as they were pretty booked out for the rest of the Saturday afternoon/evening. Despite being near a speaker, the music wasn't too loud and was actually a surprising and pleasing mix of Laura Marling, Birdy and nostalgic end-of-night country anthems.
We were attended to almost too immediately after being handed menus, and informed of the day's specials, a goats cheese mousse to start, and an enormous steak (£25) or a whole lobster (£30) for the mains. The normal lunch/dinner menu had already caught our attention, however, and after a bit of dillydallying, the three of us decided to go for two starters to share. The Dorset crab on toast was uncomplicated and moreish on substantial brown soda bread, with some mixed leaves on the side. It wasn't tiny, and it was tasty, but was still probably overpriced at £8.95. The other starter, Manor Farm asparagus with poached duck egg, parsley crumb and Winchester cheese (£7.25) met expectations, with the hard cheese filings particularly interesting.
All the mains we went for were £12.95, the West Country goats cheese, roasted beet, orange and pickled carrot salad being the main of choice for one of our party; with a side of chips, because sometimes you just need chips. She described the salad as light and refreshing; a well-balanced combination of creamy, tangy and sweet, and a perfect summer dish. It certainly looked vibrant and almost fomo-worthy.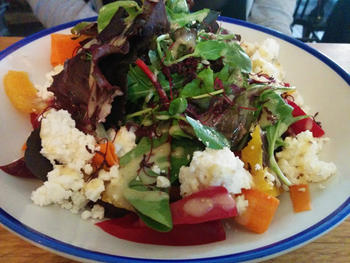 The other two of us each went for the ale-battered fish served with triple cooked chips, peas, thick homemade tartar sauce and a chunk of lemon. It was a great choice. The batter was not too greasy, hard or strong of flavour, and the fish beneath it was soft and delicious, though we never did discover what fish it was. The triple cooked chips were fluffy, crunchy and piping hot, the requested mayonnaise homemade, and the ketchup the ideal glass-bottled Heinz. The peas were thankfully unminted or mushied, and served in a little ceramic dish on the plate to protect them from depressingly rolling into the condiments. It was a testament to how good a fish and chips it was that when the time came for triaging the rest of the plate for impending fullness, one of us prioritised the fish and the other the chips. The only sadness of the dish was provided by the dish itself. Rather than a regular plate it was a very pretty bowl-plate with a precarious tipping point not far from the centre.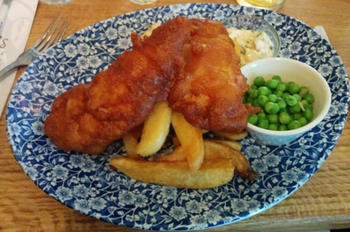 The puddings sounded tempting, English and often jam-based, but sadly we didn't think we'd manage them. After rejecting dessert it did take rather a long time to get the bill, and longer still to correct it with a discount entitled to us by our Irregular Folk Summer Sessions wristbands, but the service on the whole was decent.
Overall it's good quality food in a pretty setting. You're kind of charged for the view too, but when it's that good, it's just about worth it.
---
---
It's good to see the Perch thriving again, three years after being gutted by fire for the second time in its recent history. The current owners have transformed it from a mediocre and decaying pub into an attractive and well-rounded French restaurant in a lovely setting. It still performs its familiar role as provider of a refreshing pint in the garden at the end of a Port Meadow walk, but now also comprises a genuinely good option for dinner out, with a menu comparable in style to Pierre Victoire or Brasserie Blanc.

On a warm Saturday afternoon their pleasant outdoor eating area was packed and lots of people were being turned away, although they managed to squeeze us in indoors. Bread came swiftly and was free; slightly toasted and high in quality, if limited in quantity. Tap water was also swiftly provided, without fuss.

The focus is not really on the beer, and the choice of ale was rather limited; on a hot day, most people seemed to be clutching a pint of San Miguel Premium. The wine list looked enticing, though really quite expensive; we didn't delve into it. The outdoor bar is a great improvement on the old layout and even with a full garden there were no queues.

We had a rather unconventional meal, trying four of the starters and just a single main – this seemed a good choice, as each starter was interesting and delightful. A fabulously rich and creamy cauliflower crème brulee was not overpowered by its crispy parmesan topping, with the taste of the vegetable coming through clearly without any hint of brassica pong. A very meaty ham terrine was matched well by an artistically-drizzled green apple compote and port reduction. My partner particularly liked the terrine's garnish of baby pea shoots: the combination of pea leaf, pork and apple worked really well.

The highlight of the starters for me was the chicken liver parfait, which arrived in a cute individual mason jar and was unbelievably smooth and richly flavoured. We were also blown away by the 'nibble' of marinated goat's cheese with peppers and capers, which didn't sound or look like much but tasted unbelievable.

After this cornucopia of miniature delights, the 'Moorish' main of Moroccan-style mixed grilled meat and aubergines was rather a disappointment. The aubergines and lamb kofte kebab lacked flavour, and while the merguez were tasty they weren't particularly uninspired – overall, not as good value for money than the very individual and quite sizeable starters.

Service was great; they were very flexible despite having to deal with a lot of tables, and we didn't have to wait long for anything. A new summer menu has just been rolled out, replacing the spring menu we chose from – but they still have the chicken parfait and marinated goat's cheese. It's worth a wander across the meadow one evening this summer for those alone.
---
There are loads of good things about the Perch. It's a beautiful setting: a lovely building in fantastic gardens, and, reached in the chill dusk after a walk along the canal and across Port Meadow, it looms like a storybook hostelry lit up in the half-light, promising warmth, sustenance, and good cheer. Inside, the reality is much more modern, but the old world quality is maintained with exposed beams, a huge fireplace, and slightly cottage-y décor, including wall-mounted plates with mirrors set in their centres, charmingly mismatched milk jugs and a proper bone-handled butter knife. Service is definitely up-to-the-minute, though; staff are shyly welcoming, showing very distinct personalities, and very efficient.


Our starters were both good, although proscuitto with celeriac remoulade edged ahead of the goat's cheese salad with walnut and wafer-thin radish. The Perch strikes a good balance in terms of portion size; starters and desserts are small and delicious, and main courses reasonably substantial; some verging on the hearty in my view - which means you get to try different dishes without exploding, but that hopefully people with big appetites won't be left feeling underfed as can sometimes happen in comparable establishments. The bread they give you while you wait to order is super; soft and quite salty and ever so slightly warm and doughy. They only give you a little, which is good because otherwise I would have eaten loads of it. Mains: It's difficult to praise a steak – what do you say? This was a good steak, good quality, well cooked; though I could wish that a French restaurant would plump for a more flavourful French cut, instead of a safe but dull sirloin. The Duck Confit with a white bean cassoulet and spinach was a bit too much for me, although on reflection, as I ate pretty much all of it, maybe it wasn't. Very rich, on the salty side for confit, and quite simple, this dish was tasty but overpowering. It needed the addition of the spinach to tone it down, and for my tastes, would have benefited from a contrasting flavour to break it up. But maybe I'm weak. There's also a totally tempting wine list – much of it out of my price range. I wish they offered more by the glass, but I can understand why they don't, and what they did offer was very good.


Pudding was smashing. My companion, not always one for the gastronomic experience, was a little taken aback when presented with the tiniest cheesecake you've ever seen, but he very soon conceded that the portion size was devilishly well thought out, delivering a potent sugar and fat hit without over-facing the diner. I was still struggling happily with a lemon tart (sharp, nice bitter sauce) of more conventional dimensions a good ten minutes later.


I liked the Perch a lot, and will certainly return. It's definitely more restaurant than pub, so I imagine it's better to plan to have lunch rather than just a drink in the garden, but the food and the location are both worth the walk out of town. £85 for two people, three courses with wine and coffee.
Beautiful location and environment. The garden is wonderful with overflowing willows and a cornucopia of flowers. Yet sadly the food is totally overpriced and the quality poor for what you are paying. The whole french thing and raising the standards for a michelin star is all well and good but sadly the food is early nineties in its aesthetic and the menu selection below par.
We were very disappointed with the attention from the staff and hot on the trigger managers who made us feel very uncomfortable. I feel the Perch needs to discover its roots and listen to the public views, listen to the clientele. Everyone is crying out for humble food at a good fair price. And I am not talking pies and your average fair. After all The Perch is a pub, after all.
I wait to see what the Perch has in-store, it could be a wonderful place with the incredible positioning lying plush upon Port Meadow overlooking the river. I feel that the Perch has fallen behind and needs to catch up - look at the Turl Kitchen, The Vaults, Blanc. All are offering great food in their own right, fresh produce from local sources yet the price is fair. And the staff to match - at least we don't feel threatened there. There seems to be a swagger and arrogance with the Perch? Why?
Should Pubs not be steeped in warmth and wholesome food and warm fires?
The Perch is situated by the river a short walk from Oxford City. It has a great garden and used to be a really good place to go and you could get food. I have known the pub for over 40 years. This weekend, the hottest of the year, I found that the drinks were mega expensive, they didn't have Guiness and no food! They have a restaurant but you have to book in advance and although there were more than half a dozen empty tables they said they were full. We bought the expensive drinks and stayed for an hour in the garden and the tables were never filled (inside was empty) very disappointing.
I have eaten here twice and both times lucky enough to eat outside in summer. The food is excellent and the setting pure romance. Some might prefer the Cherwell Boathouse, but the food here is equally fresh, more filling and less fancy and the setting more remote and hospitable. The best restaurant in Oxford by the country mile you can walk over Port Meadow to get here.
Rather annoying; we turned up at noon on a summer's Sunday for a bbq lunch only to be told that we had to wait till at least 1pm as they had a function that took priority. We waited in the end as there are no alternatives nearby on foot (and the a la carte menu looked overpriced) - I would give the £12 burger and chips a 6/10.
The best thing about the Perch is its location. The large garden is also a delight in summer. What lets the Perch down is the whole 'French' thing when all most people want is an unfussy bar meal after a long walk. There are a lot of rules when it comes to eating in the Perch and that can be really annoying when you're hungry after trekking around the beautiful surrounding area.

If the Perch is going to go for the haute cuisine angle and charge those kinds of prices then it really needs to improve. Alternatively it could provide a menu and service that you would more readily associate with an idyllic English country pub. Yes - rustic pies, locally sourced steak, Sunday roasts, mash, Yorkshire puddings, gallons of thick gravy, dark brooding ales, rhubarb crumble, summer puddings, honey meads - viva la revolution!
I went here for a birthday meal with a group of friends. Whilst the setting is idyllic it appears to have forgotten that the customer is important and should be treated with respect. The menu is pretentious and overpriced and the waiters unfriendly and unhelpful with an air of arrogance. We were told "chef" insists on cooking the duck "pink" and there was an overall feeling of "this is how we do things" rather than pleasing the customer.

Having eaten in France many times it is not like that there and I feel they are trying to prove some snobbish foodie point. Having said that the food and ambience were magnificent. No matter how good the food is or the atmosphere- please remember to attract customers you have to look after them not make them feel stupid when they ask you questions about the menu.
We had my father's 70th birthday lunch at the Perch with 14 adults and four toddlers. Everybody had a wonderful time; the food was delicious, the service friendly and patient with the toddlers. The setting is lovely; you can see the old wooden beams in the ceiling but the place still feels light. We were in the cellar which - contrary to what the name suggests - a room with lots of daylight.

We had a main course and a dessert and both were wonderful. The lamb was so well-cooked that it fell off the bone. The fish was very tasty and even the people who usually don't like eating a whole fish (it is served with skin and everything), very much enjoyed the dish. The scallops were cooked to perfection.

The desserts were very tasty too; l'amour du chocolat had several wonderful flavours and was not too heavy (as some chocolate desserts are), the passion fruit mousse was nice and refreshing, and the cheese platter had a good variety of cheeses nicely served with biscuits and grapes.

Unfortunately the playground in the garden has been closed down, but the patience of the staff still makes this a very child friendly place.

If you're looking for bangers and mash and a large variety of ales - like some of the other reviewers -, this is not your place. If you are looking for more refined food with wonderful tastes and textures and enjoy a good glass of wine and appreciate a nice location you should find the Perch just as wonderful as we did. We will certainly come back.
One might associate dining in Oxford with the staid culinary offerings of college dining halls. But away from the gown, and even the town, a hinterland of interesting eateries has emerged.

Insiders have long known The Perch in Binsey to be a little gem. A mere twenty-minute stroll along the meandering Isis river brings one away from the centre to a hidden world of thatched cottages, well-removed from the throng of bright-eyed students and camera-toting tourists.

Under French management now and with a French head chef, this establishment is attempting to compliment its undoubted charm with quite ambitious cooking.

An enticing open fire and luxuriant leather coach greeted our arrival, while that stalwart of any rural pub, the large, dopey dog, lurched beside the bar. Elegant menus were presented and, with a variety of alluring choices, we confronted the dilemma of what to order.

The wine list is short but eclectic and, in a welcome development, beverages are paired with dishes. Obviously restaurants should avoid being prescriptive about this, but I find it encouraging that chef and sommelier have taken the time to work out interesting combinations and are communicating their conclusions to the customer.

As an aperitif, I chose a glass of dulcet Moscato paired with the gravlax starter, making that decision quite straightforward. For my main I persisted with the fishy theme, ordering Cornish scallops which I have trouble resisting. With Coquilles St Jacques in the hands of a Frenchman I expected satisfaction.

The gravlax dish was a splendid arrangement, lustrous pickled cucumber and beetroot providing a lush accompaniment to the coiled salmon that I charmed towards my expectant gullet with the whirling motion of a fork; while the horseradish cream gave the ensemble a hearty balance and the wine was indeed well matched. My dining companion seemed to enjoy her pan-fried foie gras and roasted pigeon breast, but for all its elegance, I was thoroughly absorbed by my own dish.

After a judicious break the mains arrived and while visually my choice did not arrest to the extent of the starter, it proved enjoyable, the braised chicory and Noilly sauce combining with the mussels, chorizo and scallops to good effect.

My companion meanwhile was presented with an elegant medley of pork belly, sausage and sauerkraut: the effect overall was Alsatian, with an architectural arrangement faintly reminiscent of the glorious city of Colmar. Its splendour was, however, soon laid low with gusto – the inevitable fate of comestible ephemera, alas.

Now almost replete, I chose the Café Gourmand de Chef which provided an assortment of profiteroles and mousses of an intoxicating blend that lived up to the billing which our helpful waiter had given. Ideal preparation for the walk back to the centre.

With mains under the £20 mark, and most starters offered for less than half that, The Perch offers fine dining at prices that don't make you flinch. Roll on the summer when its wonderful garden comes into its own.
Found! Perhaps one of the best restaurants in Oxford. Lunched three times, great setting, great food, well presented attentive staff. Now one of our regular haunts- I must do dinner soon !
Went last night to celebrate a beautiful September evening. The pub is beautiful and the staff are lovely. The menu is poncey beyond belief. The closest thing to burger and chips was pork and snails. The portions were small and overpriced. The food was delicious but should have cost £5 less. This is a riverside pub - where is the steak? Where are the chips? This place would do much better being the best kind of English pub serving the best kind of English food. Noisettes of this and coulis of that is rather disappointing when you consider the pub's history and location. My husband and I are the ideal clientele for this pub - we live a 15 minute walk from the place, have no kids and lots of disposable income. However, we expect a little more for £50 for one course and a couple of drinks.
IGoToBritannyWhenIWantToEatFrenchFood
I have just had dinner in the most magical place in Oxford. I can only imagine how much work went into everything, from the warm welcome the moment you walk through the door, to the fantastic food and the service, not to mention the decor and the immaculate garden. I wish I had known of it sooner - I probably would have spent my whole two week holiday there. Thank you for a wonderful experience and keep up the good hard work. It was great to meet people who care about what they do. I will be back.
A fantastic pub in a fantastic location. We couldn't have wished for a better place to have our wedding. Celine and the staff at the Perch were incredible. From organising the event to the actual celebrations on the day.

We wanted fire, jugglers and musicians. They accommodated us with everything including adding some suggestions of their own to make this a perfect day.

They also catered for 90 seated people and the food was out of this world. I would recommend this pub to anyone wanting to have a wedding, a party or any unique celebration.

Thanks again, for making this such a great day.
The Perch is such a great venue it's just a shame that the staff and service let it down so much. The food wasn't of great quality though the presentation was good. Staff were clearly overstretched on an average day and as such service was inattentive with long waits and waiters being stressed.
I visited the perch last Sunday (28th March) with 3 friends and enjoyed a truly magical experience. From the moment we entered the building we were treated to a genuinely warm welcome by the friendly staff. The decor and ambience was great and was commented on by all of our party. The manager was very helpful and talked us through the menus that were available - either a lighter snacks menu, a full restaurant menu or a Sunday roast (beef or chicken). Since it was Sunday, we all plumped for the roast and were taken to our table in the restaurant. We had 2 chicken and 2 beef. Our waiter described them in a very knowledgable and descriptive manner and we were certainly not let down when the meals arrived promptly and were delicious. The waiter recommended our wines, to our specific tastes, from the newly updated wine menu, and again we were delighted with his recommendations. What was going to be a quick lunch turned into a wonderful and relaxing afternoon with great food and wine in beautiful surroundings. We'll be back!
We just had the most fabulous Sunday lunch at the Perch. How nice to see that this staple of Oxford's pub scene has been restored with such care. The garden looks terrific with its display of spring flowers and the inside of the pub is absolutely charming. True, it's more of a restaurant than a pub these days, but it still accommodates for punters and walkers, which we were.

We hadn't booked a table and the place was absolutely full and buzzing. We enquired about getting a table without much hope, but were told that if we were happy to have a drink and wait 20 minutes, they should be able to sit us down. We decided to wait and were soon escorted to a lovely table with views of the garden. The staff were very helpful and well-mannered. All our questions and requirements were answered gracefully. We had the choice of 2 roasts, a traditional roast beef, served deliciously rare, and what we were told is a French tradition, the poulet roti! We tried one of each and they were both very good. Simple, honest food, beautifully presented. I just wish we had kept room for pudding...as is suggested on the menu! We will definitely go back.
Have eaten here twice in the last 6 months with my wife and 2 young children. Can't make up my mind about the place. The first time was in the middle of summer and was a total disaster. Took 1 hour for our food to arrive - the staff gave every impression of having "lost control".

Went again tonight and it was slightly better. Not so busy, which suits the slightly chaotic service. The menu is so so, but quite short. 5 starters and 6 main, no extras (unless you ask, when they admit that they do serve vegetables, or chips, or mash etc). Only 1 main course is fish, 1 is veggie, and 4 out of the 6 contained ham or sausage. No beef or chicken, which is a bit odd. Food was quite good, as was the dessert. If you ask, they'll do some kid's options (though no actual kid's menu). I would say not as good as the Trout or Anchor, but better than the Fishes.

It is a lovely setting- I just wish they could get their act together a bit more....
I must admit that I do not understand the previous review, not one word is in French on the menu apart from veloute- which is a type of soup- and there aren't any flowers in the restaurant as it is all tastefully and romantically decorated with Valentine's hearts.

Went for dinner there on the week-end and had an abolutely marvellous experience. The Perch has finally been restored to its full potential and it is lovely to see young people with such passion trying to keep such a place alive and thriving.

Well done to The Perch team, keep up the good work!
Set in the idyllic surroundings of Port Meadow away from the hustle and bustle of Oxford, The Perch has certainly been restored to its former glory. Summer times in the garden are always a joy.
During my last visit, however, I was greatly disappointed to see that the magic had disappeared. The staff seemed bored and perhaps not as attentive as one would expect them to be. I have always received good care from the staff, and extremely good quality food in the past. Unfortunately this was not the case on my last visit. The menu has become more and more difficult to digest. I don't speak French, so it is extremely hard to know what each dish is, as the menu is written mostly in French!

Generally I found the whole experience quite uncomfortable, perhaps made worse by managers that looked happy to float around. The waitress that was seeing to us did a good job in that she managed to put the plates on the table in the right places, however.

I think that the new owner has done a great job in restoring the charming property to its original beauty. They certainly take pride in the appearence of the pub as is correct, but maybe too much attention is being paid to the arrangement of the flowers.

All in all a very disappointing visit, and sad to say my last.
Thank you to the Perch for a wonderful Boxing day lunch with our friends - the atmosphere was divine, the food was amazing and the service was excellent. We phoned in advance to say that we would be bring our dogs with us (2 Shi Tzu's) which was not a problem to the proprietors, in fact they even put a little bowl of doggie biscuits on the table for us.
A wonderful welcoming place to eat or drink on any occasion.
We chose The Perch to celebrate our Ruby Wedding last Sunday with 24 friends and family. Our guests all confirmed that we had made a brilliant choice. They praised the setting by Port Meadow, the blazing fire, the food (especially the chicken liver parfait and the lemon posset), the use of a separate room which made it easy to mingle, and above all the friendliness and efficiency of the staff.

One guest whose medical condition made a special menu necessary was grateful that it was provided with no fuss. We ourselves would like to single out Francois' helpfulness in planning the event, and the unexpected extra touches of a magnificent ruby red flower arrangement and red roses and rose petals on the table.
The summer bbq The Perch does at the weekend is well worth going for. The gardens have been so well restored and the new owners really look after the place now. The Perch is back to the reliable summer place it always used to be.
This evening I have had one of the best meals I have had since being in Oxford. The beef was cooked to perfection and my wife's dish of halibut was superb with a lovely horseradish mash. The service was good and with a smile, which is always nice! Added to the beautiful setting I would recommend The Perch to anyone looking for a dinner location outside the bustle of the city centre.
We visited (four of us) two weeks ago. Very disappointing as the person serving us was less than good at explaining items on the menu, with two items arriving with the wrong things on the plate, i.e. no ice-cream on one, that should have had, wrong vegetables on another course.The bread on the table was unusual and very hot, not eaten by three of the party. The food was only average, I am afraid, the bill much, much too high.
Very disappointing. With such a lovely setting I was hoping that the Perch would rise from the ashes - the Phoenix of French gastronomy so sorely lacking in Oxford - but I felt very let down.

Our starters (confit of Beef Wellington and Moules Normandes) were both OK but no more and the chicken main course was lacking in flavour, was slightly dry and overcooked and the portion far too meagre to justify the price. However I must admit the "Toulouse Sausages" with Parsnip mash were first class, juicy, flavoursome and the rich onion jus was quite delicious. Still, one out of four is simply not good enough and we felt it was shame not to have a gastronomic haven in such perfect surroundings.

I was left feeling as though I could have cooked better at home which is surely the opposite of what one expects when dining out.

All in all, a below par experience. We might try it again at a later date if only to sample the bar food. Maybe Crepes and Croque-Monsieurs will be handled with a bit more dexterity and oomph and sitting in the delightful garden might make up for our previous let down...
I have been to the Perch last Sunday. It was just amazing. I ate outside even if the weather was not so nice. The garden is lovely! The food was excellent, and the staff were nice, friendly and very efficient. I recommend this place to anyone. Besides, if you walk around this area, you can see the well where Alice fell down from "Alice in Wonderland" [in Binsey village at St Margaret's Church - more info here: http://en.wikipedia.org/wiki/Binsey,_Oxfordshire - Ed].
We recently visited The Perch for the first time on the recommendation of a friend. The walk to the pub itself is stunning as you approach their beautiful garden filled with walkers, cyclists, children playing, and generally a very happy crowd. The building is amazing - so homely, warm and welcoming. The service was fantastic; the staff knew what they were talking about and offered a great recommendation. You simply must try the swordfish! Everything here feels considered and created with love... we'll be back again for certain!
Five of us celebrated my son's 31st birthday at The Perch on Saturday night. This is not a stuffy place - it is a seriously good restaurant in a beautifully rebuilt pub. Snow outside; warmth of a log fire and very friendly, welcoming and knowledgeable staff inside ensure you feel immediately comfortable in these surroundings.

Good, if limited menu; good, if limited wine list. But every dish we had, including the vegetarian option, was judged to be superb, interesting, beautifully cooked and undeniably French. Big plates make portions appear small, but the quality of both ingredients and cooking compensate for what is, after all, only an impression. We could recommend any of the dishes we ate, but I was particularly impressed with the smoked salmon starter and the magret de canard cooked more rosé than the French do it at home but of a flavour that will remain engraved in my taste-buds for ever! We all agreed the home-made brown bread with rosemary, honey and mustard in the dough was a triumph!

The wine, a Chateau de Bel Air Lussac St Emilion 2005 served at exactly the right temperature, having been opened to breath for about half an hour, was exquisite but expensive at just under £40 a bottle, but the over-all price for a top notch three-course dinner for the five of us at £193 seemed to us to offer good value for money.

This was a truly pleasurable experience.
I recently had a wonderful meal at The Perch.

I had duck breast followed by carpaccio of pineapple and must say that it was a very enjoyable meal. The duck was cooked to perfection - tasty and tender - and the pineapple dessert is one of the best I have had in a long time.

I agree that some of the menu does seem a little steep but the quality of the meal that my wife and I had was fantastic and we enjoyed the relaxed atmosphere of the place as well, so all in all it was a very worthwhile trip across the meadow.

Good luck to them!
Just back from the Perch for Sunday lunch. I should have read the reviews here before. As mentioned there, we found the drink and food uninspired and for what it is, heavily overpriced. Will not go back!

The bar offers an ok wine list but is subpar on the beer. Only two mediocre ales and three draft lagers.
We had the Cauliflowers [sic] and stilton soup for £4 each. Creamy but much too strong on the stilton. For main the Roast Beef Sunday Special for £14. Rare meat (as ordered) but not crispy on the outside, huge batons (finger size) of undercooked swede and carrots, a broccoli floret, a single baked potato, a floppy Yorkshire pudding and some watery gravy. Bad value.

The other main, "Aubergine Gateau with peppers and tomato sauce" was a parcel of couscous with some pistachios and dried fruit wrapped in paper thin aubergine slices. Few shredded raw peppers on top and a spoonful of tomato sauce. No seasoning. Very disappointing. Particularly with a price tag of £12.
The Perch is fab, had a great 2 course dinner there recently and the staff were really friendly. I don't know what it was like before the refurb but it's got heaps of charm. The dinners are on the pricey side of pub dining but are superb. I had lemon sea bass and a chocolate mousse. The sea bass was delicious although needed an extra side, and the chocolate mousse lovely. The owner has added some great touches, like offering roasted chestnuts when I went there at Christmas.

The staff team are definitely friendly, but it's difficult to get the attention of the waiters and waitresses! This is a pub that does great food, not a restaurant that offers a great pub. The service reflects this kind of ethos. Great for dropping in to for some nosh after a cold walk but not somewhere to go for a fine dining experience.
Sunday evening after a tiring weekend we were pleasantly surprised by the quiet interior of this pub and lovely woodsmoke aroma from the open fire. Just what we needed. The welcoming staff soon had us sat down at a cosy table for two with black napkins and maroon flowers (real ones!). But then the menu came.

There were only 5 choices of main course, none of which sounded particularly inspiring, yet were decidedly on the expensive side. We asked and there were no specials. I've only once ever got up and left a restaurant after being seated due to the unappealing choice/price combination of the menu, and I was very close again on this occassion.

The fish of the day dish at £18 consisted of half a sea bass on lemon herbed mash potatoes with a couple of small pieces of broccoli and sauce. It was well presented and reportedly tasted good but not worthy of that price. I had the Lamb Shank at £17 which was overly salty and not nearly tender enough. This was served with beans (like baked beans but firmer and tastier, and in a slightly spicy sauce). That was all I would have got had I not asked for some potato. They didn't charge extra for the portion of mash potato but then I should hope not!

For dessert we both had a delicious crème brulée, but to be honest I've never had a bad crème brulée. It's a simple dish to make but cost £6 each.

It's a pity. It's a nice pub with decent service and if it had a bigger choice of dishes at a lower average price then we might be tempted to give it another go.
We booked for lunch on Saturday (25/10/08). Wonderful to see the place refurbished. Great job on the thatch. The interior is similar to what was there before the fire, but with more tables, as well as some comfy looking sofas near the fire. As a pub, it all looks good. But the food! Oh dear.

We had a party of 6. The lamb shank neededmuch longer in the oven in order to get suitably tender and was terribly, terribly salty. The cabbage roll was tough. The risotto was adequate, but not terribly tasty. On the plus side, the soup was nice. And the side of vegetables excellent. But most of the prices were, we thought, 25-30% higher than what they should have been the quality of the food.

We'd love to see the Perch become a real destination (it is such a nice spot) but, sadly, until they sort the kitchen out in a sharpish kind of way, it is likely to be a place that people visit once and then, like us, wait for the reviews to improve.
I had eagerly awaited the reopening of the Perch. Three dozen years ago I proposed to my lady friend in that pub and we have often been there together since. On a nice day with the kids in the garden it was a good place to be. About 18 months ago they had music on Wednesdays and we had a fairly regular dinner date. Then, of course, the fire!

They reopened last weekend and last night we seized our first opportunity to see what it is like. The car park was almost deserted and very dark and the pub looked gloomy on a rather chilly evening, but we could see they were open as there were a few people inside.

The sofas by the fire were as welcoming as ever and the reception from the staff was pretty good too. So we sat with a drink to peruse the menu which looked quite appropriate, nothing too fancy and just enough choice. Before I had finished my nice pint of Hookey we had decided what we would eat.

Two waitresses and the manager were close at hand and not at all busy, but nobody came to ask us what we would like. I finished my pint and one of them came and took away the empty glass without asking if I would like a refill! My wife found the wine not to her liking. We were both disappointed – perhaps we had expected too much.

We sat for half an hour before I handed back the menu and said we would eat elsewhere. The waitress said she hoped we would return as next week they expected to have "the full menu" available.
I went to the Perch for the fourth or fifth time recently for my Birthday and found it as usual very nice: the food was very tasty and the young lady who tended to us was very efficient. It is always nice to contribute to the local economy and a large portion of the menu hasn't travelled very far. The venue has got better and better everytime I visit and is now the finished article. Keep up the good work!!
First visit under new management and what an improvement - very tasteful interior, warm atmosphere, friendly staff, beautiful garden, great French music and delicious food. We will definitely be going again!
I was introduced to The Perch by a friend as a place to meet for a meal and I was astounded. To find this level of quality and price in a genuinely rural setting this close to Oxford was completely unexpected. The French/English restaurant with locally supplied produce (you will probably travel further than the food does to get to the table) is excellent. Recommended without hesitation as one of the best places to eat or drink in Oxford.
I've been to the Perch two or three times since September when it changed hands. It has improved with each visit and is now one of the best (if not the best) place to eat in Oxford. The landlord has transformed the place from a dingy dark pub in to a characterful and tasteful venue with a wonderful, intimate atmosphere. When so many places are becoming increasingly corporate it is a real joy to see somewhere become a special place under independent management.
In addition to the extraordinary setting, the Perch offers great food (nearly Michelin-star level), a charming and welcoming ambience, friendly and attentive staff. Truly a must if you wish to spend about £20 - £25 each.
I'm a bit confused by the mixed reviews on this page. I've been to the Perch four or five times since the new owners have been in charge, eaten there twice, and it's always been fantastic. The food is excellent, the service extremely attentive, friendly and personal, and the attention to detail that the management is clearly putting in to everything from decoration to the range of drinks to events is truly impressive. I guess the complaints of bad service will have to be put down to teething problems from taking over the business in September, but as I say I've only had great experiences at this pub. Also, there's a back room (which you can eat in) where they're running exhibitions of photography from a different country each month. Highly recommended.
Went to The Perch recently and had an absolutely gorgeous meal, really friendly service by the owner and loved everything about the place really! Nice French music in the background, crackling fire and big plush Victorian leather sofas. Quality.
Three friends and I visited the Perch last Friday lunchtime. Never again! I'd previously telephoned to check they did sandwiches at lunchtime which they assured me 'would not be a problem'. It clearly was. On arrival at 1.45 I asked if we were too late and sincerely wish now we had been! We were offered 'sandwich of the day' which was BLT (nothing else on offer), and there seemed to be some difficulty with our request to have cheese in place of the bacon. After checking with the kitchen the barman said it would be possible. We then tried to order drinks at the bar but were told we couldn't order there, but had to sit at a table. 10 minutes later I had to almost trip up the one passing (and surprised) waiter to order drinks. They took another 10 minutes to arrive. We finally got our sandwiches (with unwanted chips and salad) nearly an hour after arrival, by which time we had long finished our drinks. There appeared to be only two staff attending. To add insult to injury, when we paid cash to the waiter (£40 for a £33 bill), he asked us if we would like change! I would never ever go there again, not even for a drink!
We visited the Perch couple of years back and it had been in a sad state. Went there this evening (on a recommendation) and found it transformed. French restaurant (with French/African music in the background). Food and service excellent. We started with grilled goat's cheese with salad leaves and local honey.

I had Boeuf Bourginion to follow, which came with potato cake and fresh baby carrots; excellent. My wife had moules which she was similarly very pleased with. The French staff were friendly and attentive, they explained they had been in business for around eight weeks, having taken over and cleaned up the operation.

We had a 50cl pitcher of wine and I asked for (and they happily provided) a free jug of tap water with ice and lemon. Total bill around £40 before service. I'd recommend highly. It wasn't busy on the Friday night, though they reported they can be booked out over the weekends.

So high praise, though it was a bit cool in the restaurant as it's at the other end of the room from the fire (it was sub-zero outside). You might take a jumper.
I recently went to the Perch for food and drinks and it was fantastic! The place looks so much better with the garden and the interior redecorated. I loved the atmosphere - the staff were very friendly and attentive and the food was great. We were very impressed with the overall experience and we will definitely go back. I'm so glad the Perch has finally been re-vamped from its neglected state and wish the new owners the best of luck.
The Perch is in an amazing spot and it has been tidied up with some new decor, great outdoor umbrellas, and tidy bar inside. There is a slight problem with some of the prices: two slices of posh bread, a teaspoon of jam and some cheese - £5.00. The prices are not right! But the garden and pub look fab.
Review this venue
Wi-fi available
Wheelchair-friendly
Dog-friendly
Child-friendly
Car park
Share this venue