Dr. Faustus, by Christopher Marlowe
Old Fire Station, 1st-5th August 2000
Marlowe's powerful play focuses on Dr John Faustus, a brilliant scholar, who feels that he has reached the limits of human understanding. Desiring greater challenges and power, he agrees to sell his soul to Mephistopheles, an emissary of the Devil, in exchange for twenty-four years during which he will be given a luxurious life, magical powers and illicit knowledge of the secrets of the universe. As his time on earth draws to a close, Faustus perceives what heaven means, but still fails to turn to God. Marlowe's conclusion is thus a tragic version of the traditional Morality Play, for instead of achieving the mankind figure's pious maturity, Faustus is damned perpetually.
The Palatine Theatre Company's production begins with an energetic mix of comedy and stirring drama. Before Faustus has even entered and begun his moral descent, an atmosphere of foreboding is created in the Prologue by billowing smoke and the Chorus' chanting explanation of Faustus' humble origins, his growing pride and his obsession with the occult.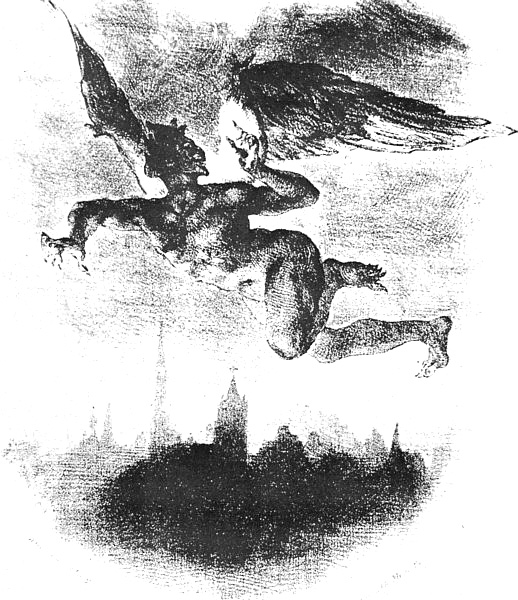 Mephistopheles flying over Wittenberg, in a lithograph by Eugene Delacroix.
However after this build up of dramatic suspense, the principal's entry is something of a disappointment. Ross MacDonald's Faustus is suitably arrogant and blustering, but there is a want of variety in the delivery of his speeches. Consequently, a little of the play's human pathos is lost: in his monotonous ranting, Faustus becomes a rather tiresome and foolish man rather than a tragic hero.
The portrayal of Mephistopheles is also somewhat underwhelming. In Julian Blundell's hands, the terrifying tempter and devil seems weak and uncharismatic; it is difficult to believe that he can command and conjure at the click of his fingers, although there is some improvement as the play progresses.
But this is a praise-worthy production, despite these uninspiring leads. In particular, the choreography is superb, and the small stage is often filled with quick bursts of movement without ever seeming cluttered. An entertaining combination of pipe music, singing, chanting, hissing, and smokey explosions complement the choreography well. However, there still remains a simplicity throughout which makes for effective drama by its avoidance of overly theatrical distractions.
The minimal size of the stage works well for this production. It adds a violent urgency to the sudden pulses of action which run through the play, and an intensity to Faustus' situation. He is closely surrounded alternately by good angels, bad angels, the Seven Deadly Sins, crooked crucifixes and his own magical creations. This staging leads to a sense of Faustus' limited and self-destructive situation even if he himself does not realise this until his end is looming near.
Altogether, a play produced and acted with enthusiasm and some skill which is to be recommended, although stronger direction might have helped the principals to achieve greater subtlety in their performances.
Ruth Alexander, 2 / 8 / 00