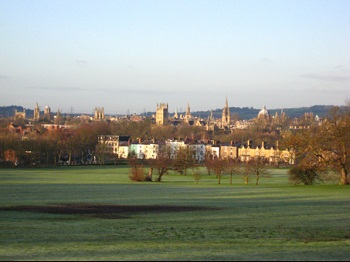 Affectionately known as South Bog in winter, South Park is a large and pleasant slope of grass and trees running between Morrell Avenue and London Road, at the end of St Clements. There are entrances at the top and bottom of Morrell Avenue and at the bottom and the side of London Road. Some of the gates on the same side can occasionally be unexpectedly locked, so if you're in a hurry, keep an eye on which one you're aiming for.
It is more open than its near neighbour
Headington Hill Park
but still has plenty of magnificent trees, including an oak grove at the top. Woodpeckers can be sometimes be seen in the early morning. The top of the hill in South Park is one of the best places in Oxford to get a clear view of our famous dreaming spires; this is particularly rewarding at sunset.
On a warm weekend afternoon in summer, the park can become positively congested with picnickers and sun-bathers, but there's usually room for some kind of ball game too. South Park is a favourite with dog walkers, especially in the morning, as the spaces enable one's hound to get up considerable speed. It is Oxford's main exterior venue for small weekend festivals, and hosts the Round Table Fireworks display in November.
Opening hours: Open all day everyday.