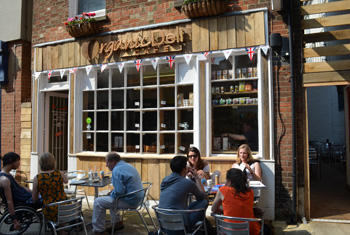 Specialists in homemade, organic & gluten free produce. Speciality breads, mediterranean herb paninis, extensive range of organic, gluten & dairy free soups - all suitable for vegans. Homemade hot food (such as our tuna & boiled egg potato pie). Extensive breakfast options incl. pancakes & berries, various eggs & the full English (with veggie, vegan and gluten free options). Exciting salads & filled spuds. Full range of teapigs and organic storm teas. Fairtrade organic coffee, organic soft drnks. Gluten free crisps and snack bars.
Opening hours: Mon - Sat 7.30am-8pm Sun 9am - 5pm . Compostable takeaway containers and cutlery. Wifi access available.Private room for hire.

Ethical data
Organic, Soil Association certified products & Free Range products Compostable takeaway containers and cutlery.
Private room available & Gluten Free available. Cuisine: Veg/Vegan friendly & Gluten free, wheat free, dairy free; Brazilian!
Dress Code.
Available for private hire:
The top floor of this little cafe in central Oxford can be hired out for £15/hour (2 hours minimum), or less if you are using their catering facilities. There is WiFi access, a large public car park two minutes away on Gloucester Street and wheelchair access provision can be made. The room holds up to 30 people and is available until 11pm.