This year May Day falls on a Monday
The annual May Day celebrations are an incredibly strong tradition in Oxford, involving rising early (or staying up all night) to hear the choir sing from Magdalen tower, Morris dancing, folk music, May balls, sumptuous breakfasts and of course, 6am pub openings, in a rather joyful community event which attracted 25,000 people in 2016.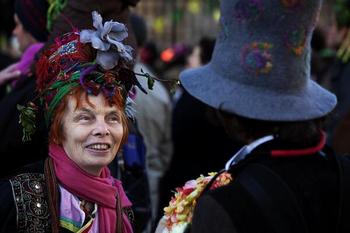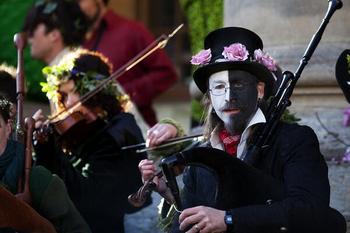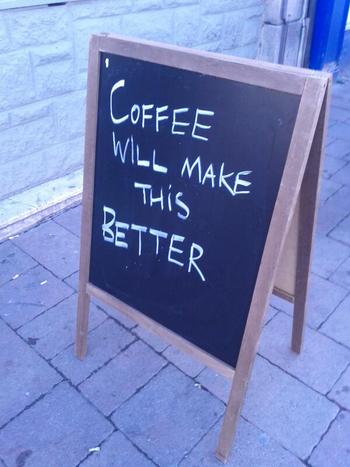 6.00am Singing
You can safely assume that this bit of May Day will stay the same year in, year out. The Magdalen College choir will sing the 7 minute long Hymnus Eucharisticus from the Great Tower as the sun comes up at 6.00am, followed by bells-a-ringing for 20 minutes or so.
Bridge & Traffic
Magdalen Bridge will be open to pedestrians and closed to drivers this year, and it's worth getting near the bridge around 5.00am as it gets very busy from quite early on.
The bridge will be closed to drivers from 3.00am and reopen as soon as revellers have vacated the premises, which should be around 9.00am.
Oxford City Council have advised that the following road closures will be in place from 3am to 9am on the 1st May:
Road Closure inc. bicycles: A420 High Street - from The Plain to West of junction with King Edward St.
Road Closure: Longwall Street - from junction with High St to Holywell St.
Road Closure: Rose Lane
Road Closure: Merton Street - Junction with High Street. Entry and exit via King Edward St.
Road Closure: Queen's Lane - Junction with High Street

Check the Oxford Bus Company and Stagecoach websites for service updates on the buses they will have to reroute to avoid Magdalen Bridge, generally these divert towards Iffley Road – Donnington Bridge – Abingdon Road.

For alternative driving/walking/cycling routes between East Oxford and the city centre, try:
Travelling via Donnington Bridge & Abingdon Road
Follow the river (on foot/bike) from Donnington to Folly Bridge and then into town
Going along Marston Road - Marston Ferry Road - Banbury Road

Messages of friendship written on sunshine creations will be passed out on Magdalen Bridge on May Morning. How to add your message to this lovely idea.
Morris Dancing
Oxford City Morris Men and Oxford University Morris Men will dance alongside other local sides including Eynsham Morris on May morning.

The groups will collect the crowds at Magdalen Bridge after the choir have finished up, and process down High Street, beginning dancing, as usual, in Radcliffe Square between the University Church and the Camera at about 6.15am. After that the dancing will continue at various points around the city (interrupted by breakfast) including outside the White Horse on Broad Street and near the Martyr's Memorial on St Giles. Other sides are likely to be found elsewhere in the city as well. The dancers may then migrate as in previous years to North Parade for more dancing, music, singing etc. from around midday, until exhaustion (or beer) gets the better of them.
Over in Jericho, the Headington Quarry Morris Dancers will dancing well-known Morris dances (Morris and Rapper) outside the Anchor in Jericho from 6.15am.
If you want to know more about Morris dancing (and so you should!) then, of course, we have got a handy page to explain this traditional form of dance just here.
Music
If you fancy something a bit more lively after the choir then head to the steps of the Clarendon Building on Broad Street for 6.15am to hear the now-traditional (since 2004!) Whirly Band. This green-clad gang of Oxford's finest pipers, drummers, fiddlers, squeezebox players and assorted folkies will be welcoming May in with Rough Music that's old as the hills and as fresh as spring. Come shake yer bones and remember you're alive!

Sol Samba will be parading down the High after the Morris Men, to meet up with Horns of Plenty at the corner of High Street and Queen's Lane for a very quick jam session. The Horns are expected to decamp to Radcliffe Square after that, while Sol Samba will parade on a bit further (depending on the crowd and the weather).

Check out the wonderful www.maymorning.co.uk for a thorough overview of Oxford's May traditions including information about where to find all sorts of musical fun throughout the morning.
Up the May!
May Eve
Part of the fun of May Morning can be staying up the night before. We've gathered here some of the different events happening around the city so you can start your May Day celebrations the night before the morning after. Take a look on the side of the page for a few of our favourites, or alternatively just wander round Port Meadow and find a bonfire, if you don't have a ticket to a ball.
May Morning Breakfast
When?
Where and what? (E = east of Magdalen Bridge, W = west of the bridge)
12.00am

Tick Tock Café, 3-5 Cowley Road , 01865 200777 (E)
Full English, breakfast baguettes, pastries etc., served tirelessly through the night and day! An East Oxford instition, they've been doing May morning longer and harder than anyone else. Legit.

Jimbob's Baguettes, 19 Magdalen St, , 01865 245549 (W)
Sandwich bar open serving beer and wine all night long now that they have a 24hr licence. 10% discount if you're a student, or if you pay in Bitcoin or Litecoin. How very modern!

Turl Street Kitchen, 16-17 Turl Street, 01865 264171 (W)
TSK will be serving up drinks, tunes and nibbles alllll night and day. Delicious brunch from 6am to 10am, with lunch from noon on May day.

4.00am

Queen's Lane Coffee House , 40 High Street, 01865 240082 (W)
The supposed oldest coffee house in Europe will be in high demand as usual on May day, preparing full English breakfasts and the rest. This year they're not taking bookings so try and nab a seat quick.

Patisserie Valerie, 90 High Street, 01865 725415 (W)
Full English breakfasts and full menu on offer, inc. mighty fine pastries.

4.30am

Rick's Café, 88-90 Cowley Road, 01865 427845 (E)
A real DI favourite. These guys' macaroons are pretty untouchable and their smoothies and crêpes are banging to boot. Usual menu on offer, with their French toast and Brunchwiches proving very popular last year.

PAUL Bakery, 138 High Street , 01865 200686 (W)
They will be offering various goodies including freshly baked viennoiserie and hot food such as quiches, tartines and croques.

5.00am

The Buttery, 11-12 Broad Street, 01865 811950 (W)
Full English and continental breakfast.

Art Café, 14 Bonn Square, 01865 242464 (W)
Full English, veggie breakfast, bagels, pancakes, omlettes and selected baguettes. And coffee. Much needed coffee.

The Cape of Good Hope, 1 Iffley Road, 01865 262291 (E)
Serving alcoholic and non-alcoholic beverages, and bacon and sausage sandwiches until 10am.

The Rose , 51 High Street, 01865 244429 (W)
Serving the wonderfully straightforward option of a light breakfast (one of everything). Legends.

Green's Café (St Giles), 50 St Giles, 01865 316878 (W)
Greens open this early every day! But today they're ideally placed between Magdalen Bridge (choristers, coffee) and North Parade (morris, beer).

Olives Deli, 42 High Street, 01865 245700 (W)
This year they will be serving their scrumptious paninis and coffee for the May Day revellers.

The Turf Tavern, 4-5 Bath Place, 01865 243235 (W)
Serving delicious bacon sandwiches and sausage sandwiches, as well as alcohol for all.

5.30am

Organic Deli Café, 24 Friars Entry, 01865 364853 (W)
Serving normal breakfast menu, including Full English, vegan brekkie, pancakes, croque madame and salmon & eggs.

6.00am

G & D's (George & Danver), 94 St Aldate's, 01865 245952 (W)
All open with their usual menus. The G&Ds team will also be handing out free hot chocolate and bagels on the Bridge.

G & D's (George and Davis), 55 Little Clarendon Street, 01865 516652 (W)
All open with their usual menus. The G&Ds team will also be handing out free hot chocolate and bagels on the Bridge.

G & D's (George and Delila), 104 Cowley Road, 01865 727111 (E)
All open with their usual menus. The G&Ds team will also be handing out free hot chocolate and bagels on the Bridge.

The White Horse (central Oxford), 52 Broad Street, 01865 204801 (W)
Open til 9.00am before re-opening at 11.00am. Serving hot bar snacks, teas, coffees and pub drinks.

The King's Arms, Holywell Street, 40 Holywell Street, 01865 242369 (W)
English breakfast and beer from 6 til 9.30am, before reopening for the day at 10.30am.

The Vaults & Garden, University Church of St Mary the Virgin, 01865 279112 (W)
Breakfast baps, organic eggs, cooked breakfast and Mediterranean breakfast, with local fresh asparagus added to all breakfasts. Bucks fizz available, and live folk music.

The Chequers (central Oxford), 131 High St , 01865 727463 (W)
English breakfast, bacon sarnies, veggie breakfast and gammon & eggs, teas, coffees and harder drinks, plus live music!

The Bear Inn (Alfred St), 6 Alfred Street, 01865 728164 (W)
Live music from John Otway and six other til 2pm.

The Grand Café, 84 High Street, 01865 204463 (W)
Serving their larger breakfast menu items as well as wine, beer and cocktails til 10am!

The Anchor Inn, 2 Hayfield Road, 01865 510282 (W)
Full breakfast menu, coffee and beer, as well as morris dancing.

The Old Black Horse Hotel, 102 St Clements,, 01865 244691 (E)
A lively may morning spot being so close to the bridge and selling cheap beer, The Old Black Horse will be feeding and watering from 6am.

Café Coco, 23 Cowley Road, 01865 200232 (E)
Serving breakfast (which can come with chips) and classic cocktails for the brave. No advance bookings.

Atomic Burger, 92 Cowley Road, 01865 790855 (E)
Offering hearty breakfast burgers and baps for the bleary-eyed and ravenous.

Big Ron's Mexican Cantina, 96 Cowley Road , 01865 792700 (E)
Big Ron's Rocket Fuel on a Grande burrito should help wake and sober those in need. As well as the usual, they'll have breakfast burritos and huevos rancheros to tempt.

The Missing Bean, 14 Turl Street, 01865 794886 (W)
Coffee! Necessary coffee. Oxford-roasted coffee. Also cakes and things.

Quod, 92-94 High Street, 01865 202505 (W)
Full English, eggs benedict, crispy bacon rolls, plus other dishes. No bookings. First come, first served.

The Handle Bar, @ Bike Zone, 07506 997779 (W)
Serving full breakfasts (hurrah!) and drinks from 6am.

The Bear Inn (Alfred St), 6 Alfred Street, 01865 728164 (W)
Live music from John Otway and six others plus a BBQ (bacon & sausage sandwiches, burgers) before full menu at 12noon.

George Street Social, 35 New Inn Hall Street , 01865 204735 (W)
Serving breakfast, Prosecco, Bellinis & more!

6.30am

Pint Shop, 25-27 George St (W)
They are opening to join in the revelries and are offering teas, coffees, bacon and bacon & egg sarnies and of course alcohol.

7.00am

The New Inn Social, 119 Cowley Road, 01865 604776 (E)
Serving craft brews, bacon & sausage baps, hot drinks, and good vibes. Complete with pop-up beer tent.

Silvie's Bakery, Brown's Guesthouse, +44 (0) 7711897168 (E)
Join Silvie's for a May Day Breakfast, complete with a free glass of prosecco between 7 and 9am.
Are you doing something interesting for May Eve / May Day? Or have we missed off something you know about? List it online instantly and free by clicking HERE or emailing the details to: info@dailyinfo.co.uk
See the City Council's official May Morning website here
Thanks to Lyon Photography and Andrew Ogilvy for the sublime photography.