I'll be honest, I very rarely go for breakfast at 9am on a Saturday morning. There always seem to be so many better things going on, like sleep, Netflix or possibly a Far Eastern Grand Prix qualifying. But a timetabled day out had been planned and it required a hearty foundation. We crawled the few hundred metres to Natural Bread, hoping that at the very least they'd give us good toast; also they'd had a really good looking tiramisu on Twitter.
Their breakfast menu, generously served till 2.30pm, features a full English of Willowbrook organic egg, Sandy and Black Oxford sausage and bacon, black pudding, baked beans, tomatoes, mushrooms and thick wedges of sourdough toast. The veggie version swapped sausage, bacon and black pudding for an extra egg and a sliver of Manchego cheese. The smaller brekkie options that completed the menu were basically different individual ingredients from the full English on toast.
A little bleary-eyed and fragile after an unsuccessful quiet night, we obviously ordered full Englishes, one normal, one veggie. The menu offered freshly squeezed orange juice as an optional extra with the cooked breakfasts, for an extra £1.55, bringing the total for each up to a fairly dizzying £9.50. But an establishment filled with so many well-groomed nouveau Jerichites and expectant mothers must be worth the fuss.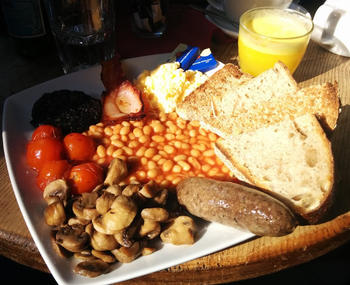 It was pretty good. The bread was by far the highlight of the morning, as you might expect. Soft, crusty, warm and lightly toasted, each bit accepted half a large stamp-sized butter pack perfectly. It became the focal point of my meal. The eggs (offered scrambled or fried, we felt scrambled) were light and hot, if a little watery. It was a slight surprise that the baked beans weren't Heinz, and a much greater one that they were still good despite this fact! They were actually very tasty, especially on the bread. A nice surprise was that there were plenty of well-fried chopped up mushrooms - all too often it seems you get one dreary limp thing that's supposed to fill the role of a whole plate element. The sausage was super meaty and I haven't had a black pudding that good since I was last at my grandmother's in the West of Ireland, but the bacon was kind of shrivelly, and filled with a huge pool of grease, which was sad.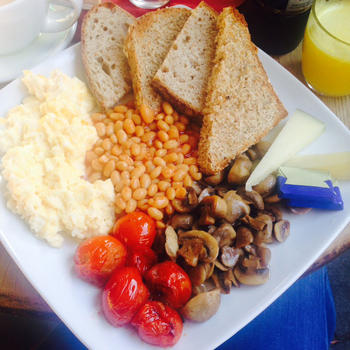 In the veggie variation the usual veggie sausage and hash brown you might expect had been replaced by cheese. The cheese was apparently good, but even this veggie, who will eat on average a block of cheese and a whole pack of crackers a night, was disconcerted by its place on the breakfast table. This is Little Clarendon St not Little Clermont. There were almost literally too many tomatoes to count on both plates. Let's face it, no one ever wants that many tomatoes in their fry up, they just don't say it.
The orange juice was good, but served in an barely full thimble. We topped up the drinks with a small pot of tea and sparkling water. The bottled water again was remarkably small, I didn't know they made them that small, but the pot was ideally sized for one.
They had the breakfast condiment essentials of ketchup, brown sauce and tabasco, it's just a slight shame they don't have a license to serve you a Bloody Mary.
At £9.50 this is not a cheap and cheerful breakfast and we both concluded we'd had better fry ups, veggie or otherwise. So your local artisan bread company café might not be the best destination for a cooked breakfast, but it's really good for bread.