"Probably the best thing I've eaten in Oxford," a friend recently said of Jimbob's. She has just moved here from Paris, so there was undoubtedly a hint of resentment mixed in with the approval. Still, it's high praise indeed for a nondescript baguette café whose neighbours are a cinema Costa and the city's busiest row of bus stops. Is it merited?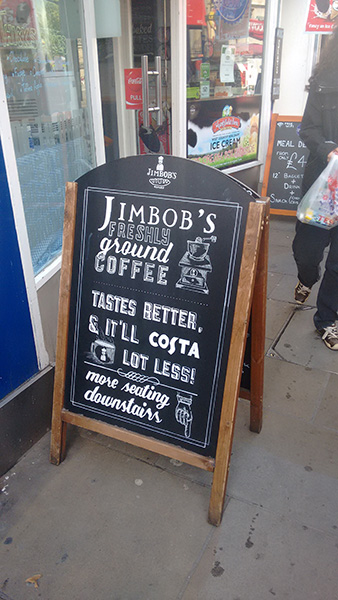 Jimbob's doesn't look like much from the outside, but a quick glance at their menu reveals that you are dealing with a serious sandwich establishment. It's the kind of menu that leaves you flapping with indecision because everything sounds appealing. There are inventive combos like sweet chilli & lime chicken and spicy tuna & jalapeño alongside more traditional fillings, and an entire submenu devoted to bacon.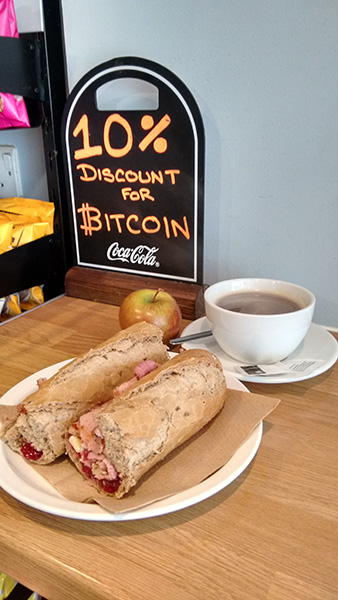 They treat bacon with respect here. There was so much of it sizzling on the hot plate when I arrived that the staff were scraping the gnarl residue into a dedicated bucket. On the advice of the friendly, helpful sandwichista who served me, I plumped for a bacon, brie and cranberry filling on a wholemeal baguette and an Americano (if you do get a sandwich and a drink, a piece of fruit/packet of crisps/chocolate bar is included in the meal deal) and settled down to feast.
There was nothing revelatory about the baguette, but it did everything it needed to, and did it very well. Although the brie was served cold, the heat of the bacon meant that it was just starting to go gooey around the edges. The bread was fresh and flavourful and the balance of fillings nicely judged. Most importantly, it was absolutely heaving. Jimbob's has clearly embraced the American philosophy that there should be no empty space at any point between the bread halves and that a sandwich can amount to a full meal.
Beyond the quality of the food, there are a couple of other things that distinguish Jimbob's from a typical baguette shop. Firstly, there's the staff. Chatty and enthusiastic, they practically compete for your service and make you leave with a smile. Then there's the element of fun and novelty. You can't help but remember a café which accepts payment in bitcoin (with an accompanying 10% discount!) and seasons all its baguettes with an electronic pepper grinder.
Probably not the best thing you can eat in Oxford, then, but an excellent lunchtime option all the same.