'A New Flowering -
1000 Years of Botanical Art'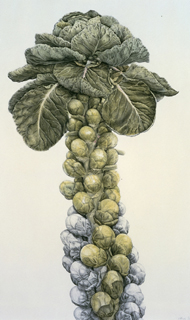 The Ashmolean, 2 May - 11 September 2005
The exhibition 'A New Flowering' displays 1000 years of botanical material from the libraries and museums of Oxford and sets it aside contemporary botanical art.
A specialist subject and not of blockbuster appeal, but a beautiful subject none the less. Exquisitely illustrated 15 th century Books of Hours and 17 th century still lives are juxtaposed with modern representations. Stephanie Berni's 'Australian Tree Fern' which graces the exhibition catalogue cover is technically brilliant and the tactile paper skin in Vicky Cox's 'White Onions' is beautiful.
With the old right next to the new, it is sometimes necessary to double check the dates to see if you are looking at a work from the 'golden age' of botanical art (1740-1840) or a work from the 21 st century. The catalogue stresses both the enormous interest in gardening in this country along with increased aware of environmental issues behind the recent re-flourishing of botanical art. The exhibition contains exotic watercolours by Margaret Mee, a passionate environmentalist, who painted endangered species in the Brazilian rainforest in the 1980s. The work of 17 th century artist Maria Sibylla Merian also conjures up an intrepid explorer. Leaving Europe in 1699, taking her eldest daughter with her, she went to Surinam in South America to collect and paint insects and plants, spending two years in the tropics before publishing her own illustrated book on the subject.
This is a small, exquisite and enjoyable exhibition, bringing together science and art and giving us the opportunity to see works rarely on public display. The Ashmolean is a fitting venue as its original collection in 1683 came from the Tradescant family of gardeners. Some of the eclectic 'rarities' originally on show in their family house 'The Ark' in Lambeth, the first museum in London, can still be seen in The Tradescant Room at the Ashmolean. It is worth a visit for its shelves of curiosities, 17 th century twig sandals sit longside beautiful Burmese manuscripts and Oliver Cromwell's death mask.
The Ashmolean education service are running a number of events of coincide with 'A New Flowering', including practical art workshops. The space, although still managing to remain quite peaceful, was swarming with small children clutching gallery trails, trying to identify cabbages and lettuces.
Christine Butterfield, Aug 2005