Mahogany Hair Show
Sunday 13th February 2000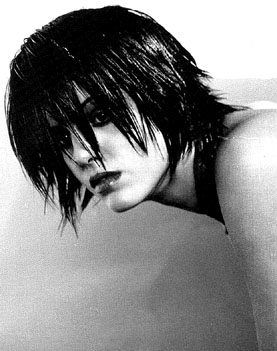 Sunday evening saw the Playhouse taken over by models, punks and hairdressers: no, not the latest avant-garde theatre production, but the annual cut collection showcase from Oxford's own Mahogany Hairdressing! The company's four salons (Oxford and London) each presented their cuts and colours for spring 2000 in 30-minute sets combining contemporary dance and catwalk styles.
This was beautiful hair for beautiful people: choreographed pieces featured students of the Oxford Contemporary Dance School, members of Beserk dance company and several familiar Oxford punters, and reflected the aim of Mahogany's Creative Director Richard Thompson to provide "freedom of movement for modern sexuality". Asymmetry and experiment in cut and colour was everywhere. Oxford's salons showed us jagged edges and layers, pink-tinted blondes, intense blacks and reds, immaculate two-tone bobs and slicker-than-slick page-boy cuts for everyday city-wear. London fused punk influence with minimalist urban chic to produce a riot of simple cuts in crazy-colour violets, blues, shining blacks and white-blondes. Gelled tufts galore, absurdly frizzy perms and asymmetry taken to its most extreme conclusions (or: how to have two haircuts at the same time) - see the current cover of Vogue! Oxford's less exaggerated combinations of sleek and spiky in the same cut toned things down stylishly. Particularly impressive was Market St's collection "Ad Rem" ("to point"), in which bobs swished outward sharply and neat short cuts framed faces with interesting angles.
A veritable cabaret of hair, the showcase was presented by company directors and supported solidly by the cheering models (who filled half the audience before they ran on stage) and their families, with the odd rival stylist present to pick up on Mahogany's know-how. Indeed, the enthusiasm, the youth of the models and the use of non-professionals made the whole experience reminiscent of a school talent show - an amateur spectacular which good-humouredly presented hair on a human level ("Ooh, didn't I see her yesterday in the Covered Market? Or was it at Wadham?!"), with a healthy amount of tongue-in-cheek self-awareness.
The company's directors emphasised the importance of the training of young people, introducing the audience to the staff of each salon in turn; ticket proceeds from the day went to the youth cancer charity CLIK. All in all, though the extravaganza may have allowed a little too much time (4-7.30pm) to see the number of styles presented, it was fun, frivolous and inspiring - and I'm off to Boots Hair colourings department...
Sue Jordan
13/02/2000