Get a kick out of this!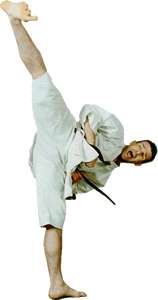 Fitness kickboxing at Oxford Karate Academy.
Don't try this at home…it's much more fun in a class, as I found out when I attended the fitness kickboxing classes at the Oxford Karate Academy. Fed up with aerobics and non-sweating Nordic beauties staring at themselves in mirrors at health clubs, I started exercising to Billy Blanks' Tae Bo videos, behind closed curtains, in the privacy of my living room. However, home exercise can be a bit lonely, uninspiring and nerve-wracking (when watched by two sceptical cats), so I was glad to find a more sociable alternative at the Oxford Karate Academy.
The academy's owner, Paul Coleman, is a three times world karate fighting champion, has been involved in the martial arts for many years and has been teaching since the mid 70's. He teaches the fitness kickboxing classes with infectious enthusiasm, and his philosophy of teaching seems to come from the same mould as Billy Blanks - dynamic, fun and informal. And because the emphasis is on fitness, rather than purely on self-defence, the classes are done to a mixture of fast-paced music, ranging from the frenetic beat of jungle and the suitably pounding sounds of rock to more funky and hip-swaying Soca.
A class typically starts with a fast aerobic warm-up, stretching the thigh and calf muscles, before a series of punching and kicking drills. Paul keeps a watchful eye on beginners to ensure their movements are correct and not likely to cause injury, and explains how potentially damaging your left hook is when preceded by a right cross. It's a great way to let out built-up aggression after a bad day at work and, with no sparring involved, you can punch and kick focus pads as hard as you want, rather than each other.
The hype surrounding films such as Charlie's Angels, Crouching Tiger, Hidden Dragon and The Matrix, means martial arts are enjoying a comeback. No longer the domain of butch, Bruce Lee wannabe blokes, they are now seen as fashionable and fun ways of getting fit while learning useful self defence techniques. The classes at the Oxford Karate Academy are fun yet challenging and attract a healthy mixture of men and women. With Muscle and Fitness Magazine rating fitness kickboxing as the number-one calorie burner (an estimated 800 per hour) what better way to shape up and chill out?
Sam Pope, 31 / 1 / 01
There continue to be many karate classes available. For details see our Sports and Fitness listings.