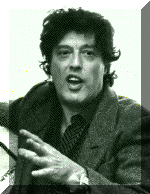 Tom Stoppard, whose writing credits also include Travesties, Rosencrantz and Guildenstern are dead, and the film Shakespeare in Love.
Arcadia, by Tom Stoppard
Old Fire Station Theatre, 17th-20th January 2000
Arcadia is a brilliant play written by Tom Stoppard. So brilliant in fact that it is the subject of study by a generation of school pupils. As a result our performance was packed with school parties, who ooh-ed and aah-ed, giggled and whispered in anticipation and in reaction to seeing the written text come alive. The story is a complex tale of time, truth, science, literature, love, fractals and the philosophy of science. In a house inhabited by ghosts we see the past and the present day brought together. To explain the plot would take too long - all you need to know is that it involves Byron and a possible deadly duel, brought to life by the people of 1809 and through the documents they left behind.
The performance had a shaky start and sticky scenery throughout: there was many a giggle as the actors fought their way out past a reluctant door. The play started in the 1809, with accents and affectations that detracted somewhat from the plot. Lady Groom spoke in an inexplicable manner, and the interpretation of Valentine as gay, which was certainly not intended by the playwright, robbed Val's relationship towards Hanna of its underlying desire; he became a parody of high camp that induced mass sniggering in our row. These elements unfortunately combined to give the play initially the style of a school production farce. However, Harry Smith and Zimmy Ryan, as Septimus Hodge and Lady Thomasina warmed convincingly into their roles and the play improved. Valentine gradually found his feet and strengthened his wrist. Bernard Nightingale, an unscrupulous academic, was played with the right degree of arrogance by Robert Osborn. His portrayal was slightly marred by his enthusiasm, which speeded his words up and made them hard to understand.
Jo Noble was good as authoress, and Thomasina's 'discovery' of fractal equations added an intriguing depth to the tale. Occasionally it seemed that the complexity of the text and the timing of the word play proved hard to carry off. But the actors settled into their characters and the wonderful text could be appreciated for its humour and intelligence. The pathos of the last scene, however, failed to reach out to the audience and as a result the ending was a little flat.
Tom Stoppard is a marvellous writer. This play was performed well in parts, but was let down by some bad characterisations. Go and see Arcadia - it is truly brilliant. However be prepared to put up with a less than polished performance.
Jacqui Mulville 17/01/01