'The Real Thing' by Tom Stoppard.
Oxford Playhouse.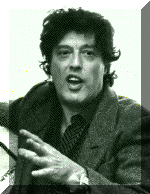 Tom Stoppard, whose writing credits also include Travesties, Rosencrantz and Guildenstern are dead, and the film Shakespeare in Love.
This production encourages high expectations. The cast have an impressive number of TV and film roles between them, though to be honest, the only one I immediately recognised was Neil Pearson, who was Dave from 'Drop The Dead
Donkey'. Tom Stoppard too, highly respected as a playwright for decades, is garnering wider renown as the writer of the screenplays for 'Shakespeare In Love' and 'Enigma.' The house was packed, and I don't think anyone left
disappointed.
Any summary of the script is in danger of making it sound like a romantic comedy, and I suppose that it is, being a very sharp, funny play about romance. The implication of light-hearted fluff is completely inappropriate, though. The play is witty and clever, but deals with powerful emotion in an honest and sometimes harrowing way. The cast all present the contrast
admirably, displaying impeccable comic timing during the banter without losing the underlying emotional tension. Neil Pearson in particular is marvellous as Henry, the romantic confronted with the implications of his choice. Geraldine Alexander is rather histrionic, but this is hard to fault given her role as a highly-strung actress.
Kit Surrey's set design is excellent. At the end of each scene, the set halves and rolls into the wings, while the next set trundles forward from back-stage. This device was not only profoundly pleasing to watch but was used to great effect as characters literally drifted apart, or a play's set was replaced by the almost identical living room of its playwright.
Recommended. Your high expectations will be completely justified.
Alex Williams. 03/10/01