If your event is happening in or around Oxfordshire, you can have a free event listing on Daily Info.
Just go to List Event and follow the instructions. You'll need to have the time, date and venue details to hand.
Your free listing will look like this:
If it's a film, play, gig or lecture it will automatically appear in our printed version as well (space permitting). Events with specific dates, times and venues only please.
Display box adverts in our What's On listings
Display box ads appear in print and also on the Featured Events page of our website, as well as in the sidebar of relevant events pages. Box ads cost from £30 plus VAT (more details can be found in our FAQs). Do get in touch for more information about any sort of event advertising.
A display box such as this: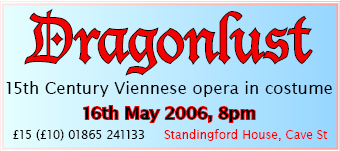 would cost £30 plus VAT for one issue of the printed sheet and a week online. As it is an opera it would appear in the Concerts and Theatre categories. It will appear in the advertising space in the sidebar of these events pages for as many weeks as you choose to pay for, and it will also appear as a display box (rather than as a free line listing) on the day/s of the event itself (in this case 16th May), and have a slot in the revolving advertising space on our homepage. If it is taking place at a venue which has its own page on our site), it will also appear on that page.
You can place your advert online, or email us the text, logos and any other instructions to [email protected]. If, rather than a paid ad, you'd just like a free listing, why not place it now?
Effective Advertising:
Further useful advice on how to make your ads more effective can be found here.