If you can provide more info about Oxford's roving cuisine vendors, email [email protected] or submit your review with the others on the pages below (there are only so many kebabs we can eat in a week).
We've received an unusual request from a former Oxford student: can anyone offer a chicken kebab recipe that will replicate the Oxford kebab experience abroad? If so, we'd love to hear from you so we can pass it on and make an Oxford kebab fan very happy: [email protected]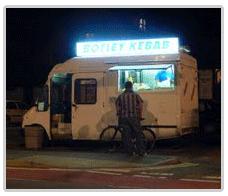 Reviews
For full listings of Oxford kebab vans, click here or use the quick links to the review pages below:
Adam's Food Express – High Street (in front of Scrivens Opticians)
Ahmed's Bar-B-Q Bar, High Street
Ali's Kebab Van – Woodstock Road opposite St Anne's
Bodrum – Kebab Shop, Cowley Road
Boss's Kebab Centre - Castle Street, Oxford town centre & Boss 2 - Banbury Road, Summertown
Branos Express - Gloucester Green, Oxford town centre
Denis's Kebabs – Botley Road
Hassan's - Broad Street
Houssain's – St Giles
Kebab Kid – Gloucester Green (shop)
McCoy's – St Aldates (outside Pembroke)
Momo's Fast Food – St Ebbe's
Oxford Kebab Van – (formerly the van with no name), George Street
Posh Nosh – St Aldates (outside Christ Church)
Speedy Kebabs – Queen Street
For more scintillating reading about kebabs, including in-depth information on types and toppings, visit The Chilli Source.