Whether you're a new undergraduate at Oxford University of Oxford Brookes, treading the boards at Oxford School of Drama, or kickstarting your career at SAE Institute, Oxford Media and Business School, Ruskin, or any of Oxford's other colleges, you've achieved something brilliant! Here's Daily Info's guide to making the most of your student years in this wonderful city.
When you tell your friends and family that you're going to be studying in Oxford, you may face a few assumptions - that you're going to be spending your afternoons punting down the river and your evenings huddled in a pub with the Inklings. You certainly can do both of these things (The Eagle and Child is an excellent place to get a pint and a plate of fish and chips, and you can read more about punting later in this guide), but as most people who live here will tell you, Oxford is a city like any other - just a little bit more special.
Daily Info has been a guide and resource for Oxford students and residents since 1964, and if you're looking for somewhere to live, a place to eat, or something to do, we've got you covered. A good place to start is our suggestions of things to see and do, written by people who live here! We also provide a year planner, so you can keep track of your tutorials or placements, and a handy city map that will help you find your way around in those first few weeks. The map is available from our offices on the Cowley Road. Your school, hall or college may well also have a supply.
---
Settling In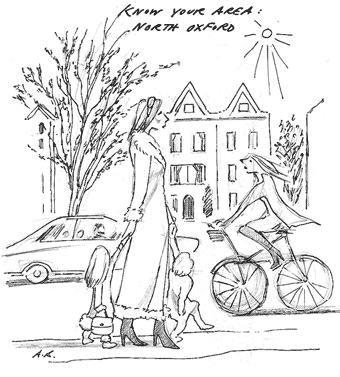 Welcome to Oxford! Depending on where you're studying and the nature of your course, you might be in halls of residence or a college room, or you might be living with a host family or in private rented accommodation. Wherever you are, Daily Info is here to help you settle in and make your space your own.
Decorating is the best way to make yourself feel at home in your new residence. Head along to the poster and pot plant sales at the Oxford Union or Oxford Brookes; alternatively, there's Blackwell's Art and Poster Shop on Broad Street, and plenty of plants and knick-knacks in the many independent shops that make up the Covered Market.
Be sure to check any house rules when you move into your accommodation. Some places may have banned fairy lights, candles and other decorations because of the potential fire risk. Best not to chance it.
Our Daily Info Year Planner (available free at your college or freshers' fair and at the Daily Info office) is a must for your walls. As well as being beautiful (check out the dragon illustrations!), it's practical, and will remind you of such important dates as May Day, Wimbledon, and Ed Balls Day.
Books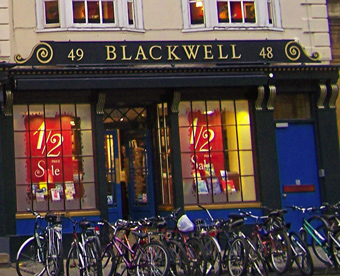 Books. They are useful things. Oxford is built on them. The Bodleian stacks burrow out under Broad Street and goblins with trolleys bring the dusty volumes to your fingertips. In practice, most (if not all) of your reading list content should be available from university libraries, so they should be your first port of call, however occasionally you may want your own copy of something to scribble on. Take a look at our Book Shop guide and also our classified ads page for people wanting to buy or sell books.
Blackwell's bookshop has a good second hand section for literature. Get there early on in the university year for good bargains on textbooks donated by last year's finalists. If you get really lucky, maybe you'll get one with notes from the best kid in the year in the margin. If it could happen to Harry Potter, it could happen to you...
---
The Student Year
How your student year shakes out will depend on where you're studying. Oxford University has three terms, each eight weeks long (Michaelmas in the autumn, Hilary in the spring, and Trinity in the summer). Exam schedules depend on the course, but there are generally Prelims/Mods exams in your first year and Finals in your third year, both taking place at the end of Trinity term.
The Oxford Brookes student year is made up of two semesters, both with exams at the end. You might also have placements to complete - the timings of these will depend (you guessed it) on the kind of course you're studying.
The Oxford School of Drama runs three different courses - the Foundation course, the One Year course, and the Three Year course. All of these courses are based on a term system - for example, the Foundation course runs for two terms, while the One Year course runs for three (the third term including an extended period in London).
Colleges such as SAE, Ruskin, Abingdon and Witney College, City of Oxford College and others will have a variety of course structures, depending on the level, the type of course, and other factors. For example, Ruskin's BA courses run on a semester system over three years (or 4.5 for part-time students), while their vocational courses may last for six months in total. SAE offers 2-year accelerated undergraduate degrees, with trimesters and short holidays, as well as some 12-month and shorter courses.
The city itself often runs on the Oxford University system - you'll probably hear a lot of references to "2nd Week" or "8th Week" (or, most confusingly, "0th Week") while you're here. The Daily Info planner is a useful decoding tool in those instances where, for example, someone invites you to a thing on Thursday of 3rd Week without mentioning anything so specific as a date.
---
Food Shopping and Eating Out
Whether you're feeling flush or frugal, Oxford will have something to suit your budget for those times you get sick of the food in-hall/at your host family's house/the ready meals you've been relying on at home. Have a look at our eating out guide or our searchable restaurants and cafés list, which lets you find, for example, all the Chinese restaurants in Headington.
There are plenty of special offers and deals available for students. An NUS Extra card gets you plenty of perks, including a 10% discount on everything at Co-op. Websites like Student Beans and Taste Card provide discounts for many of the chain restaurants, and Oxford's smaller local restaurants will often have their own in-house student deals.
For your day-to-day food shopping, Oxford is not short of supermarkets. There are decent-sized Tescos and Sainsbury's in the city centre and on Cowley Road, and Co-ops in Jericho and Headington (remember that 10% NUS discount!). Headington and Botley also have Waitrose if you're feeling a bit fancy. There are also smaller newsagents and specialist food shops around the city - and don't forget the Covered Market, Gloucester Green market, and the city's farmers' markets (link), all of which can be excellent places to stock up on fruit and veg. Daily Info's guide to food shops can be found here.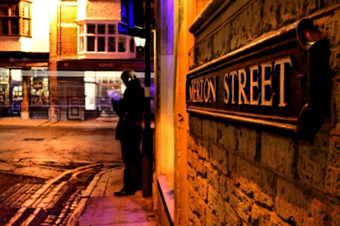 Out late or up early? Oxford is an excellent place for coffees or kebabs (depending on your needs and preferences) at nearly all hours of the day or night. G&D's, an Oxford institution, are often open until the wee hours for anyone who needs coffee and ice-cream to fuel a late-night study session. Clubbers can find our list of kebab vans here, and our Late Opening page will give you a good overview of everything out-of-hours in the city.
---
Getting Around
Oxford isn't a big city, so you'll soon find your way around. Have a look at our Transport page, or look at our quick overview here.
On Foot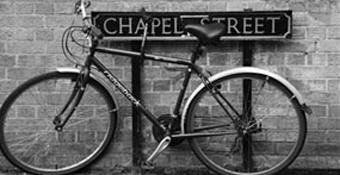 Oxford is a small city, and if you're studying in and around the centre, you may be able to walk everywhere you need to go. Even if you're living or studying in Headington or Marston, it's not far to the city centre, and walking is a great way to get your bearings and find short cuts to lectures or scenic routes to explore on your days off. The Oxford Pedestrian Association has plenty of information for walkers.
By Bike
You'll have seen them already - fleets of cyclists zipping around the city. The humble bicycle is perhaps Oxford's most popular form of transport; cheap, reliable (or at least, considering the number of bike shops around the city, never too difficult to fix), and an easy way of getting around the often gridlocked road traffic.
If you don't have your own bike, you're bound to find something on our Bikes page. It's also a good idea to invest in a decent bike lock, as bike thieves are prevalent in Oxford. Alternatively, you can share bikes with the city, thanks to the new bike app schemes.
Oxford's cyclists are a strong community. Check out Broken Spoke cycling co-op, where you can learn how to fix your own bike, and look at our Bikes and Cycling page for more information on cycling around Oxford.
By Bus
Oxford has a regular bus service which runs all over the city; if you feel a bit too wobbly on a bike (guilty), then you can get yourself a Smartcard and use the buses. Brookes students get a Brookes Key as part of their first-year accommodation, and everyone else can buy one from the Oxford Bus Company - or just hop on and pay as you go! There's also Oxford Bus Company's new Pick Me Up scheme, a ride-sharing service that will take you all around Oxford.
Oxford's roads get pretty busy at times, so bear in mind that bus journeys can sometimes take longer than you'd think, especially if there are roadworks or events that have closed some of the roads. It's always best to leave yourself a little wiggle room when you're working out travelling time - getting stuck in traffic can easily cost you the first half of a lecture.
Travelling home late at night? Oxford has some night buses, but they aren't as frequent as, say, London, so make sure you look them up in advance to avoid getting stuck on a night out. Brookes students can call the Safety Bus, which will pick you up from or drop you off anywhere within the ring road between 9pm and 3am on Saturday nights for a donation of £1.
By Car
Oxford is not the best city for drivers. Parking is limited and expensive, so unless you're friends with a local who'll let you use their visitor parking permit, it's better to use public transport. However, if you really need to use a car (and are old enough), you can hire a car or join a car club.
---
Escaping Oxford
For longer trips, Oxford has great rail connections with the rest of the country. Oxford station has direct trains to London, Southampton, Bournemouth, Manchester, Edinburgh, and many other places. For students living a little way out of town, there's also Oxford Parkway, with connections to the main Oxford station and to London Marylebone.
If you're heading to London, then as well as the train, you also have the option of the Oxford Tube, a regular bus service that will take you all the way from Gloucester Green to Victoria. The Airline bus, which also runs from Gloucester Green, provides services to Gatwick and Heathrow.
Fresher Fitness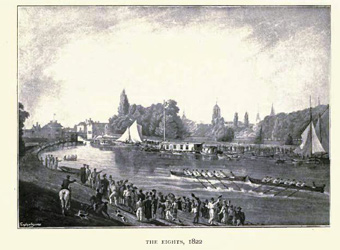 There's plenty of sport on offer in Oxford. Whatever your interests and level, you're bound to find something for you. There are the traditional sports associated with Oxford University, such as rowing and rugby, and some more unusual options, like roller derby or Quidditch. Many of the sports clubs and societies at both universities are open to students and non-students alike, and if you can't find what you're looking for, you can always use our Sports Equipment and Players page to set up your own (and buy some second-hand kit and equipment while you're about it). Brookes has excellent centralised sports facilities, including a climbing wall at the Headington sports centre. Oxford Uni's facilities are more split between the university and the colleges.
Details of the sports facilities belonging to the universities and town clubs are listed on our Sports and Fitness page. There are also several gyms in town. Or, if you want to sculpt your abs and save the environment at the same time, why not try one of Oxfordshire's green gyms?
---
Nightlife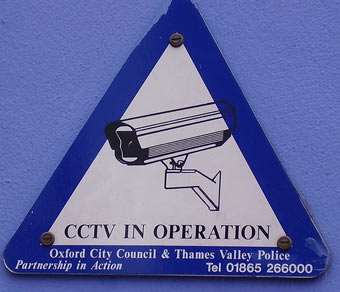 Let's be honest, Oxford isn't famous for its nightlife - but this reputation is a little unfair. Studying in Oxford isn't all evenings locked in the library, and there are plenty of places to have a good night out. Our What's On page will tell you, well, what's on any night of the week you care to name, from films to club nights. Most student club nights will take place during the week, while at weekends the clubs turn over to the townsfolk.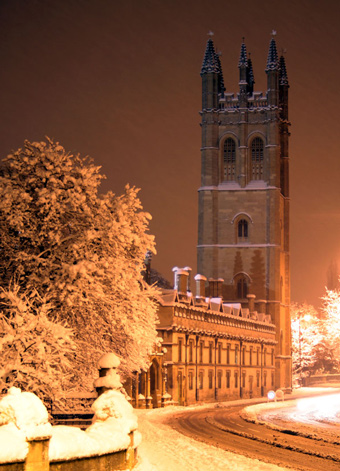 Oxford has more pubs than you can shake a stick at, and many of them have a good line in quizzes, live music or open mic nights. If you fancy something a little different, some of the museums do late-night openings - check out the Ashmolean's Live Fridays or the Pitt Rivers' open nights.
There are also yearly events like the Cowley Road Carnival, the Christmas Light Festival, and, of course, May Day, which is preceded by all-night partying around the city.
---
Entertaining the Parents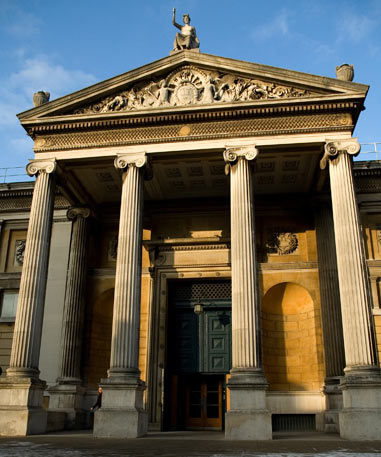 The parents have descended -
how can you keep them occupied
? Museums are always a
good bet for starters
, and Oxford has more than its fair share.
The Natural History Museum
has an almost complete dodo skeleton, several exciting dinosaurs, a strokeable bear, and an active beehive where you can watch the museum's bee colony working hard. If you go through the museum and down a flight of stairs, you'll find yourself in the
Pitt Rivers
Museum, a labyrinth of glass cases full of anthropological marvels. Don't miss the shrunken heads, immortalised in Philip Pullman's His Dark Materials series. There's also the
Museum of the History of Science
, the
Musical Instruments Museum
, and, of course, the
Ashmolean
. If you'd rather be out in the (occasional) sunshine, you can show them round Oxford's
various parks
, or spot some of the local
public art
.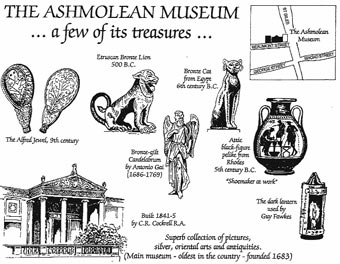 A parental visit is the perfect opportunity to go out for a fancier dinner than you'll usually be having. You could try No. 1 Ship Street, The Old Parsonage, or Gees if you want to stick close to the city centre, or The Trout and The Cherwell Boathouse if you'd rather venture a little out of the way. While these may not have the reputation of The Randolph or Malmaison, you might find the food even better while impressing your parents with your local knowledge. If you'd rather keep it simple, have a look at some of the restaurants in our Food guide - and if you're trying to narrow down your options, why not look through our restaurant reviews?
Don't want your parents sleeping on your floor? Try our hotels and guesthouses page.
---
---
Messing About in Boats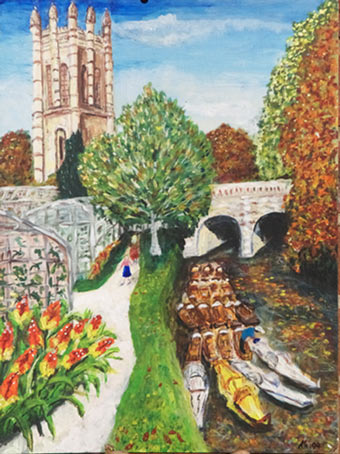 Punting! You can't truly say you've studied in Oxford until you've tried it. Take some Pimms or prosecco and a well-stocked picnic basket, and float elegantly down the river. Just don't forget to let go of the pole when it gets stuck, otherwise you'll find yourself getting a bit wetter than you'd planned. Have a look at our Punting page for all the tips you'll need on where to find a punt, how much it'll cost, and how to actually do it.
Of course, the river isn't just for punting. You can try a boat cruise or do a tour by kayak, and some places are even suitable for wild swimming (although do exercise caution and stay safe if you decide to give this a try).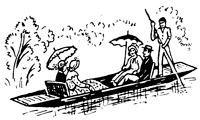 ---
Music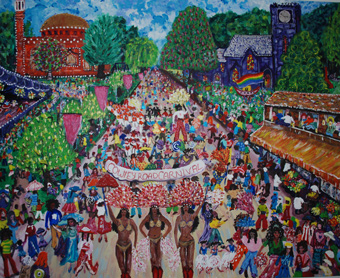 You've come up with a brilliant band name, and now you just need some fellow musicians to make it a reality. Or maybe you need a new guitar, or some music lessons. Whatever you're looking for, have a look in our Musicians, Instruments and Kit section.
You wouldn't be the first famous band to come out of Oxford - Radiohead played their first gigs here, and the city has a good live music scene, including many open mic nights, including the famous Catweazle. See What's On in the world of music, and maybe sign up to play in the Cape of Good Hope or at Sparky's New Moon.
There are even some music festivals in our little city. The annual Truck Festival (which began in the back of a truck, hence the name) has featured artists such as Tim Minchin, Foals, Stornoway, and Ms Dynamite. There's also Common People, which has such a wide range of music and other attractions that you're bound to find something you'll enjoy, and the advantage of happening during term-time.
Classical and folk music lovers are also well-catered-for in Oxford. You can listen to the weekly Coffee Concerts at the Holywell Music Room, and keep an eye out for the regular classical music festivals, such as Music At Oxford. If you're a folk fan, take a look at our guide to the city's folk sessions, and head along to the Folk Weekend in spring.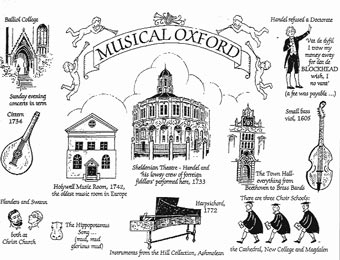 ---
Spending Your Loan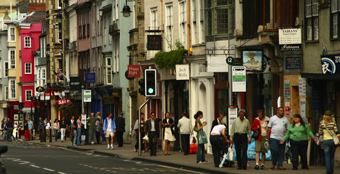 We're not saying you aren't sticking to your budget. We're just saying that, if you felt like treating yourself a little, Oxford has a range of extremely interesting shops. Check out our guide, or explore the city and find your own new favourite places to pick up a bargain or two. As well as the city centre, with highlights such as the Covered Market and the shiny new Westgate, Daily Info also recommends visits to Cowley Road, Jericho and Summertown, where you can find an eclectic range of shops.
If you want to make your shopping spree as ethical as possible, have a look at fair trade shops like Fairtrade at St Michael's, Oxfam on Broad Street, and The Windmill in Headington. On our map, you will find second-hand / charity shops denoted by the white elephant symbol. Headington High Street is particularly rich in charity shops, and the Cowley Road has quite a few as well. In the centre, there's also Unicorn on Ship Street - a wonderful and crazy shop which has to be experienced to be believed!
There's also an outlet shopping centre with designer clothes and other items at clearance prices in Bicester Village, only half an hour away by bus or even less by train from Oxford Parkway station. It's great for when your parents visit and want to take you shopping, or to buy ball and party dresses and black-tie and accessories before a big event.
Strangely, Bicester Village is also excellent for buying good-quality sports gear cheaply, just a tip!
---
Cinema
If you're a film fan, Oxford is the place to be. There are two Odeons in the centre of town, on Magdalen and George Street, surrounded by restaurants for that essential pre-cinema Italian meal (apparently, it's a requirement). The Ultimate Picture Palace on Cowley Road is a one-screen cinema with buckets of character, showing arty and indie releases as well as the more mainstream films. Similar to the UPP, although with two screens instead of one, is the Phoenix Picturehouse in Jericho, where there's always a varied programme (and free student screenings as part of their Slackers Club). Both of these independent cinemas have great snacks and well-stocked bars, so you can enjoy your film in style!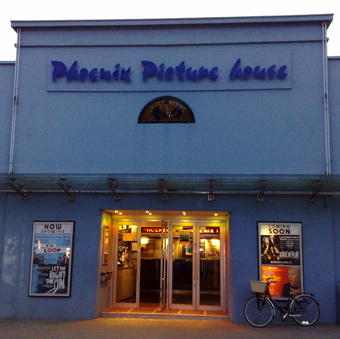 The Curzon in the Westgate is also rather luxurious, and has a student membership available - perfect for a chilled-out night in the city centre. If you feel like venturing further afield, the Vue Cinema, just outside the ring road, has multiple screenings of any recently-released film you could possibly wish to see. Keep up with what's showing by looking at our Cinema column, or sign up for our Editor's Picks - it comes with a weekly guide to cinema, theatre, gigs and other exciting events in Oxfordshire.
And you can find out what films are on in Oxford.
Theatre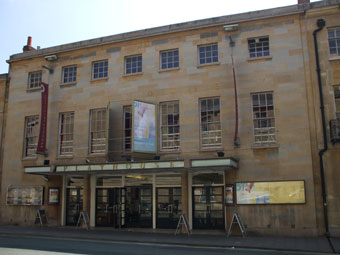 There's always a show on in Oxford, with everything from college plays and productions, local and amateur performances, right up to large, nationally-touring plays. There are theatre spaces large and small, including the Oxford Playhouse, the Burton Taylor Studio, the Old Fire Station and the New Theatre in the city centre, the Pegasus Theatre in East Oxford, and the North Wall in Summertown. See what's on tonight on our Theatre page, or read our reviews of recent productions to find out if there's a show you can't miss.
Oxford is also an ideal place to have a go at treading the boards yourself. Our Theatrical Needs page has information about auditions, singers, painters and props. You can post your own ads there, or put up a free event listing for your latest production. If your budget stretches to it, you could even run a paid ad, which would be proudly featured on our printed sheet and be seen all over Oxford.
Not sure how to get started? Have a look at our page of tips and advice on how to break into the student drama scene, which includes a list of Oxfordshire drama clubs. Our Halls for Hire page is a useful resource for finding rehearsal space (always hard to come by in Oxford). OUDS, although technically the Oxford University Drama Society, is open to members of other universities and colleges.
Are you a fan of theatre, but a little low on cash? Front-of-house volunteering is a great way to see shows without paying, and the Old Fire Station, Oxford Playhouse, North Wall Arts Centre, Pegasus Theatre and Creation Theatre all regularly recruit front-of-house volunteers.
Or, if you've got a good turn of phrase and can write a clear and balanced review, you could always join us as a Daily Info reviewer! To join our official reviewers list, send us an example of your writing. If we think your work would fit us, we'll add you to the list and send you our weekly round-up of shows; you can let us know what you'd like to review, and we'll see what we can do!
---
---
Getting Through the Year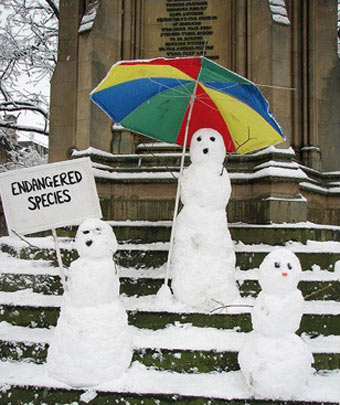 Hopefully your time in Oxford will be happy, healthy, and full of excitement. Realistically, though, you might need a bit of advice or support along the way. There are plenty of help organisations that are there for you, whatever kind of support you might need. Our Help and Support page has links to organisations that can help with mental or physical health, addiction, befriending services, support groups and much more. If things are getting on top of you or there's something you want to talk about, have a look through the list, or approach your institution's student services and see if they can help you out. Brookes offers a counselling service, and Nightline or the Samaritans are just a phone call away.
If you've got a case of Fresher's Flu, your institution's nurse/doctor service should be your first stop, but you can also have a look at our Medical Help page, which is full of information about hospitals, clinics and dentists. You may also want to make use of some of Oxford's excellent Sexual Health Centres, where you can get tested, find out any information you might need, and pick up free condoms (your best line of defence against STIs).
Having difficulty with something on your course? First port of call should always be your supervisors or tutors, but if you wanted a different perspective, you could always hire a tutor from our Tuition page. You can also offer your own services there.
Looking for your religious community in Oxford? Have a look through our Religion and Religious Events pages. Oxford is a multi-faith city, and you're bound to find a group to meet your spiritual needs.
We all lose things, and if that thing is your student card or your phone, it can really put a crimp in your week. Lucky for you, Daily Info has a Lost and Found page, where you can list your missing items and hopefully be reunited with them. We also have a Phones page, if you turn out to need a replacement, and if you get yourself lost in or around Oxford, you can always reach for a copy of our handy map.
---
Competitions!
Freshers' Week doesn't have to mean frugal if you win one of our illustrious prizes!We're running our awesome annual Freshers' Competition, open to freshers in all of Oxford's universities and specialist training colleges, offering the chance to kick-start your freshers experience with a great range of prizes, including free beer, cinema and theatre tickets, a slap-up meal on us, and much more.