This is our guide to the highlights of food shopping in Oxford. Restaurants are not listed here: for a handy guide to where's best to eat out in the city, take a look at our eating out page with details of Oxford restaurants, cafés and takeaways (including offers, menus, reviews and pictures).
Bakeries and Patisseries • Box schemes - Baking & Meal kits • Chocolate • Coffee/Tea • Delis • Oriental and Asian Markets • Health Food • Fresh Produce, Farm Shops & PYO Farms) • Alcohol • Box schemes - Organic veg • Milk Delivery • Meat • Fish • Supermarkets • Wild Food
Bakeries and Patisseries
For bread at its freshest and for the widest choice, go early in the day. The following places bake their bread and cakes on the premises, and have been well tried and tested.
Nash's in the covered market (tel. 01865 242695) is worth a visit - try their malted grain, lardy cake or Scofa loaves; pastries and fresh cream cakes too. Maison Blanc (3 Woodstock Rd, tel. 01865 510974) is a French boulangerie / patisserie and imports all its ingredients from France; baguettes, pain au chocolat, croissants and delicious French cakes and chocolates. Gatineau (formerly Patisserie Pascal) 209 Banbury Road, tel. 01865 311779) produces the same kind of things: the croissants are less rich but the quiches are fabulously creamy. They also make delicious chocolates (see below).
A popular figure on the Patisserie scene are the beautiful bejewelled macaroons, which you can find in Rick's Café on Cowley Road.
Two delicious, eye-wateringly pricey bakeries have popped up in the past few years and are worth a visit, particularly for fans of sourdough. The Natural Bread Company on Little Clarendon Street runs a stall at farmer's markets all over the city. Summertown's Modern Baker specialises in organic loaves. Another Little Clarendon Street contender is Gail's Bakery, which Daily Info can confirm does excellent chocolate almond croissants.
Méli the Greek Deli on the Cowley Road have loaves delivered every Friday, and bake their own rolls every morning. The latter are usually gone by mid-afternoon, but you can always console yourself with baklava.
And we are informed that a bakery van serving speciality German breads and cakes can be found on Friday mornings between 10.30am and 11am in Summertown.
Baking Boxes and Meal Kits

There are now some really exciting box schemes for all sorts of cookery, where you get ingredients and instructions, like a cookery lesson with everything delivered right to your home. We recommend Britain Loves Baking, a local company born out of lockdown, to help you explore your inner Baker!
Britain Loves Baking launched in May, 2020, delivering their innovative and inspirational baking boxes direct to the nations doors and have quickly become the nation's baking best friend. They take all the fuss out of finding that perfect bread or cake recipe – and then the hassle of sourcing all the ingredients to create a range of inspirational bakes for everyone. All the ingredients are of the finest quality, the recipe instructions are easy to follow and it's all weighed out for you so there is no waste. They offer a Bakers Essential Ingredients box, created during lockdown to ensure the everyone had all the ingredients, so they could bake what they wanted, when they wanted and the boxes, were used by bakers up and down the country to raise funds for Oxford's Helen Douglas House's Make it Till You Bake It, virtual bake off competition.
They are always on hand to help with a their free online baking tutorials and Ask the Bakers on social media, So no need to worry if you can't tell the difference between folding, mixing and creaming! they got it covered. To order visit www.britainlovesbaking,com. Use DAILY10 every time you order to get 10% local residents discount.
Chocolates
Wicked Chocolate, Oxford Covered Market
Monday - Saturday 9:30am - 5:30pm; Sunday 10am - 4pm
Sharing its Covered Market home with iScream Gelateria makes family-run Wicked Chocolate the destination for anyone in need of a sweet treat. They offer a tempting selection of handmade and gourmet chocs from trusted small suppliers, many of whom are certified Fairtrade and organic. At Christmas and Easter (the two most cocoa-based holidays) they open pop-up shops, providing a confectionery haven that'd give Willy Wonka a run for his money.
Coco Noir, London Road, Headington
Tel 01865 236073
All of Coco Noir's chocolate is handmade in Brussels by one of the two partners who run the business. They have a wide range of other chocolates, delivered at regular intervals from Belgium. Their darkest chocolate is the tasty Ganash variety (68% cocoa). Highly recommended..
Hotel Chocolat, Westgate Centre
Open Mon - Fri 10am - 8pm; Sat 9am - 8pm; Sun 10am - 5pm
The online giant opened its first Oxford outlet on the High Street in 2009, and has since moved into the Westgate (correct as of April 2020) This is the upper middle class of chocolate; suave, fresh, pricey but just shy of artisanal: you won't find anything too obscure to be highly marketable. Although they do have one 100% bar (albeit a bit dumbed down - "mellowed" in flavour to appeal to a wider audience). Daily Info recommends the Hot Shots, a gloriously alcoholic after-dinner selection.
Montezuma's Queen Street
Borne from its owners' travels in South America, Montezuma's offers a chocolate selection made with ethically sourced, fairtrade cocoa. The shop carries indulgent truffle selections, a wide variety of vegan options, and the Absolute Black range, a collection of 100% cocoa products for the true chocolate purists.
Coffee and Tea
Cardew & Co., the Covered Market
Tel 01865 242315
Teas including fruit and flower flavoured and decaffeinated. Good range of coffees - beans and ground. Also coffee-making equipment and spares, and teapots.
Whittard of Chelsea, 15 High Street
Tel 01865 202324
Upmarket speciality teas & coffees; Lindt chocolate bunnies in season and attractively bright plates, mugs and other crockery.
T2, Westgate Shopping Centre
Tel 01865 240869
Whether you're kicking back with a classic Earl Grey or want a bit of boldness to your cuppa with a Black Forest Gateau infused loose leaf, T2 has you covered.
Bird & Blend Tea Co. High Street
Tel 01273 325523
Eco-conscious with a focus on mixology - create your own custom blend or take home a jar of the Oxford Comma, their signature Oxford flavour.
Delicatessens
Organic Deli Café and Wholefoods Store, 24 Friars Entry
Tel 07715 451810
Specialists in homemade, organic & gluten free breads, cakes, & snacks. Organic wholefoods store with over 200 lines.

Taylor's Deli, 239a Banbury Road, Summertown, Oxford OX2 7HN
Tel 01865 510447
Wide range of deli dry goods – local and continental. Delicious range of chocolates. Breads, cakes, cheeses, meats, charcuterie. Coffee and sandwich bar. Outside catering service available. Hampers to order.

Branca Food, 110 Walton Street, Jericho
Tel 01865 553748
Vegetarian pasties and quiches, filled rolls, fresh pasta, Chinese ingredients. Filled croissants and bagels, etc. Serve-yourself dried fruits, coated nuts etc. Many varieties of sausage. A very good selection overall. Formerly Glutton's.

Polish Taste, branches at 34 Cowley Road, 124 Cowley Road and 115 London Road
Tel 01865 424761
'The widest range of Polish products in Oxfordshire', including fresh bread, meat, sausages, ready meals, dairy, cheese, buttermilk, spices, frozen food, drinks and much more. Home delivery available via the website.

Baltic Foods, 88 Cowley Road
Tel 01865 250819
...cakes, Russian vodkas, pickles, meats, craft goods and much more.

Il Principe, 82 Cowley Road
Tel 01865 202026
Takeaway pizza & hot breads, olives, artichokes, pasta, cakes, meats, cheeses, wine and other goods to stock a genuine Italian kitchen.

LBs, 253 Banbury Road
Tel 01865 311660
Lebanese deli/takeaway offering wraps and lunch boxes as well as many kinds of Lebanese speciality mezze (dolmas, houmous, tabouleh, kibbeh, baklava, etc). They also do outside catering.


Méli, 51a Cowley Road
Tel 01865 791906
Traditional Greek food for your kitchen, including: olive oil & olives, fresh Greek bread, honey, stuffed vine leaves, baklava, halvas, spicy houmous, tsatziki & taramasalata... etc! Opens Mon - Fri 9.30am - 6.30pm; Sat 9am - 6pm.

Olives, 42 High Street
Tel 01865 245700
Covered Market-style Italian/French deli opened in autumn 2006. All sorts of continental delicacies including gluten-free pasta and bisuits. Open 8am-7pm Mon-Sat.

Taylor's, 31 St Giles
Tel 01865 558853
Particularly good for pates and salads, but also breads, pies, cakes, sandwiches and filled pitta snacks. Expensive, delicious chocolates, American ice creams and sorbets, Columbo frozen yoghurt. Outside catering service available. Hampers to order.

Hampers Food and Wine, 31-33 Oxford St, Woodstock, OX20 1TH
Tel 01993 811535
Deli full of delicious things, savoury and sweet, with as many as possible sourced locally. Business breakfasts / lunches can be provided for conferences or meetings. And, as the name suggests, hampers are a speciality: gift hampers, picnics and hampers for glampers! 24h notice required, and they can come in a jute bag, cool bag or real wicker hamper. Perfect for a picnic in Blenheim Gardens.

NB. Since Palms in the Covered Market closed, the only place we know of where you can buy Moutarde de Meaux in Oxford is at Bookers Cash and Carry.
Oriental and Asian Markets
Lung Wah Chong Chinese Supermarket, 41-42 Hythe Bridge Street
Tel 01865 790703
Open 10am-7pm daily
Specialising in imported East Asian foods, such as tofu, miso soup, Thai fish sauce and so forth. If you can't find the ingredient you're looking for, there's an attached travel agent so that you can get it fresh from the source.
Jing Jing Oriental Food Store, 188 Cowley Road
Tel 01865 794688
Open 11am-8pm daily
Frozen seafood a speciality (luscious jumbo prawns far cheaper than the local megastore); also frozen wonton, etc. Range of the usual ingredients for Thai/Chinese cooking.
Thong Heng Oriental Supermarket, 6 Windmill Road, Headington
Tel 01865 452069
Open 10am-7pm daily
Again, frozen seafood, range of sauces, rice etc, all cheaper than the local megamarket and more delicious. Also phone cards.
Tahmid Stores, 53 Cowley Road (near the Plain)
Tel 01865 203202
Open 10am-7pm daily
All manner of imported goods, from exotic veg to loo roll, in 'Oxford's biggest eastern supermarket'. Halal butcher.
Health Food
Holland and Barrett ( 5-6 Golden Cross, Covered Market, tel. 01865 792102; 17 Westgate Centre, tel 01865 249219; 263 Banbury Rd, tel 01865 552523) do herbal remedies, all sorts of vitamin supplements, preserves, honey, grains, yoghurt, whole wheat bread and also takeaway snacks.
Uhuru Wholefoods, 48 Cowley Road, tel. 01865 248249
The best range of herbs and spices, as well as dried fruits, nuts, muesli, bread and baking ingredients, homemade cakes and organic wholefoods, alongside eco-friendly make-up, cleaning products and vitamin supplements.
Living Food of St Ives is an online company selling sprouting seeds (germinated and for germination) and sprouting equipment. Find out more about the amazing health properties of these little nutrient powerhouses on their website.
Oxford Vitality: manufacturer of health supplements in Oxfordshire. Local online-only business selling dietary supplements, vitamins and minerals to a range of people. Tel: 01869 388050. Based in Bicester.
Fresh Produce
Markets
(see also our Festivals and Markets page)
For fresh fruit, vegetables, meat and fish, visit the Wednesday Market in Gloucester Green, from about 8am to 4pm. There is also a farmer's market there on the first Thursday of the month. (For more farmers' markets in the rest of Oxfordshire, visit www.tvfm.org.uk.)
Other farmers' markets around town include:

Wolvercote, now well established at The White Hart, Lower Wolvercote every Sunday from 10am-1pm. Each week a variety of stalls offer a wide range of mostly organic, local produce, including fruit and veg; cheese (goat's and cow's); beef, lamb and pork; eggs and milk; home made bread, cakes, croissants. The market website, www.wolvercotefarmersmarket.co.uk, gives a full list of stall holders and the stalls expected for the next 2 weeks, or contact [email protected].

The East Oxford Farmers' Market (also organic) now takes place every Saturday 10am-1pm at the East Oxford Primary School, behind Tesco's on the Cowley Rd. The East Oxford website: www.eastoxfordmarket.org.uk contains details of who will be stall-holding when, to help you plan your shopping. Locally made and/or Fair Trade arts and crafts are on sale alongside the vegetables/cakes/bread/meat/eggs, and there is always a café offering hot and cold snacks/meals. See reviews on Daily Info here.
Headington Market takes place on Saturdays from 9am to 2pm, on London Road (in the main Headington shopping area). Regular stalls include bakery, deli, and streetfood, with a wide variety of local meat, fruit, and vegetables. Occasional stalls include eco products, wood turning, and vinyl records. You can sign up for weekly email to hear what's on from their website. Their facebook page also provides regular updates. Reviews can be found here.
A further option (available 8.30am-5.30pm Mon-Sat and 10am-4pm Sun - and longer pre-Christmas) is Oxford's picturesque Covered Market (est. 1774), which offers you a wider choice but is often rather expensive due to its appeal as a tourist honeypot. In addition, you can buy direct from some local farms, listed below. Most places expect to have asparagus from the first week of May.
And Silver Fork are a local food delivery service, collecting local-stocked food from your favourite delis round the city, such as Branca, Haymans Fisheries, LBs Lebanese, Manos and Oxford Wine Company, and delivering them directly to your door. Delicious!
Farm Shops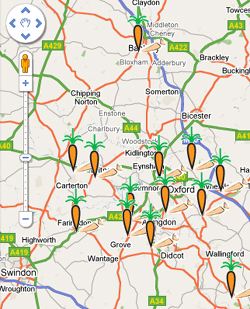 Click here to view Daily Info's Map of Oxfordshire Farm Shops. Please do add any we're missing!
Crazy Bear Farm Shop, Bear Lane, Stadhampton, OX44 7UR
Tel 01865 890714, fax 400481
[email protected]
Open Mon-Sat 9am-6pm, Sun 10am-4pm.
Deli, smokehouse, fishmonger and charcuterie attached to fabulous restaurant, hotel & farm. Eggs 24 hrs old; bread and cakes made in the village; smokehouse on-site (and see the animals while you're there too).
Cultivate Oxford: the Veg Van, Earth Trust, Little Wittenham OX14 4QZ
Tel 07579 965374, [email protected]
Cultivate is a friendly cooperative owned by the community and based in Little Wittenham. Cultivate also has a VegVan, a mobile shop that sells fresh, locally-produced food at regular weekly mini-markets in and around Oxford. It's a roaming enterprise, but a timetable of where to find the VegVan, Wednesday through Sunday can be found here: VegVan schedule. There is also an interview with Cultivate on Oxcast episode 16 'The Great Outdoors', click here to listen! They also offer a click and collect service, as well as delivery. Order between Monday and Wednesday online to collect at one of their stops between Thursday and Sunday.
Dews Meadow Farm Shop, Oxford Road, East Hanney, nr Wantage OX12 0HP
Tel 01235 868634
Open Mon & Wed - Sat: 8.30am - 5pm; Sun 10am - 4pm.
Farm shop selling their own farm-reared pork and pork products. Locally sourced beef, lamb & chicken are also available. Dews Meadow sell at many local farmers' markets, supply some community village shops, and also several restaurants.
Little Lodge Farm Shop, Faringdon, Oxon, SN7 7PN
Tel 07771 883741, [email protected]
Delicious home-made cakes, ice cream, jam; free-range eggs, garden produce; relax with a tea or coffee with stunning views over Vale of White Horse. Lunches also available. Open Mon, Wed, Fri and Sat 10am-2pm, Sun 10am-12 noon.
Medley Manor Farm, Binsey Lane, Oxford; Tel. 01865 241251
Pick Your Own and some ready-picked produce. Asparagus and strawberries are available from around June, 7 days, 9.30am - 7pm. Also broad beans, new potatoes, carrots, beetroot, spinach, garlic, etc. You can get to it on foot (or by car) from the Botley Road, or walk across Port Meadow from Jericho (over the river, turn right, go left down the white chalk road and left again at the cattle grid by the Perch).
Millets Farm Centre, Kingston Road, Frilford, Abingdon OX13 5PD, Tel 01865 391266 Crop reports: 01865 391555
Large selection of fruit and vegetables plus dairy products, fish, patisserie, wine, meat, garden centre & restaurants, children's area etc.
Farm shop open 7 days a week, 9am-6pm. PYO starts beginning June and runs 9am-5pm daily. Maize maze in July. Free tractor rides may be available on weekends in summer.
The Old Farm Shop, Milton Hill, Harwell, Abingdon
Tel 01235 831247
PYO: Many berries, plus broad beans, cabbage, cauliflower, marrow, peas, pumpkins, runner beans, spinach, sweetcorn, asparagus.
Farm Shop: As for PYO plusgreater range of fruit and veg. Own lamb, poultry, turkey, eggs, game, bread, cakes, pies, honey. Organic section. Open Mon-Sat 8.30 - 6pm, Sun 8.30am - 5.30pm. Easy disabled access. Toilets. Free delivery of local orders.
Peachcroft Farm, Radley, Abingdon OX14 2HP
(Leave A34 at first Abingdon North exit. Left to roundabout; left into 12 Acre Drive - farm is 400 yds on left.)
Tel 01235 520094
PYO: many kinds of berries and peas, also potatoes, asparagus, etc. Farm Shop has soft fruits, vegetables, cream, free-range eggs, free-range poultry, cakes, pies, preserves, fruit juices, and honey. Easy disabled access. Tractor rides, apparently. Open Mon-Sat 9am-5.30pm (Sun 10am-4pm in June and July.)
Q Gardens, Milton Hill, Steventon, Abingdon (on A4130) OX13 6AB
Tel 01235 820988, [email protected]
Farm shop (9am-6pm daily), tea room (9am-4pm daily), butchers (9-6 weekdays, 9-5 weekends). PYO & ready picked fruit. Asparagus from end April - mid/end-June. Attend local farmers' markets May - September. They specialise in cherries (home of the Harwell cherry) - ready from the solstice (21st June) and also strawberries, raspberries, currants, gooseberries, plums, damsons, greengages, apples & pears.
Rectory Farm, Stanton St. John, OX33 1HF (from the A40 Headington roundabout take road to the North signed 'Stanton St. John 2m'. Follow farm signs after 0.75m)
Tel 01865 351677 (crop availability reports, also on website), 07966 246388 (orders).
[email protected]
Pick Your Own of the Year 2008!
PYO asparagus (separate site): open during season (approx mid April to mid June): Tues-Thurs 2-6pm; Fri 10am-6pm; Sat-Sun 9.30am-1pm.
Main PYO and Farm Shop: May to end August: every day, 9.30am to 6pm. Café open till 6pm.
Mr Finn the Butcher: 27 May - 30 September: 9.30am - 6pm (Sun 9.30am - 4pm).
PYO crops: strawberries, raspberries, gooseberries, redcurrants, blackcurrants, whitecurrants, blackberries, asparagus, broad beans, carrots, beetroot, runner beans, French beans, squashes and pumpkins, globe artichokes. Lots of potato varieties. Farm shop has fresh fruit and vegetables plus butchery by Mr Finn. Ample car parking. Children's play area and sandpit. Picnics. Tractor and trailer rides at weekends. Easy disabled access.
Sandy Lane Cooperative Market, Tiddington, nr Wheatley, OX9 2LA
Tel 01844 279269, Email [email protected]
Farm Shop: Open Thursdays 2 - 6.30pm. Organic and local vegetables, meat, fruit, jams, cakes, bread (award winning!) and flowers. As there is an emphasis on seasonal produce, the choice does vary. While you're there you might see the piggies who'll later be available as bacon and sausages. The animal welfare is really good, so the animals are friendly and interested. This isn't like shopping in a supermarket! For reviews of Sandy Lane Cooperative Market see here. Sandy Lane's veg is included in the veg box schemes Ten Mile Menu and Veg in Clover.
Wykham Park Farm Shop, Banbury, OX16 9UP
(A361 towards Chipping Norton from Banbury Town Centre. After 1 mile, turn left at cross-roads signed Bodicote. Farm shop is 1/4 mile on the left hand side.)
Tel. 01295 262235, Email [email protected]
Specialize in asparagus (the season ends mid June and they are open 7 days during it) and their own lamb, beef, sausages, potatoes and paeonies, plus other seasonal veg. Shop generally open Mon - Sat 8.30am - 5.30pm; Sun 10am-1pm.
Organic/Local Vegetable Delivery
(box schemes)
If you want to bypass the conventional supermarket approach to organics (unripe produce from faraway lands at exorbitant prices), and can't make it to one of the Farmers' Markets or Farm Shops mentioned above you may wish to try one of the following delivery options.
Most of these can be ordered on an ad hoc basis (you don't have to have veg every week, and you can change your order at will), and most produce is at prices akin to the cost of standard non-organic supermarket veg. All prices as of July 2017.
Veg in Clover, Sandy Lane Farm, Wheatley
01865 427359 / 07931 109623 / [email protected]
A local organic veg box scheme in Oxford, which has been delivering organic vegetables since 2000. It's based at Sandy Lane Farm near Wheatley where they source local organically grown vegetables - all the vegetables are certified organic and they are a member of the Thames Valley Organic Growers.
Delivery is by distinctive eco-friendly tricycle or pedal van in Central and East Oxford; Wheatley and Thame areas are reached by van. Deliveries are brought to your door on Fridays (Thursdays in Thame). You can choose between two sizes of box: smaller boxes contain 9 items, larger ones 12, and the contents vary weekly according to season. Every week the boxes include carrots, potatoes, onions and 6 eggs (though you can substitute another veg for the eggs if preferred). On the website you can see photos of the delivery drivers and vehicles, and also the veg chart showing what you're likely to get in your box. Empty boxes are reused, so please leave them out on the step!
Tolhurst Organic, West Lodge, Hardwick, Whitchurch-on-Thames, Oxon
For Oxford city delivery, call Jane Ivemey: 01865 556151 / [email protected]
Part of the Vegan Organic Trust. Delivery of vegetables and fruit to collection points throughout Oxford on Weds & Thurs. Veg bag sizes vary in cost from £11.20-£20.10, and contain seasonal produce, the bulk of which is from the farm, near Reading. Fruit comes from further afield (but not by aeroplane) and bags are from £7-£17.50. Bread also available. (Reading and Wallingford are also served - visit the website for details.)
North Aston Organics, The Bakery Office, 3 Somerton Rd, North Aston OX25 6HP
Tel 01869 347702. 24 hr answerphone and someone in the office most Mondays.
Soil Association Certified growers with a "no air freight" policy. Deliver organic boxes to drops in parts of Oxford and Banbury, also Cropredy and villages surrounding North Aston. North Aston do most UK grown vegetables and culinary herbs in season. Bought in organic fruit and eggs also available, and at some drops organic milk from North Aston Dairy as well. Veg boxes are £6-£18 and fruit bags £5-£6. Unusually all sizes of box have the same contents - it is just the amount that varies. Trial boxes available.
Ten Mile Menu, run from 55 Station Rd Beaconsfield, Bucks HP9 1QL and with veg from Sandy Lane Farm, Tiddington, OX9 2LA
Tel 01844 279 448 or 07967 328 455. Email [email protected]
Organic and fairtrade fruit and veg. Veg is local, as is some fruit, but most fruit is from further afield. Ten Mile Menu operate across the Chilterns from Oxford to Amersham. They deliver on Thursdays to the Chilterns, and on Fridays to Oxford city. You register your details (including a method of payment) and order online, and whatever is in your basket on Tuesday night is charged and delivered later that week. You can set up regular orders or one-offs, and there is a good range of sizes of veg box (£9.50 - £24) as well as fruit, meat, dairy produce and bread. They offer a half price Basic box for new customers, as a trial. For more details and reviews see here.
Coleshill Organics have been recommended to us by a Daily Info reader. They deliver boxes to collection points in South-West Oxfordshire every Thursday, and are based near Swindon. Their weekly box of veg (£10-£19.25) is sufficient for four and a half people. They also offer fruit bags (£8.75-£13.20), eggs and their own honey. You can call them on 01793 861070 or email [email protected]
Willowbrook Farm, Hampton Gay, Oxfordshire, OX5 2QQ.
Tel 01865 849957 / 07812 005629 | [email protected]
Visits Mon-Fri 9.30am-2.30pm (please call first), weekends by appointment
Soil Association accredited organic farm supplying eggs to local Co-Op shops and Oxford farmers' markets, plus all sorts of other locally-made goodies at the farm (meat, honey, salt-cured sheepskins, soap). They offer not veg, but meat boxes eg. for stock-making, or containing a whole lamb carefully butchered, or with meats suitable for making curry. As well as this you can buy individual cuts of lamb or beef, and seasonal birds such as turkeys and geese at Christmas time. All meat is halal.
Riverford Organic Vegetables Ltd, 38, Kennington Road, Oxford OX1 5PB
Oxford distributor: Jake 01865 249854 [email protected]
General No: 0845 600 2311
Standard veg boxes range from £10.95-£21.45 (includes delivery), vary according to the season, and can contain milk, eggs, juice and jam as well as a variety of organic veg and fruit ethically sourced and delivered. Organic meat boxes and extras now available. 80% of the veg and fruit from their co-operative of farmers in North Hampshire and Southern England. Combined fruit and veg boxes (and fruit, veg and meat boxes) are available, and you can also pick extra individual items of fruit and veg if you want more control over what you're getting. Riverford may be a bit further away but they do give you a lot of options (salad boxes, juicing boxes etc).
Abel & Cole Organic Home Delivery
Tel. 03452 62 62 62 [email protected]
70% UK-grown produce delivered direct to your office or home. London-based superboxscheme A&C deliver the usual seasonal fruit & veg plus extras including dairy (Yeo Valley, Rachel's), meat, fish, beer, wine, soft drinks, tinned & dried goods and cleaning products (Ecover), all of which can be ordered on a 'pick-your-own' basis. Prices around £12.50-£24.75 plus delivery. You can start an account on their website. They offer a bewildering array of options, including recipe boxes with meal kits in, and a monthly gourmet cheese selection. Some of the descriptions are so "cuddly" it is a little hard to see what's on offer, but they will provide almost any combination of organic veg, fruit, meat, fish, and other produce that you require.
Organic & Free-Range Meats
Though the rise of the supermarket and a number of recent food scares have hastened the demise of the small independent butcher, Oxford has retained an unusually high number, some of whom are organic and/or free-range specialists. We list only these below, as you will find other, non-organic butchers locally after brief research. Halal meat is available from several outlets on the Cowley Road (of which we can recommend the fabulous Continental Stores on the corner of Crown Street, mainly for its friendly service, reasonable prices and proximity to all of our houses).
M Feller, Son & Daughter
54-55, Covered Market, High Street OX1 3DY
Tel. 01865 251164 [email protected]
Family-run business selling organic British meats, including game. The shop is Soil Association certified, friendly and in the tourist honeypot of the Covered Market (so expect to pay proper prices - eg. £15-£20 for an organic, free-range chicken for 5/6 people).
Alcock Family Butchers
273a Banbury Road, OX2 7JF
Tel. 01865 515658
Mostly organic and additive-free meat. Very friendly and helpful and look after their stock properly: their opening hours are slightly restrictive if you have a full-time job elsewhere in Oxford, however: Tue - Fri 8am - 5pm; Mon closed, Sat 7am - 1pm. Definitely morning people.
Aldens Meatmaster
Unit 2, Centremead, Osney Mead, Oxford OX2 0ES
Tel. 01865 722093 [email protected]
Family-run business selling a wide variety of meat and meat products, with a well-stocked shop as well as home delivery and click and collect. Their website includes useful information and recipes, and the shop is open Monday – Saturday 7am – 5pm, and Sunday 9am-4pm.
W Alder
224 Cowley Road, OX4 1UH
Tel. 01865 248524
The only Oxford butcher we know of with a small, cheery model butcher outside advertising its trade, Alder's has a range of fresh meats including game and some organic, along with local eggs and preserves. Delivery service available.
Park Farm Food
Park Farm Estate, Witney OX29 5SS
Tel. 01865 883336 / Fax. 01865 300725 [email protected]
Well-established family business 'taking pride in the rearing, butchering and delivery of only the best, hormone free, additive free and organic meats at wholesale prices'. Telephone them to order (delivery is free within Oxon. and Gloucs., and payment for goods is usually on delivery).
K G Freeman
10 High Street, Woodstock OX20 1TF
Tel: 01993 811434
Excellent traditional British family butcher stocking only free-range meat. Cooked foods available, and a variety of game in season. Hot sandwiches, baguettes etc. too.
Mr Finn, Family Butcher
Rectory Farm Shop ( see above)
Tel. 01865 358993
Mostly free-range meat and lots of it is local, particularly the lamb.
Fishmongers
Whilst local fishmongers, like butchers, have dwindled in recent years - with many supermarkets getting rid of their fish counters too - Oxford is well-served for fish, especially since Haymans Fisheries opened their fresh fish mega-market in Osney Mead in 2011 (see below). Sainsburys Heyford Hill branch still has a decent counter, as does Waitrose in Headington (which sells off remaining fresh fish quite cheaply on Sunday afternoons). You will find a fish van along with a butcher's van at the Wednesday market on Gloucester Green. If your local fishmonger is missing from this list, please let us know.
NB: A topical note on ethical fish buying. A surprising number of easily available fish are actually threatened - and even endangered. See fishonline.org for lists of what to buy and what to boycott. You might also be interested in Taras Grescoe's Bottomfeeder, a Bill Bryson-like survey of what's left in the sea and how to help wildlife and fishing communities survive.
A E & M Alcock
273a Banbury Road, Summertown, OX2 7JF
Tel 01865 515658
Tue-Fri 8am-5pm, Sat 8am-1pm
This butcher is also a fishmonger with a full fish selection (cod, haddock, plaice, pollock, tuna, trout, etc, etc.).
Hayman's Fisheries
22-23 The Covered Market, OX1 3DU
Tel 01865 242516, fax 01865 202084
Mon 8am-4pm; Tue-Sat 8am-5pm; Sundays ( pre-Christmas only) 10am-4pm
Unit 7, Ferry Mills, Osney Mead, OX2 0ES
Tel 01865 242827
Vendor of 'fish, crustaceans & molluscs', from shark and octopus to cockles and whelks, Hayman's are an Oxford legend. Their fabulous display and corner position in the Covered Market can feel a bit like an aquarium exhibit; prepare for tourist elbow-jostling. New in 2011, their 13,000 sq ft megamarket at Osney Mead is "open to all...at cash-and-carry prices...7 days a week", and conveniently situated opposite Booker. Unbeatably fresh, delicious fish products of several hundred kinds.
The Fish Man
...sells fresh Grimsby fish (cod, haddock, salmon, plaice, sole, monkfish, turbot, prawns, cockles, mussels, whelks...he's got the whole ocean in there, it seems) in the car park at the rear of Oxford Wine Café (and possibly other locations), on regular weekly evenings which can be discovered by calling him on 07724 243464.
Supermarkets
In the decade and a half since this guide was first produced, there has been an explosion in the number, size and quality of supermarkets around Oxford. The two main chains, Tesco and Sainsbury's, both have mega-branches on the Oxford ring road (at Cowley and Heyford Hill respectively) and normal size stores across the region, including within the city itself (Cowley Road, Banbury Road and in the Westgate Centre/on Magdalen Street, respectively). The lines these new supermarkets stock reflect the marked increase in awareness of speciality foods in England over the last twenty years, and most tastes and needs are catered for. Most have an in-store bakery, a deli counter and cash machine.

The Co-op also has branches throughout Oxford (at Headington, Botley, Marston, Summertown, Walton Street, Cowley Road, Iffley Road & Cowley Centre), and whilst few are of the enormous proportions of the other stores, they tend to give good value for money and are a bit less monstrously corporate than the others. Their novel structure gives them the ability to source really local produce by priority (their eggs are the same as the eggs sold by the farmer herself at East Oxford Farmers Market), and all their chocolate is now Fair Trade.
And finally: We Have Waitrose! As the recession saw a struggling Somerfield sell off branches left, right and centre to the other giants in 2009, Oxford finally gained an outlet of the Queen's grocer (formerly only as close as Witney). Find it at 9-11 Old High Street, Headington.
Other stores in the Oxford area include:
Marks and Spencer, Queen Street (city centre) and Summertown
Tel 01865 248075
An excellent range of ready-prepared meals, plus luxury foods as well as essentials.
Aldi, Botley Road
Tel 0800 042 0800
Great for those on a tighter budget, Aldi was named the cheapest supermarket of 2021 - it carries all your essentials, plus you can find great reasonably priced substitutes for some supermarkets' more luxury items.
A special mention should be made of the Eastern and Continental Store at 152 Cowley Road (the green-painted corner shop more or less opposite Tesco). They have shelves piled high with all possible things in packets and tins - including bulk sizes of vegetable and olive oil, rice and spices - plus fresh herbs, exotic fruit and veg and a halal butcher. They're very friendly, and often cheaper than their large corporate competitor - and they're been there since 1975.
Wild Food
A group of enthusiastic foragers have created a google map of wild food sites around Oxford. While we at Daily Info are excited by this project, we would like to remind everyone interested in wild food that it is very, very important to take someone with you who knows what they're doing! You also need to be aware that some wild foods can cause unexpected allergies or toxic reactions in some individuals. Just because you've eaten it before with no ill effects doesn't mean that your friend can. There's plenty of safety information on the internet about wild foraging; do familiarize yourself with these facts first. And be careful to make sure you're not taking plants from environmentally vulnerable areas. Fruit is one thing, as long as there's enough left for the wild animals who actually need it, but the gathering of entire wild plants is another. Having said all that, it's a very delightful way to spend a day, and to get back in touch with the planet. Happy hedgerow-hunting!