"You are doing a great job. After coming to Oxford I immediately bookmarked all of your pages"
Torsten Menzel, student
"I wish all our suppliers were as nice to deal with as you are!"
Richard Hillsdon, www.homeitsupport.biz
"Thank you so much for such a proactive response to the advert preparation and for allowing me to feel perfectly comfortable with the advert over a number of swiftly produced proofs. Thank you also for publishing the live advert and furnishing me with the payment receipt. It is nice to be able to join the community of local advertisers on DailyInfo."
Client Relations Manager, Eurointelligence Limited.
"Daily Info was the right choice for us when looking for a graduate to work with our small company. In just 2 days we received over 40 applications, most of which were of a very high standard, from both universities and beyond. The best thing of all was the speed within which we found the right candidate - she was already working with us less than 24 hours after we put the advert in!"
Sam Hampton, ecoVeritas
"We get great responses from your ads and you are always so nice to deal with."
Fiona Pocock, Principal, Oxford Tutorial College
"I just wanted to say I have been overwhelmed with responses to the job advert I placed yesterday ... the first email arrived even before your automated receipt! What's more, there have been some high calibre applicants and so even though I have yet to shortlist I can already see that it has been a very worthwhile exercise."
Helen Toone, Electronic Enlightenment Project, University of Oxford
"I am writing to thank you very much for your service, which continues to be fast, efficient and effective. I have used your webpage and broadsheet for many of my recruitment campaigns, as we are an Oxford-based business, and have always found it an excellent way of sourcing suitable candidates. For me this is proof that you are of great service to the people of Oxford and that many residents of the city, and non-residents alike, benefit from the information that you provide and keep up-to-date."
Vanessa Harrison, Language Development Manager, Alden Prepress Services
"We have used your site to look for volunteers in our office and we have had a great response - in fact all our leads thus far have come from Daily Info. It has gone really well and we are very impressed! I have also used it to find house shares and I have recommended it to anyone new to the area looking for accomodation."
Elizabeth Havercroft, Local Supporter Fundraising
"No fuss, no stress – Daily Information gives the Museum of the History of Science a fast, efficient and friendly service that I thoroughly recommend."
Jim Bennett – Director, Museum of the History of Science
"Thanks a lot for your help - you run a great system, and it is much appreciated. I am getting a lot of response from the free events listings - thanks."
Monica Franke - MCF Osteopathy
"You do a fabulous job with your weekly emails and your site is a unique resource for all of us living and visiting Oxford!"
Marianne Julebin, Oxford Radcliffe Hospitals Charitable Funds
On our Reviews of events:
"I would just like to say a huge thank you to Jen and her team at Daily info Oxford. In the month leading up to my show I suffered 3 family deaths, my show was seriously behind schedule, I hadn't had time to arrange for people to review it. A quick email to the Daily info team 4 days before the show and in 24 hours I had a listing on their site and someone to review my show. What a fantastic service! I will definitely be using them again."
Liz, Actor and event organiser
"We advertise with Daily Information whenever a room becomes available in our shared house and we always fill the room within a week. Swift, affordable and accurate, the website is backed-up by exemplary, friendly customer service. To anyone in Oxfordshire Daily Information is indispensable."
Gerard Barker, Reed Elsevier
"For over two years I have advertised my rental properties with Daily Info and nowhere else. The website's user-friendly, the service has always been accurate, and, most importantly, I have had plenty of inquiries from all over the world and have always found excellent tenants fast. Oh, and it's cheap (but don't tell the guys at Daily Info I said that)."
Rachel Griffiths
"I felt the urge to write you this short email to say how excellent your site is. I've been using this site for around 3-4 yrs to advertise my houses for rent. Everytime I add the house on dailyinfo, it's taken by someone within 1 week. Keep up the good work with dailyinfo. With the hard work you've put in and are continuing to do, I can only see it improving."
Mohammed
"Just wanted to let you know that I listed my car for sale on your site just on a whim to see if there was any interest – within 24 hours it had sold for a better price than I expected."
Kester Holmes
"The Daily Information sheet is the only way our visitors can have an overall picture of the events going on in Oxford. It helps us direct our guests immediately to what may appeal to them. I would say that Oxford Information is an indispensable tool for everyone in Oxford."
Tony Godel – Proprietor, Burlington House
"The map arrived and it's wonderful, just what I needed, with a street index too! I can get a sense of my surroundings in the "maze" at last and will no longer get lost just a few streets away from my destination."
Linda Wright, Oxford visitor
"Your [maps] really are the best ones here."
Liisa, Oxford resident
"I just want to say how impressed I am with Daily Info; we ordered some of your maps a week or two ago and they were here within a matter of days & are possibly the best maps of Oxford I've ever seen. Go Daily Info!"
Kate Lewin, OCCAM Centre Administrator (by day)
"Here I am again, begging for one of your excellent year planners. It's an invaluable office aid...we wouldn't have a clue who's doing what without one."
Sue Collins, Royal Mail
" I have been using them since I was at school and they're brilliant, I can't start the (academic) year without one!"
Madeleine Clare, Longtime requester
"The second most useful thing in our office after our street map!"
James E Griffiths, Senior Partner, Pearce Alder & Co. Estate Agents
In General:
An Ode to Daily Info (a poem composed and sent to us by kindly fan Stephen Bardle)
"As is the norm these days, I use loads and loads of websites. Just want to say that your website is one of the very best in terms of clarity, user friendliness, and easy access to info. Thank you for such great work."
Dr. Mohga M. Kamal-Yanni
"This site is excellent. I've used it to find out about different clubs and societies as well as advertising a room to let. It's invaluable."
Lucy Stephens, Oxfam GB Development Education Team Administrator
"I'd like to congratulate you and thank you for writing such a brilliant website. It has helped me no end...the perfect mix of functionality, ability and localisation."
JCD, musician
"Can I just say what a brilliant institution Daily Info is? A real vade mecum!"
Francis King, Administrator, St Michael at the North Gate (Oxford City Church)
"This site is the most user friendly web site I've ever come across. It's so fluently designed, it really doesn't feel like a website at all. More like talking to somebody knowledgeable who responds instantly and effectively to your questions. It's quite eerie really, 'cos it's just so far from the normal frustrating 'finding out stuff and trying to print it in coherent format' uphill struggle of most listings sites. It's got:
Well organised listings
All the basic details necessary
Simple listings / date search
Beautifully simple print-offs
(also really low levels of dross per page...lovely!)

Time Out could learn a few things here...!"
Rhoops (through review system)
"Hi, Just thought I'd let you know that your Daily Info pages (when they are out of date, of course) are excellent when shredded and very colourful to use as packing material for birthday/leaving gifts."
Liz Harris, PA to Prof. W. Graham Richards, Chairman of Chemistry, University of Oxford
"Thankyou for the cardboard tubes that you've been able to let me have on behalf of the Cutteslowe Community Centre Art Club. The club really appreciate being able to work creatively with all sorts of different materials, textures, shapes and sizes and these tubes have been a real hit. If you are 5 or 6 then the people made from these tubes are 'big people'!"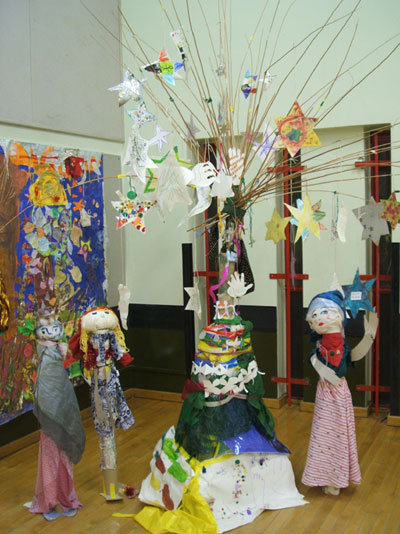 Helen Edwards, Leader, Cutteslowe Community Centre Art Club