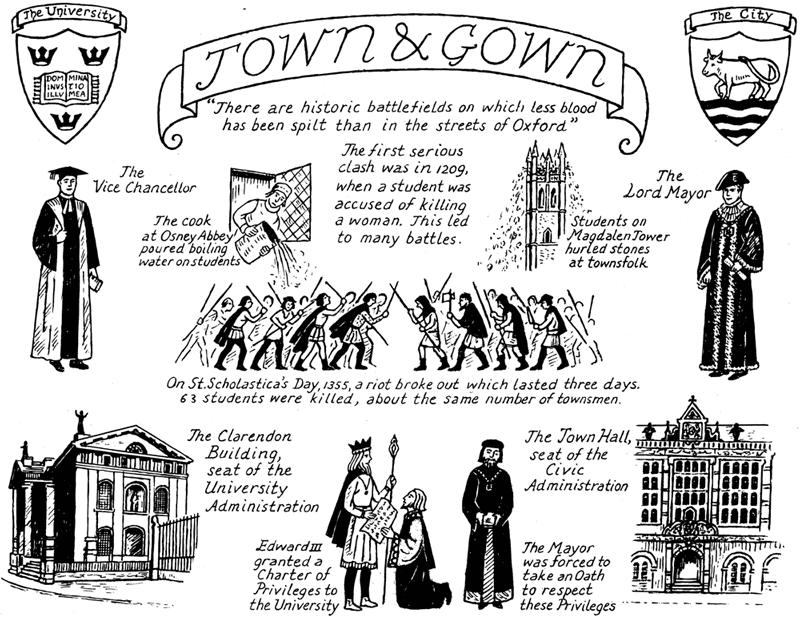 The St Scholastica's Day Riot began with a brawl at the Swyndlestock Tavern at Carfax (where the Santander Bank now stands). The mechanics of pub brawling appear to have changed little since 1355 – fighting started when some scholars threw a cup of wine in the landlord's face, and followed it up with a quart pot.

The riot lasted several days. The townsmen rang the bell of Carfax Tower (then St Martin's Church) to summon reinforcements who came armed with various weapons. The Chancellor immediately ordered the ringing of St Mary's bell, whereupon the scholars of the University mustered with bows and arrows.

On the third day, two thousand or so country people joined in on the side of the townsmen, crying "Havoc! Havoc! Smyt fast, give gode knocks!", and things really began to get nasty. Sixty three students were killed, many more were injured and much damage was done to buildings and books.

Although the townspeople won the day, they lost the war, for the University invoked the assistance of the king. For 500 years (until 1825) the Mayor and 63 citizens were obliged to do penance on the 10th February, the anniversary of the riot: each had to process to St Mary's, bow before the Vice-Chancellor, and pay a fine of a penny.