This competition is now closed!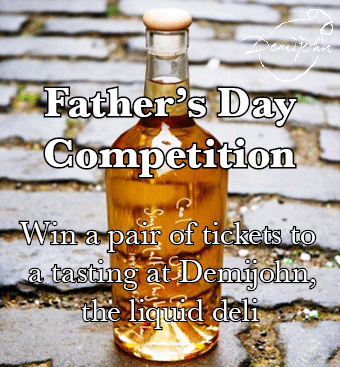 Just a couple of days until Father's Day!
It's Father's Day this Sunday, we hope you haven't forgotten. In case you did (we won't tell), we've got a chance for you to win the perfect Father's Day gift.
Demijohn Oxford, the liquid deli, of which DI are a big fan, will be hosting a very special tasting event on Friday 13th June, and we've got a spare pair of tickets.
For your chance to win a pair of tickets to the tasting for you and your old man, just email [email protected] with your name and contact details.
This competition will close at noon on Thursday 12th June.
Congratulations to our competition winner Al Kinley!
For more information about Demijohn, you can read our review here, or listen to our interview with Manager Darren. You can also visit their website, and follow them on twitter.