Never before has Oxford seen so many hipster clichés all in one place; don't let that put you off though, as The Bear and the Bean is actually friendly and well meaning, and you'll covet everything on sale.
Nestled between a sushi place and a soon to open burrito shack, The Bear and the Bean is the new collaborative venue of The Keen Bean Coffee Club, formerly of the back left corner of Truck Store, and super-cool local record label, fashion label and art collective, Bear on a Bicycle. It's filled with 20-somethings in relaxed clothing with expensive laptops, sharing small tables and a fast wifi connection (password 'flatwhite' at last check). One wall and the front window are lined with benches and stools, the latter in particular offering a great people-watching spot of the Jeune St-Cowley Rd corner. A few simple green-painted metal tables and chairs populate the probably-unfinished picket-fenced courtyard bit at the front, for smokers and sunny days.
The right half of the shop is tiny and wonderful, consisting of narrow bookcases of lomography polaroid cameras and racks of well-chosen vintage and original clothing; the 'prose before hoes' typewriter t-shirt is almost comical, but I still kinda want it, and the floral shirts and wool-knit bobble beanies are essential. Clothing starts at a fiver, and cameras and film are either the same price as or just slightly more than they are online. The original postcards all over the place, made no doubt by the BOAB members, are pretty and diverting, and could happily become my next bookmark.
The café section offers the usual things you'd expect with regards to hot drinks, with small cappuccinos and lattés priced at £2.20 as a guide. Of course they also offer loose-leaf teas, almond milk versions of things, and instead of the usual soft drinks they've opted for German herbal carbonated caffeine drink Club Mate, super-caffeinated German Fritz-Kola and the surprisingly under-represented Orangina. The till is an iPad, and my receipt was emailed to me. The only thing they're missing is accepting cryptocurrencies.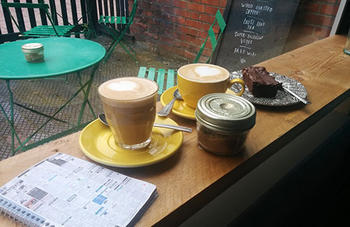 The coffee was tasty, though could probably have been stronger and certainly hotter. A latté served in a glass shouldn't be that easy to pick up. The bargain £1 caramel chocolate brownie though was sensational, and it was no surprise we were taking the last one, reasonably early in the day. Their tip cup states that all contributions go to the Motor Neuron Disease Association, which is nice, and generally the crowd and staff were friendly and chatty. They'll probably make a killing when the students get back, and I'm definitely going back for a beanie and a brownie.