The eastern outpost of a modern Oxford institution, Cowley Road's George and Delila always seems half full. Offering WiFi, bagels and constantly changing organic locally-made ice cream, it's a spot favoured by those escaping the office and those using it as one.
Let's just state straight off that their ice cream is incredible. It's all made at their original Little Clarendon Street premises and there's always something new to try in large quantities.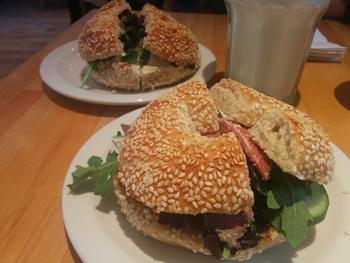 Obviously we were going to get ice cream at some point, but as it was lunch time and we're not quite rebellious enough to skip straight to dessert without feeling pangs of childhood guilt, we ordered a couple of bagels to start. Disappointingly there were a few mistakes with our order. One of us went for a pastrami bagel with mustard, mayo and salad, but no tomato, the other ordered a Greek sesame bagel involving feta, houmous, olives and salad. Both bagels sadly came on sesame, the Greek bagel lacked tomato, and there was no mayo in the pastrami bagel. The bagels are quite small but good and hot, if slightly over-toasted. The salad was crunchy and fresh and the fillings generously layered. The Greek bagel was apparently feta heavy, but this was ideal for my feta-enthused companion. The mustard could definitely have had more kick for my taste.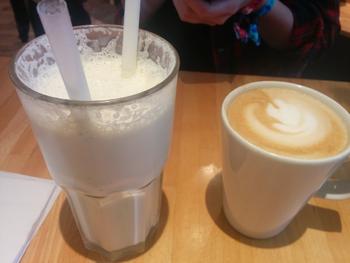 As bagel accompaniment we ordered a milkshake and a latte, both to share, because a whole milkshake might have been a bit much, but we also both wanted milkshake. We picked a weird combination of green tea and salted caramel, and it went down a treat, despite the unimpressed look of our server. The beauty is that you can pick any two ice creams to be made into one shake, so you're never going to get bored of the flavours. While the milkshake was epic, the coffee was sadly dreadful, somehow managing to be both bitter and bland all at the same time. The milk was far too thick and cold. Well not cold obviously, but really not hot.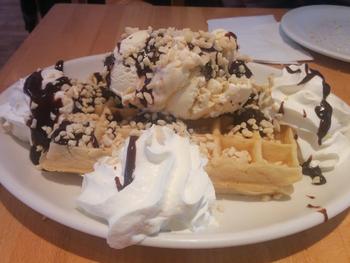 Onto the main show though and G&Ds really is all about the dessert. The customisable waffle sundae had caught our eye before we even got in the door. A hot waffle topped with a scoop of your choice of ice cream, covered in cream, drizzled in a syrup and sprinkled with either chocolate, hundreds and thousands or nuts, seemed the right choice. It wasn't. The waffle appeared shop-bought and was lukewarm and sandy. The cream was limp and tasteless, though apparently my companion favours this in cream, bizarre. The chocolate syrup and nuts were definitely the correct toppings, and as expected the chocolate brownie-chunked vanilla ice cream was delicious, but overall this was pretty disappointing.
Open til midnight every night, G&Ds is second to none as a late night café. I would highly recommend a BLT bagel as a fear-free last bus snack alternative to a kebab van, but as a lunchtime destination I'm not convinced. For portion size and satisfaction, it might be best to just skip straight to the ice cream and go to town.