Grown up sibling of Magdalen Road's Rusty Bicycle, The Rickety Press has been a firm favourite of Jericho residents for five years now. The grey-blue painted former Radcliffe Arms on the corner of Cranham Street and Terrace manages to be cosy yet spacious, stylish but not affected and friendly but not annoyingly familiar. It's filled with chunky wood-topped tables, sometimes on Singer sewing machine pedal stands, and a mixture of tall bar stools and appropriately rickety chairs. The formalishness of the dining room is apparently to be scrapped in the 10-day refurb currently underway, and anyway we opted for the more relaxed atmosphere of the main drinking bit of the bar.
To our pleasant surprise we arrived during midweek happy hour, and immediately decided on the pre-seven £15 prosecco. The food choices required much more consideration though, as salmon warred with breaded mushroom burger, and roast aubergine green curry with all of the steaks. We could have come to blows over the starter options; smoked mackerel pâté and sourdough toast, crispy fried baby squid and aioli, quails eggs and smoked salt, grilled flatbreads and pea hummous or simple foccacia, olives and oil - where, indeed, to start?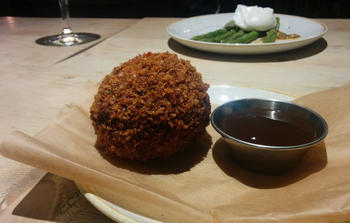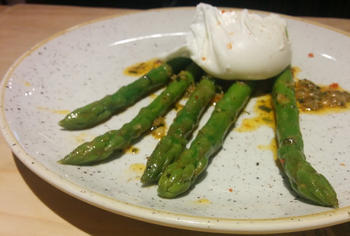 In the end I opted for the black pudding scotched egg, which comes with a big dollop of brown sauce, because I've never ordered another starter at the Rickety Press and to branch out now would make next time too difficult. Also it's incredible. I was the first BPSE I ever tried, on an autumnal afternoon after a few hours of intense punting. I've never turned one down elsewhere since, but it's also never been bettered. Hot, crispy and gooey, you'll wolf it down in about 30 seconds. My colleague ordered the English asparagus with poached egg and tarragon butter. It was apparently very tasty, with lots of herbs and fancy un-overbearing rock salt. It was a bit on the cold side but overall yummy and not so filling that you don't want your main. More of a whet-your-appetite kind of starter. We chose well.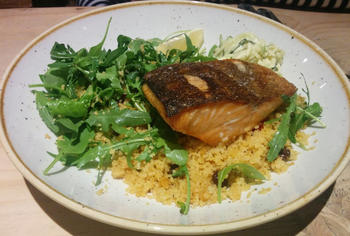 Salmon and steak won out in round two. Nat's salmon fillet was found to be smoky and juicy. The accompanying celeriac slaw was crunchy and tasty with humble homemade mayo, and thankfully no secret onions. The cous cous was the perfect amount of moist, packing lots of flavour despite only containing a few tomatoes. There were many secret (un-menu-listed) raisins, but they weren't too hard to avoid, and the secret rocket was a pleasant surprise. It was entirely forgotten that the dish was supposed to come with yoghurt though, as there was no sign of it.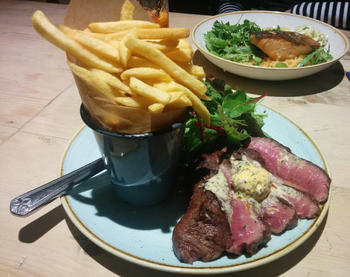 My grilled dry-aged flat iron steak was perfectly rare but basically cold. The knob of house butter plopped on top barely melted at all as it sat there. The fries were fluffy, crisp and generously supplied, and some nicely dressed mixed leaves completed the plate. The steak was super tender and juicy, it's such a shame about the temperature.
After much dessert debate, and both being near full, we compromised on a vanilla affogato to share. Sharing would mean it barely counts and it's also like having an after dinner coffee. Except it's not! It's so much better. It might sound like we're a sucker for a gimmick or just like to childishly play with our food, but getting to pour an espresso shot over a glass of creamy ice cream all by yourself, makes it much more fun. It was exactly what was needed, and the perfect amount.
This is really good food, well thought out, and served promptly with friendly ease. It's also the type of place you'd feel happy to go and work, have a coffee, or sit in the corner for hours playing homemade Jenga while nursing a pint. Let's hope not too much gets changed with their updates, and bring on the re-opening party!