Miraculously this was my first time coming to The Perch, drawn out to Binsey by the Irregular Folk Summer Sessions Weekender; it won't be my last visit. We spent most of the time inside due to the afternoon's driving rain, but my word would those gardens be stunning in the sunshine. Inside it's quite like Wolvercote's Jacob's Inn for its relaxed affluence and gentrified country feel. There are expensive stoves in each end of the main building, to keep it cozy but unsooty, and appealing jenga-like logs stacked up to the ceiling that are too beautifully cut to have ever been intended for burning.
We were seated in a cushioned corner of a reasonably empty restaurant, though we were told we were lucky to get a table as they were pretty booked out for the rest of the Saturday afternoon/evening. Despite being near a speaker, the music wasn't too loud and was actually a surprising and pleasing mix of Laura Marling, Birdy and nostalgic end-of-night country anthems.
We were attended to almost too immediately after being handed menus, and informed of the day's specials, a goats cheese mousse to start, and an enormous steak (£25) or a whole lobster (£30) for the mains. The normal lunch/dinner menu had already caught our attention, however, and after a bit of dillydallying, the three of us decided to go for two starters to share. The Dorset crab on toast was uncomplicated and moreish on substantial brown soda bread, with some mixed leaves on the side. It wasn't tiny, and it was tasty, but was still probably overpriced at £8.95. The other starter, Manor Farm asparagus with poached duck egg, parsley crumb and Winchester cheese (£7.25) met expectations, with the hard cheese filings particularly interesting.
All the mains we went for were £12.95, the West Country goats cheese, roasted beet, orange and pickled carrot salad being the main of choice for one of our party; with a side of chips, because sometimes you just need chips. She described the salad as light and refreshing; a well-balanced combination of creamy, tangy and sweet, and a perfect summer dish. It certainly looked vibrant and almost fomo-worthy.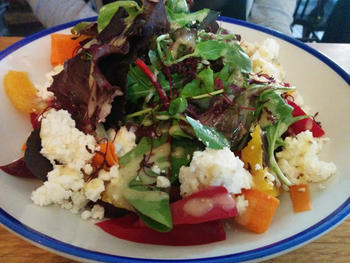 The other two of us each went for the ale-battered fish served with triple cooked chips, peas, thick homemade tartar sauce and a chunk of lemon. It was a great choice. The batter was not too greasy, hard or strong of flavour, and the fish beneath it was soft and delicious, though we never did discover what fish it was. The triple cooked chips were fluffy, crunchy and piping hot, the requested mayonnaise homemade, and the ketchup the ideal glass-bottled Heinz. The peas were thankfully unminted or mushied, and served in a little ceramic dish on the plate to protect them from depressingly rolling into the condiments. It was a testament to how good a fish and chips it was that when the time came for triaging the rest of the plate for impending fullness, one of us prioritised the fish and the other the chips. The only sadness of the dish was provided by the dish itself. Rather than a regular plate it was a very pretty bowl-plate with a precarious tipping point not far from the centre.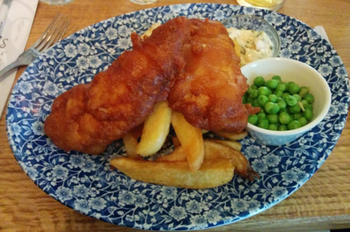 The puddings sounded tempting, English and often jam-based, but sadly we didn't think we'd manage them. After rejecting dessert it did take rather a long time to get the bill, and longer still to correct it with a discount entitled to us by our Irregular Folk Summer Sessions wristbands, but the service on the whole was decent.
Overall it's good quality food in a pretty setting. You're kind of charged for the view too, but when it's that good, it's just about worth it.