Tucked away in the depths of Jericho, this vegetarian's haven boasts an impressive menu of veggie burgers, hotdogs, salads and sides. The place has been praised by veggies and the meat-inclined alike, and the food did not disappoint.
Settling into a snug corner, we decided to order the medley mushroom pie and the chilli dog with cheese to share, having not been able to decide on a dish each. Although I'm not a fan of surprise foods (onions where they haven't said they'll be, for example), the medley mushroom pie was perhaps too much a 'does what it says on the tin' kind of meal. There were a shitake ton of mushrooms and even as two mushroom enthusiasts, we decided the pastry to mushroom ratio was perhaps a little skewed in fungi favour. This is not to say that it wasn't delicious, however, as were the crispy seasoned potatoes and lightly steamed veg that accompanied it.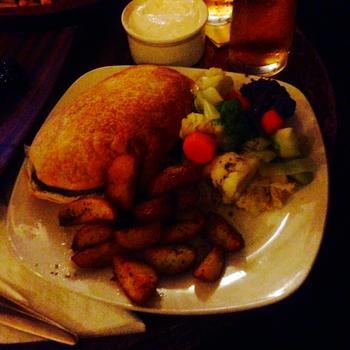 The chilli dog was incredible. The chilli had just the right amount of kick and the whole thing was smothered in cheese so that the chips became glued together and you got one big mouthful of chippy-cheesy-chilli goodness. The presentation was good too; the whole thing was served in a nostalgically simple basket, with sachets of Heinz ketchup tucked into it. If I'm being fussy, the actual hotdog might have been a bit small. It was quite hard to notice, but this certainly didn't detract from the overall experience. Just to be safe, we ordered a garlic mayo dip on the side. A large garlic mayo dip, just to be extra safe. Now, I can categorically say that no-one will ever need to order a large dip. It was gigantic. We barely scraped the surface of it. But it was very tasty.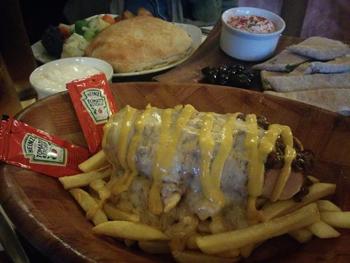 As a starter we ordered the olives, houmous and pitta bread. The pitta was soft and warm and the houmous, which was probably homemade, was sprinkled with smoky paprika that made for a great combination of flavours. The olives didn't have that perfume-y taste that you sometimes get, which meant another thumbs up for this dish.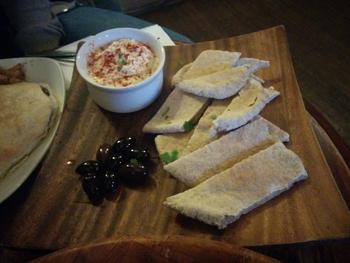 We were really disappointed not to have room left for the Mars Bar cake. I will definitely be going back for this, and for the burgers, and for everything else.
After eating, we took our craft lagers (another ordering dilemma, seeing as they have loads of great beers and ales on tap, and a whole menu of gin) out into the garden, which is a lovely space, with tables and benches dotted around under (what we think are) plum trees. The whole place has a really friendly feel. The decor is funky (chalkboard menus and vinyl stuck on the walls) without being too pretentious or hipster and our fellow pub-goers were a mixture of chirpy locals and bright-eyed professionals, who had presumably also come down to see what all the hype is about.
Definitely a Jericho gem, I would recommend this pub to anyone wanting a filling vegetarian meal in pleasant, welcoming surroundings.