Slightly off the beaten track down Marsh Road, the Marsh Harrier isn't necessarily the first Oxford pub that springs to my mind. But finding ourselves up those ways, we were enticed in by the cosy-looking interior and a chance to get out of a torrential downpour. Intrigued by the halloumi-heavy menu, we decided to settle in for dinner.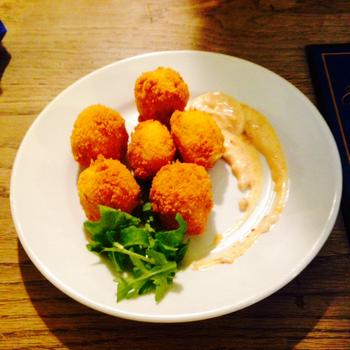 Impressed by the pub's extensive Trivial Pursuit collection, we fired up a game of their most recent edition as we waited for our food to arrive. The starters appeared alarmingly quickly and we took a pause from our game to tuck in. My dining companion (or trivia rival if you prefer) ordered the breaded halloumi with chilli mayo and I went for the chilli, lemon and garlic king prawns on toast in anticipation of my halloumi main. The halloumi was well-cooked in a nice crispy batter and the chilli mayo provided a perfect accompaniment. The prawns were very tasty but perhaps a bit too simplistic. It might be unfair of me to expect more than what is described on the menu, but I think I was hoping for a more nuanced flavour. The chilli completely over-powered the lemon and garlic, if there was even garlic in it at all.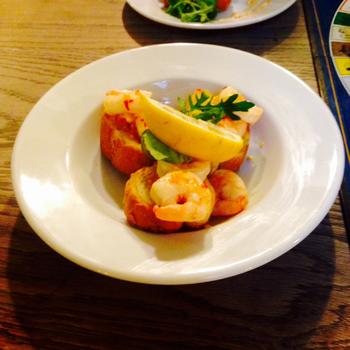 For mains, my companion ordered the spiced lamb burger with mint yoghurt, chips and coleslaw, with extra halloumi. The mint sauce and triple-cooked fat crispy chips stole the show but I'm told the lamb burger was very average. A good standard for pub food, however, and my companion was not dissatisfied. Again impressed by the vegetarian selection, I opted for the vegetarian fish and chips, which consisted of battered peas in place of fish, served with chips, battered halloumi and tartare sauce. Top marks for effort but sadly low marks for execution. I don't think battered peas are a fish substitute that is going to catch on. They were thick and stodgy and lacked flavour seeing as they were, well, just a big lump of peas. Similarly, if you're into your aesthetics, this isn't the dish for you as it's three very brown elements on a plate with a smear of brown-ish sauce. On the plus side, the chips were, again, amazing, as were the battered halloumi pieces, and the prices were reasonable, with both mains coming in at under a tenner.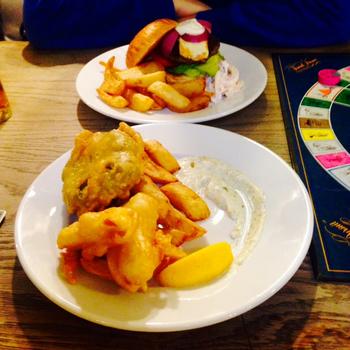 As well as board games, the Marsh Harrier has a 'bring one, borrow one' policy for their choc-a-block bookshelf, and a lovely garden hosting many a picnic table that I imagine is packed out on a sunny day. They have a good selection of beers, friendly staff and an overall cheery environment. I would definitely go back for drinks, snacks and board games, but would perhaps consider having my main meal elsewhere first.