I've only ever heard very favourable things about Moya, and here are a few more. Oxford's only Slovakian restaurant offers reassuring consistency in service, quality and menu, and some top class cocktails to boot.
The décor is sort of dated-modern in an inviting and unintimidating way; there are slightly budget-looking photos of Oxford on the wall and crisp white table cloths. I think I've only ever seen two or three of the same people working at any given time, and they greet you promptly in a friendly way that is welcoming but not overly familiar.
Always start with a cocktail. They really make some of the best drinks in town, and their happy hour (which is nominally til 8pm, but can often stretch longer) means the perfect Makers Mark Old Fashioned is £4.55. Unheard-of value!
After the bourbon appetiser we went for the prawns in batter and the enticingly-titled Devil's Toast to start. The prawns' batter was nice and crispy - not too oily, not too soft. The black tiger prawns were big; none of this skimpy shrimpy. The homemade tartar sauce dip was tasty and necessary and the side green salad was fresh and well dressed, offering a significant but not too distracting relief from the rest of the plate.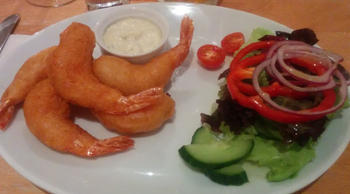 The Devil's Toast dish of toasted sourdough with smoked sausage, onions, tomatoes, peppers, fresh chillies and a thick gooey slab of paprika-topped grilled goat's cheese was absolutely stunning. Moya are clearly not too worried about pandering to the mild-spiced militia. This was powerfully flavoured with wonderful stacked layers of texture. I'd definitely order this again.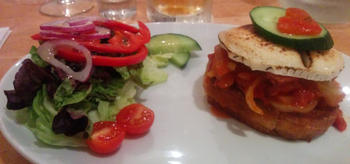 Having successfully previously opted for the Moya pork shank, this time I went for the slow-cooked duck confit with braised red cabbage and gratin potatoes. The generous duck leg was crispy and tender, falling enticingly off the bone.The leg was perched on top of a pile of apple and star anise-infused red cabbage. It's a dish that's clearly been put together with a great deal of thought and care, and it all works wonderfully. The side of gratin potatoes were creamy and delicious, and swiftly polished off by a greedy scavenger when the duck defeated me.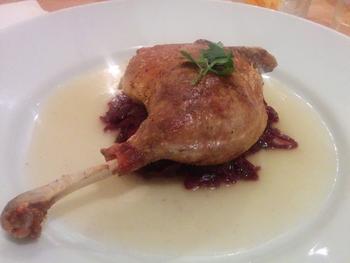 My dining companion is a fan of 'interactive foods' - the type of person who'd buy a Müller Corner or a pack of a Salt 'n' Shake crisps - so the bean goulash where you get to add the little dumplings to the dish yourself was apparently 'great fun'. The beans were so enormous we spent a good portion of the rest of the evening speculating where they might get them, and how we could get hold of our own. The goulash was a pulse-enthusiast's dream of monstrous purple beans, cannellini beans and mixed vegetables in a rich tomato and pepper sauce. Overall, not as spicy as expected, but still very tasty, and the perfect size.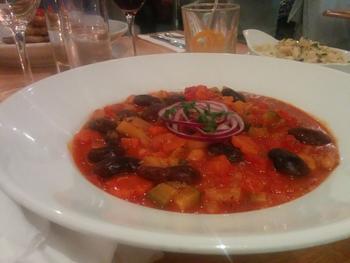 With a daily specials board as well as their perfected long-standing menu, Moya is really the destination for any occasion. That kind of sounds like an ad for them, but it really is. The service in prompt and uninvasive, the whole experience putting you at ease. It's great for drinks, quiet dinner or large party. You'll only ever be disappointed if you turn up on a Monday, as they're closed.