The Weekly What's On is a handy A4 digest of Oxford events for the week ahead.
It's in PDF format, so you need to have
Acrobat Reader
installed on your computer in order to view it.
Download this free from the Acrobat website here
. (Make sure to untick the box that asks if you'd like to install McAfee Security Scan Plus, if you don't want to!)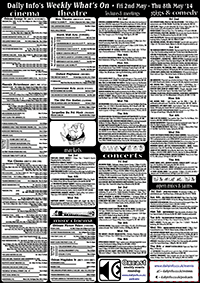 Alternatively, to get it delivered to your inbox automatically each Friday, email subscribe@dailyinfo.co.uk to sign up to the email mailing list.
While the What's On is useful and decorative, it's only put together once a week from the listings we have at the time. As new listings appear on the site all the time, you'll get the most up-to-date idea of what's on in Oxford from our Events pages or from the Daily Info printed sheet (at a pub or college near you!)