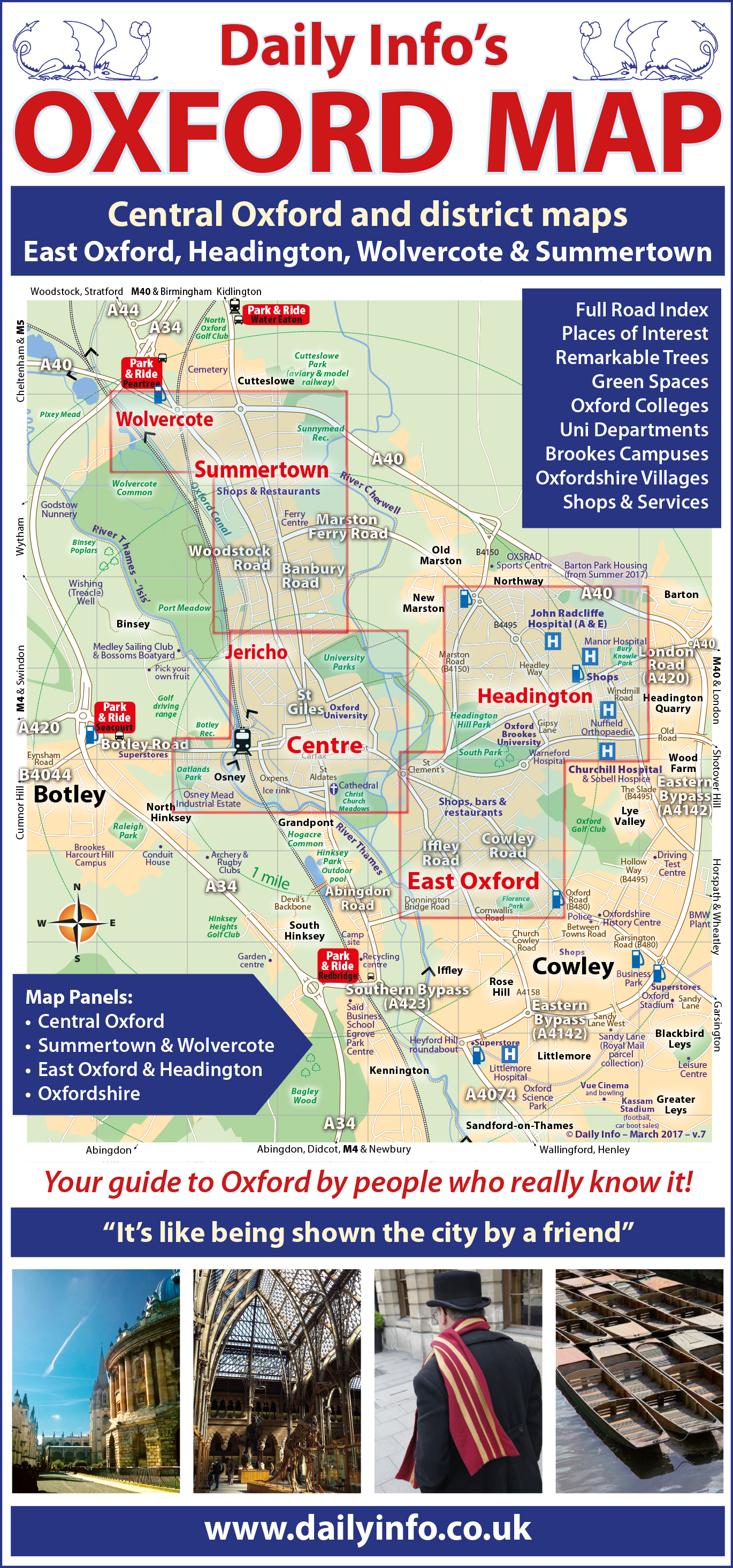 Lost?
Confused?
Worried about Britain's future direction?
You need a map! More specifically, you need one of Daily Info's Oxford maps. Because Daily Info have been making maps for almost as long as some of our staff have been alive, they're filled with all kinds of useful nuggets of info that only local expertise can offer.
Here are some of the things in our current version:
- Fold-out alphabetical road index within the city, and town & village index for the county
- Colleges, Departments, Faculties, Halls of Residence, and Campuses for both Universities
- Shops, services, and attractions ideal for visitors and residents
- Transport information - roads, buses, trains, foot and cycle paths, punt stations, bike and car hire points
- District guides to the city centre, Summertown, Cutteslowe & Wolvercote, East Oxford, New Marston & Headington, and the wider county
- Points of interest in the city: from red phone boxes to the trees that inspired Lewis Carroll and Philip Pullman
- Points of interest in the county: from pre-historical sites to where the local Formula 1 Teams are based
- A full key to symbols
Our maps are very popular with students at language schools (most language schools are marked on the map) with clear, well-written information boxes, and plenty of attractions that are perfect for getting to know the city. If you are a language school and would like to order enough for all your students just give us a ring (01865 241133), and tell us how many you'd like and when you'll need them by. We offer free delivery for orders of over 100 within the ring road. If you are a student and would like to order just one copy a sample is free (though we ask you to pay postage overseas). Just email [email protected].
And here are some of the things that previous customers have said about them:
"We ordered some of your maps a week or two ago and they were here within a matter of days & are possibly the best maps of Oxford I've ever seen. Go Daily Info!" - Kate Lewin, OCCAM Centre Administrator
"The map arrived and it's wonderful, just what I needed, with a street index too! I can get a sense of my surroundings in the "maze" at last and will no longer get lost just a few streets away from my destination." - Linda Wright, Oxford visitor

"Your [maps] really are the best ones here." - Liisa Ågren, Oxford resident
---
The Specifics
- Just under 25 x 12cm, folding out to just over A2.
- Sample copy free; bulk orders 30p per copy, or 15p to map advertisers.
- To order maps, call 01865 241133 or email [email protected]

Please Note: we are sorry but postal samples are free within the UK only. For overseas orders we ask for postage to be paid. You can order a copy outside the UK here.
---
Have a look inside the latest map (v7, 2017)

This map comprises:

Front Cover: overview of the city, including district names, Park & Ride locations, hospitals, roads, rivers, rail and rare attractions such as the aviary in Cutteslowe Park.
Fold-out panel with College and Hall index and road index
Back cover: key to map symbols

Below are the panels in more detail. Click the images to download a PDF of the panel. Or email [email protected] for your own high-res paper version of the whole map.

Central Oxford

Now including Jericho and the Botley Road
Oxford University colleges and departments
museums, galleries, concert venues, gig venues, theatres, cinemas & other buildings of interest
charity shops, bookshops & services
language schools & other educational establishments
boat hire, parks, playgrounds
public WCs, payphones, post boxes
useful services/help numbers
notable pubs, bars, restaurants & kebab vans (!)
hotels and hostels
cashpoints
remarkable trees (including those which inspired Lewis Carroll and Philip Pullman)

East Oxford and Headington

Now combined into one map for easier orientation, but still presented as distinct areas as befits their disparate characters.

Featuring
parks, nature reserves, allotments, play areas, sports facilities (inc. golf)
entertainment venues (theatre, cinema, museum, clubs, pubs & gig venues, restaurants)
parking, recycling, shops & services (including health care, bike hire, internet, post offices)
hotels/guesthouses
places of worship

Summertown, North Oxford and Wolvercote

Featuring
educational establishments (including language schools & Oxford University colleges & departments)
shops & services (restaurants, pubs, charity shops, bike & boat hire, letting agents, WCs, phones, postboxes, launderettes)
sports centres, play areas & parks

Oxfordshire

The city in its county context. Featuring
Major and minor roads, railway lines and stations, rivers and lakes
places of interest (activities, historical & visitors' attractions)
nearby outlying towns and villages
Park & Ride locations, prices and timetables
Alphabetical index to Oxfordshire towns and villages
map edge directions to further afield (Swindon, London, Newbury, Birmingham)
If you have any comments or suggestions about the map, please send feedback to [email protected].
Our Previous Maps (2014 and earlier)
Day & Night Map - v. 6 (2014)

Of which we have very few left!

Day & Night Map - v. 5 (2012)

Now with Central by Day and Central by Night combined into one fabulous map of venues.

Day & Night Map - v. 4 (2010)

Day & Night Map - v. 3 (2008)

Venue Map

Contains all the major entertainment venues in the central Oxford area

Venues marked very clearly for quick reference

DOWNLOAD
PDF version: suitable for printing out Flash version: much quicker download, more suitable for viewing on your computer.

Index for Venue Map

Quick grid references

Phone numbers
Opening hours where relevant

DOWNLOAD
PDF version: suitable for printing out Flash version: much quicker download, more suitable for viewing on your computer.

Greater Oxford Map

Covers everything inside the Ring Road, as well as Boars Hill, Sandford and Blackbird Leys.

1km grid with concentric 1-mile circles.

All the important roads, footpaths and cycle routes for getting around Oxford.

Many hotels, educational establishments, leisure facilities and car parks marked on.

DOWNLOAD
PDF version: suitable for printing out Flash version: much quicker download, more suitable for viewing on your computer

Central Oxford Map

Spans Wolfson College to Folly Bridge, and the Railway Station to Magdalen Bridge.

All the University Colleges and departments marked on, with building-plans and entrances.

Well-known pubs, clubs, restaurants, theatres and cinemas.

Up-to-date with the new road system.

DOWNLOAD
PDF version: suitable for printing out Flash version: much quicker download, more suitable for viewing on your computer
Can I have my own special version of your map?
In general we'd rather you bought and used our lovely latest version, which we've already created, printed and folded for your use. If you'd like to advertise on our next version do get in touch.
But if your heart is set on a customised version of our map(s) for business or commercial purposes, please contact us and we'll see what we can do. Mapping new areas of Oxford(shire) is very time consuming, and therefore expensive. But adding different labels to an existing area of map can be more straightforward. If you can give us as detailed a brief as possible we can quote how much a project might cost.
(Copyright infringement will result in legal action).