We will be regularly updating this page with more information as it comes in. If you feel that anything is missing, get in touch via email at [email protected] or on social media.
What's in our Corona Virus Info section:
Latest News
Voting in person in the Local Elections on 6th May 2021 - find out polling stations' safety measures.
People aged 40 and over are now eligible to book a coronavirus vaccine
Restrictions are changing on 12th April 2021 - here's what you can & can't do
Local businesses reopening soon
Oxford City Council activates Severe Weather Emergency Protocol to provide accommodation for people sleeping rough, in response to freezing temperatures forecast from 9th-12th April 2021
East Oxford trials Low Traffic Neighbourhoods - see where the traffic filters are
Symptom-free testing available for public-facing workers in Oxford - book a test here
Download the official NHS coronavirus app
What we're doing
Daily Info exists to help people get the most out of life in Oxford, and that remains our mission in good times and bad. We'll continue to let you know about what's going on, where you can access help and support, and what entertainments and opportunities are available for people and families who are self-isolating. Like many small businesses we'll be experiencing huge financial challenges over the coming months, and we hope to be able to stay open for business, to help our community and to showcase the best of the city we love, for as long as possible.
If you are able to, please consider supporting us via a donation. Thank you so much to the people who have already donated - it means the world to us.
Donate
Providing information
Many events have sadly been cancelled, but others are planning socially-distanced alternatives for later in the year, and our pages are still busy with people organising virtual events, recruiting for jobs, offering services, and listing rooms to let and items for sale.
Alongside our usual service of classified ads and local information, we'll be updating our Oxford Coronavirus page with essential information, useful ideas, and as much fun stuff as possible. We'll be keeping up with information about closures and cancellations - and of course letting you know about what's still going ahead.
Helping with free and cheap advertising
In the short term we are increasing the word limit and number of pictures you can have in a free advert, and we're offering more time online and discounts for paid adverts, so people can get their message across more easily. We're always happy to speak to individuals about their needs.
In the long term we will be offering discounted advertising and online-only options, and we will be introducing a package of much more affordable events advertising, restaurant advertising, and services advertising, to help artists, venues and small businesses get back on their feet when things begin to return to normal.
The printed sheet
The sheet of Friday 20th March 2020 was the last issue until advised restrictions on public movement are lifted. Advertisers will be offered extra time online to replace time in print.
Staying afloat
Daily Info is a small business which has been at the heart of Oxford since 1964. We are facing enormous financial challenges at the moment, and like many small businesses we may not still be trading when this crisis is over. Until then we will be doing as much as we can to help our community and bring information to Oxford. Please get in touch if we can help you in any way.
Important Links
NHS 111 Online Assessment - General NHS advice about coronavirus (COVID-19) and what to do next if you think you have symptoms.
Map of local walk-through and drive-through Coronavirus testing sites
Latest official social distancing guidelines from the government
Self isolation support payments now available
How to tell if a coronavirus contact tracing call is genuine or a scam
As of August 2020, face coverings are mandatory on public transport and in most indoor venues - here's how to make your own face mask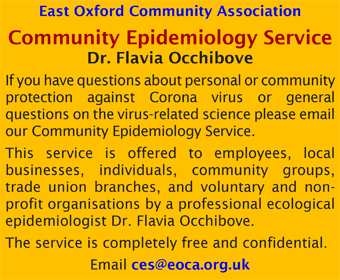 For a good idea of what symptoms to look out for check out this BBC explainer on how to know if you have coronavirus. Also, the IFH (International Forum on Home Hygiene) has detailed guidance on hygiene measures which will best protect you from getting infected, and stop those who become infected from spreading their infection to others.
In-person events are currently cancelled due to the Tier 4 restrictions. You can find a wide range of entertaining and uplifting things to participate in virtually through our Virtual Events column.
Oxford City Council has collated useful information with links to guidance on staying at home, school closures, council tenants, waste collection and other issues. It also has guidance translated into other languages. For anyone facing financial hardship of any kind, they have also recently launched a directory of the essential support that is currently available remotely. Help is available from the council for anyone who needs it - you can call them on 01865 249 811.
In addition,Money Saving Expert has a comprehensive guide to your financial rights as well as help for renters and guidance on things like topping up prepaid energy.
Social distancing vs. self-isolation - This page clearly and helpfully outlines the difference between social distancing and self-isolation.
Sadly, fraudsters are using the the publicity surrounding coronavirus to carry out scams. Thames Valley Police have issued the following statement regarding COVID-19 related scams, and ask that the public remain vigilant.
UK Government Travel Advice - The Foreign and Commonwealth Office advises against all but essential international travel due to the outbreak. However, the FCO do still have country-by-country advice and information on travel restrictions and entry requirements if needed.
You can follow the latest developments by checking out live updates from BBC News or The Guardian.
Information for Organisations
HMRC have launched a new helpline to assist businesses and self-employed people who are concerned about paying their tax due to coronavirus. You can call 0800 0159 559 to discuss your circumstances and explore options. The helpline is open 8am-8pm Mon-Fri and 8am - 4pm Sat.
Good Finance have an excellent COVID-19 Resource Hub to help charities and social enterprise navigate the problems posed by the outbreak. Charity Excellence also has a very helpful and extensive list of sources of funding for charities and local projects - currently there are 250 and counting, with more added every Monday.
Applications are now open for Cherwell District Council's community wellbeing projects fund. Charities, community groups and voluntary organisations in Kidlington and the surrounding villages can apply for grants of up to £1000 for initiatives which support health and wellbeing, reduce social isolation and connect communities. Click here to find out more.
Transport
Oxford Bus Company and Thames Travel are mainly running with their revised 'towards normal' timetables from late 2020, with some changes, including: the Brookes Bus will remain on vacation timetable after 16th January 2021; the BV1 bus to Bicester Village remains suspended until restrictions are lifted, and the park&ride 300 between Pear Tree and Redbridge will be suspended until further notice from 17th Jan 2021, although the other Park&Ride services will continue to run. City Sightseeing tours remain closed until further notice, as does the Oxford Bus Co travel shop.
From Sunday 17th Jan 2021, the Airline coach services between Oxford, Lewknor, High Wycombe and Heathrow Airport will operate at reduced frequency, while services to Gatwick Airport are temporarily suspended.
Oxford Tube coach services to London are suspended until further notice, as of 24th Dec 2020, though local Stagecoach services are running.
National Express have suspended all coach services, provisionally planned to resume on Monday 1st March 2021 but this is subject to change.
The latest update on National Rail's response to the crisis is available here - current timetables are 'working to an enhanced Saturday-level of service' across the network, since Monday 18 May, though do check before you travel.
Events
With events, shows and classes now cancelled as a result of the November lockdown, more and more events are moving online, for you to watch or take part in via live stream. Check out our virtual events page to see what's on!
You can also continue to place events on our site - click here and enter your event title, description, date and time as normal. Then, in the Custom Venue box, just paste in the link to your stream, whether it's Zoom, Facebook, Youtube or elsewhere!