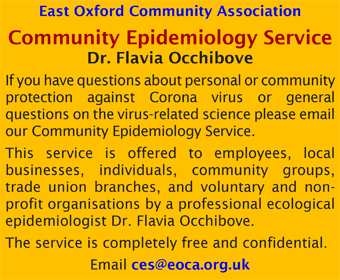 Mental and Physical Health
For the latest advice on coronavirus symptoms and treatment, see the NHS coronavirus page.
If you're feeling overwhelmed, or are struggling with your mental health in any way, Oxfordshire-based The Help Hub has recently launched a volunteer-run helpline service, where you can book a 20-min therapy phone session with a qualified therapist, completely free of charge.
Oxfordshire Mind have put together this comprehensive page of information for those who are worried about coronavirus, with specific advice on how to stay well when staying at home. The checklist for staying at home is a particularly useful tool, offering helpful reminders about things you may not have considered.
Patient Access is another useful resource with articles on specific aspects of mental and physical health during the coronavirus outbreak.
Oxford University Hospitals and Oxfordshire Maternity Voices have launched a new 'Ask the Midwife' helpline. You can speak to one of their midwives by calling the helpline on 07919 213667 between 11am – 7pm, 7 days a week.
Oxford Mindfulness Centre have started weekly online mindfulness sessions, open to all those who feel they would benefit. You don't need to have prior experience of mindfulness classes or techniques, as the sessions include guided mindfulness practices, teacher talk, and discussions and questions around the weekly topic. If you miss the live session, you can always catch the free podcast. Some meditation and mindfulness apps also have free tools which are useful for dealing with coronavirus anxiety - there's a good rundown available here.
You can also always reach Samaritans for emotional support (open 24 hours a day, 365 days a year) by freephone on 116 123, or reach the Oxford Samaritans on 01865 722 122. Samaritans also have online resources for those who have been unsettled by what's going on at the moment.
This article gives a really thoughtful and balanced way of looking at the current situation, without prescriptive answers. What is it we each really fear? What aspects of lockdown are positive? What sort of world do we want when we emerge from our hibernation? Rather than an event totally displaced and out of the blue, how have we been leading up to this event, and what context can we give it that makes some sense? Author Bryony is local to East Oxford.
Dentistry
Normal problems don't stop happening during a time of crisis, and the Chief Dental Officers for England, Wales, Scotland and Northern Ireland have stated that it is forbidden to provide any treatment that would create an aerosol, for anything other than an urgent dental emergency. That means no dentist can use a slow speed drill or the usual high speed drill AT ALL for non-urgent cases. So the common issues like decay, abscesses, tooth sensitivity, jaw and facial pain, gum infections, broken dentures and bridges and fillings are meant to be treated remotely and conservatively with no drilling!
Qualified Dental Surgeon and Doctor Vish Anand has set up Online Dentist, a secure platform to connect with patients and have a face to face video confidential discussion and consultation. If you want an initial chat with someone who understands the problem you can call the on-call mobile, on 07747 616172.
He has information about most of the dental emergency products available at pharmacies and can advise you what they can get which will help. If you need strong pain killing support he is able to prescribe that and indeed if any infections start, he can send pdf prescriptions directly to you or your preferred pharmacy. After consultation he will send immediately a summary of the consultation with diagnosis, recommendations and treatment offered so that you can send that to your own dentist in due course.
There is a charge of £60 to cover the administration involved.
There are other "Online Dentist" sites but this has been established primarily for remote help, support and treatment in the first instance. Vish has experience as a doctor in the JR, dealing with various ENT and facial complaints, so he can help with wider problems than many conventional dentists.
Domestic Abuse
For some, home is not a safe place, and staying there with a partner full time may be dangerous or unpleasant. Here is Oxford City Council's page on support that is available. Although the UK is in lockdown, there are NO RESTRICTIONS on your movements if you need to get out of an unsafe situation or seek help.
Food Banks and Community Larders
In addition to what's below, see Oxford City Council's page for food access services. Another useful point of contact food food provision (especially if you're self-isolating) is SOFEA. If you're unsure where or how to access help from a food bank, you can call the City Council Contact Centre on 01865 249 811 or use this online form.
Central Oxford Mosque in partnership with Clickit 247 are running an Essential Item Bank, offering free food and other essential items to anyone in need, every day, 6-7pm, during Ramadan. Collect from outside Central Oxford Mosque, Manzil Way OX4 1DJ
OX4 Free Food Crew is a new partnership between Flo's - The Place in the Park, Ark-T, Waste2Taste and Oxford Hub which has been set up to alleviate food poverty for people affected by COVID-19. They are providing cooked meals for: isolated people over 70 and those with underlying health conditions; isolated single-parent families; people who are homeless or vulnerably housed. Find out more here.
Rose Hill Community Larder, Rose Hill Community Centre, 2.15-4pm Tuesday
Rose Hill Methodist Church Community Cupboard - collection in time slots, get in touch to book.
Barton Community Association, Barton Neighbourhood Centre - 2-6pm Tuesdays
Blackbird Leys Community Larder, Blackbird Leys Community Centre - 3-5 Wednesdays
Botley Community Fridge - Church of St. Peter & St. Paul, 81 West Way, Botley OX2 9JY - Mon-Sat 10am-4pm, Sun 11am-4pm
Abingdon Community Fridge - current opening hours are Mondays 5-6pm and Saturdays 10.30-11.30am. Depending on donations they are open for occasional bonus days so keep an eye on the Facebook page.
Abingdon Community Larder (run by SOFEA) - runs on Fridays from 2:30pm for approximately 2 hours, at the Carousel Family Centre, OX14 5GZ
Abingdon Food Bank is still running. Sessions are on Tuesdays and Fridays 11am-1pm, from their main site at Christ Church on Northcourt Road, OX14 1PL, and on Wednesdays 1-2.30pm at Preston Road Community Centre, OX14 5NR. You need to have a voucher to receive food.
Witney and West Oxfordshire Food Bank at Cottsway House, OX28 4YG, 10am-1pm, Mon-Fri (open for receiving donations and honouring vouchers). You will need to register in advance for a voucher.
Witney Community Fridge - Mon 12th April 2021 and Tues 13th,11am-12noon. Thereafter 10am-12noon Tuesdays and Saturdays.Giving away pre-packed bags of surplus food to anyone in need (just turn up and queue, maintaining a 2m distance, no referral needed) free of charge. Based at the rear courtyard of High St Methodist Church OX28 6ES. For people who are in financial need but unable to get out (due to self-isolating), they offer a free delivery service in partnership with Witney Land Army. Please email your name, address and any relevant dietary details to [email protected]
Community Support
Oxford City Council have set up five new Locality Response Hubs across the city to help vulnerable residents get the support they need, whether it's a help from a food bank, getting medicines delivered, or dealing with isolation. If you or someone you know needs help, you can call the City Council Contact Centre on 01865 249 811 or use the online form. You can also see information about food banks and community larders here.
If you're high risk or self-isolating, you can register with Oxford Together for regular phone check-ins, as well as community support. Any queries can be directed via email to [email protected].
Another locally-run volunteer organisation worth being aware of is The Help Hub, a project set up with the aim of bringing people together during the COVID-19 crisis. They will be working with volunteer therapists and counsellors to provide online sessions, as well as recruiting volunteers to help with phone check-ins and shopping and prescription collection in the Woodstock and Bladon area. Find out more on their Facebook page.
Two Facebook groups, Oxford Covid-19 Mutual Aid and Oxford Community are good places to get advice or ask a favour.
Support for older people
Age UK have launched a free telephone support service for older people who are facing a long period of time in isolation. Phone 01865 411 288 to leave an answerphone message with your name and contact number, and a member of the team will give you a call as soon as they can.
ElWell, an Oxfordshire-based organisation dedicated to helping older people stay independent, have set up a self-isolation section on their website which will be filled with information, useful products and support to help over 70s stay active, fit, occupied and well at home during self-isolation. ElWell will also be providing a phone support service for elderly people who are isolated and need emotional support, and offering online physiotherapy one-to-one sessions (via Skype and FaceTime). Those interested can ring ElWell on 01865 238185 or email [email protected] to enquire more and book.
For further support on physical and mental health, see our general
Help Organisations
page