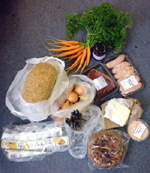 It's surprisingly easy to find fresh local produce in Oxford. We receive the benefit of around 10 farmers' markets as well as a regular car boot sale (Kassam stadium, every Sunday) and a travelling bi-weekly VegVan with local organic goodies.
If you want to get down and dirty with the veg (and who doesn't), you can go to one of Oxfordshire's Pick Your Own farms - there are also a fair number of farm shops in the environs. Medley Manor farm, a pleasant walk from the Botley Road or across Port Meadow from Jericho, is the closest to the centre.
All the markets below are covered in our Oxford map.