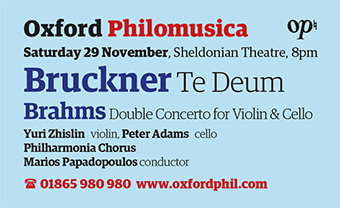 Reviews
Performing Brahms' Double Concerto for Violin and Cello and Bruckner's Te Deum in C major, with the performers of Oxford Philomusica
8pm £10-£40
Sheldonian Theatre, Broad Street, Oxford OX1 3AZ
www.oxfordphil.com Email Me 01865 980980
Booking advised by 29 Nov 2014 Book tickets
Thomas Hyde - Sonata for violin and piano, Op.14, Beethoven - Violin Sonata No. 3 in Eb
7pm £15, £12
Holywell Music Room, Holywell Street, Oxford OX1 3BN
Jazz a cappella ensemble with Christmas themed show
7.45pm £18, £12 (students)
Magdalen College, High Street, Oxford OX1 4AU, Oct - Jun 1pm - 6pm or dusk (whichever is earlier). Jul - Sep 12 noon - 7pm. Adults £5, concessions £4. Oxford residents, Bodleian card holders and Magdalen alumni are free
Show all dates/times Thu 27th November: 7.45pm, £18, £12 (students); Sat 29th November: 7.45pm, £18, £12 (students)
Programme includes JS Bach, Georg Philipp Telemann and CPE Bach.
9.15pm £12, £6
St Cross College, 61 St Giles, Oxford OX1 3LZ, Visitors by appointment only.
With Erika Madi Jones
1.30pm
The Queen's College, 40 High St, Oxford OX1 4AW, By appointment only.
Schubert Trout Quintet, Debussy Danses sacree et profane, Ravel Intro. et Allegro for harp
7.30 £10 (u12 free) w. Mulled Wine & Mince Pies
Cumnor Parish Church
01865 862395
Booking advised by 27 Nov 2014
Live performance of melodically rich pulsating ambience from the newly formed Paddox
8-11pm £7
The Old Fire Station, 40 George Street, Oxford OX1 2AQ, Shop and gallery open 10am – 5pm, Tuesday – Saturday. OFS Venue for gigs/theatre open whenever there's an event.
...oxfordplayhouse.com... Email Me
Booking advised by 29 Nov 2014 Book tickets