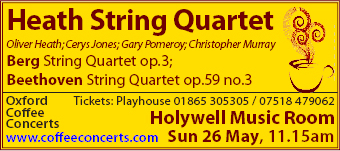 Reviews
Berg String Quartet op.3, Beethoven String Quartet op.59 no.3
11.15am £11 / £10
Holywell Music Room, Holywell Street, Oxford OX1 3BN
Internationally recognized solo marimba artist to perform recital in 13th century Chapel.
12.30pm £7/£5 conc
Merton College Chapel, Merton Street, Oxford OX1 4JD
Choral Evensong
6.00pm free
New College Chapel, New College, Holywell Street, Oxford OX1 3BN
newcollegechoir.com Email Me 01865 279108
Show all dates Tue 21st May; Thu 23rd May; Fri 24th May; Sat 25th May; Sun 26th May; Mon 27th May; Tue 28th May; Thu 30th May; Fri 31st May; Sat 1st June; Sun 2nd June; Mon 3rd June; Tue 4th June; Thu 6th June; Fri 7th June; Sat 8th June; Sun 9th June; Mon 10th June; Tue 11th June; Thu 13th June; Fri 14th June; Sat 15th June; Sun 16th June: 6.15pm
Ravel - Valses nobles et sentimentales; Schubert - Sonata in A minor D537; Grieg: - Ballade, Op. 24, & 6 Lyric Pieces
8.30 - 10.30pm Free
Balliol College, Broad St, Oxford OX1 3BJ, The college is normally open to visitors from 2pm - 7pm daily.
ox.ac.uk 01865 617895
Choral Evensong
St John's College Chapel Choir
For details please see the Term Card and Music List on the website.
6pm, free
St John's College, St Giles, Oxford OX1 3JP
Show all dates Wed 22nd May; Sun 26th May; Wed 29th May; Sun 2nd June; Wed 5th June; Sun 9th June; Wed 12th June: 6pm, free