Getting about in Oxford is best done on foot, by bike, by bus or by taxi. Car parking is notoriously difficult, though possible if you are determined, but a good alternative is to use one of the city's Park and Ride facilities. Buses from these into town (as well as along the other major bus routes) are frequent and run quite late. There isn't really a night bus service, but then Oxford is a lot smaller than London and doesn't really open late enough to warrant one. For any late-night needs there are taxis in abundance.
Getting to London from Oxford and backis very easy, as there are direct fast trains very regularly, and two rival direct coach services. To and from anywhere else in the UK when starting at Oxford you will need to proceed via Reading/London (the east, south east and north east), Bristol (Wales), Birmingham (the midlands and north east) or Basingstoke (the south). Links to all the info you'll need are below.
Journey planning
Traveline (0871 200 2233) - Partnership of transport operators and local authorities, aiming to advise you on any journey by public transport. Can only cover journeys within regions.
Transport Direct - Plan a journey door to door, compare public transport and car details for the same journey, check your CO2 emissions and live updates about roads and motorways (Sister site to Traveline and much more useful)
Carl Berry - Individual's database of national public transport. Also gives info on hospitals / supermarkets served by public transport and many other useful things.
Buses
www.oxontime.com - A site detailing the whereabouts of all Oxford Bus Company and BrookesBus and some Stagecoach buses in excitingly real time, so you can work out exactly when it's worth leaving the house. It's quickest to use if you know your service number, stop number and postcode, but you can also navigate with a map.
Oxford SmartZone - Oxford has the UK's first integrated transport system outside London! You can now, with your SmartCard, use buses from any operator within the Zone (encompassing Kidlington, Cumnor, Kennington, Garsington, Wheatley). And you can lend your SmartCard to someone else when you're not using it. And the bus timetables have been rationalised to improve the service and reduce congestion. A Very Good Thing. You can buy a SmartCard on the top floor of Debenham's department store, where St Giles meets Cornmarket. You can buy it for a week or month or year at a time, covering both the bus companies or merely one, and for various zones. To cover central Oxford on both companies for a week should cost about £15.
You can still pay cash on all Oxford buses.
The Oxford Bus Company (01865 785400) - local route, London-Oxford express (Espress) and airport service timetables
Thames Travel (01491 837988) - Oxfordshire regional services
Stagecoach (01865 772250) - local route and Oxford Tube (London-Oxford express) timetables
Megabus - (0900 160 0900 - 60p per min!) - Oxford-London (£5) and Oxford-Cambridge (from £3). You MUST pre-book seats, and can do so online on the day of departure. Megabus now works in cooperation with the Oxford Tube and leaves Gloucester Green Bus Station at the same times as the Oxford Tube.
Oxford Open Top Bus Tours (01865 790522) - See our review here.
Trains
Bikes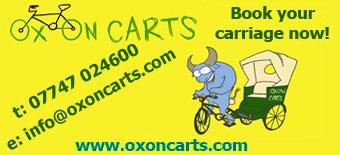 OxonCarts is Oxford's very own bicycle rickshaw firm, with five two-person pedicabs available for hire, seven days a week.
Planes
Oxford Airport ( www.oxfordairport.co.uk) is at Kidlington, 6 or so miles north of Oxford, and handles air taxi and other private charter services (as well as being a centre for pilot training). Full details of their services can be found on their comprehensive website.
Cars - sharing
Oxford is notoriously unfriendly to cars - with a fiendish one-way system, permit-controlled parking and good Park & Ride options many choose to live without a car in the centre of the city. So when you're trying to get outside the ring road you might need use of a car occasionally. Car- and lift-sharing can be the ideal solution, and as ever there are plenty of options!
For info on Car Sharing schemes / Car Clubs in Oxford see here.
Liftshare.com: nationwide journey-sharing website.
BlaBlaCar.co.uk: similar to Liftshare but with ratings based on how sociable your driver is. With ladies-only and other security options and help. Here is their current list of lifts to Oxford... and here's the list of lifts out of Oxford.

...AIRPORT TAXIS

and other automobiles can be found here.