Moya
Great, friendly cocktail bar (happy hour: 5.30-8pm - 30% off) & Oxford's only Slovakian restaurant (reviewed favourably by both the ...
Place
Food and drink
Restaurant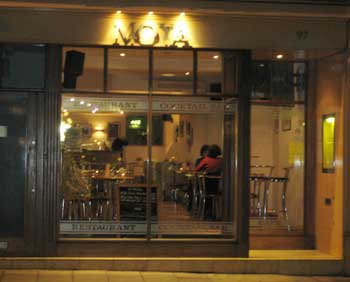 Great, friendly cocktail bar (happy hour: 5.30-8pm - 30% off) & Oxford's only Slovakian restaurant (reviewed favourably by both the Guardian & Daily Info).
Delightful all round. Well-thought-out, delicious food; splendid cocktails; excellent service; nice atmosphere. Menu pleasantly reliable but also has interesting specials board.

31 reviews
97 St Clements
Oxford
OX4 1AR
Opening hours: Tue - Sat: 5.30pm onwards. Tue - Thu licensed til 1am; Fri & Sat til 2am. Special bookings available outside these times.
Happy hour: 30% off all cocktails every day 5.30-8pm
01865 200111
Visit website
View menu
Reviews
---
I've only ever heard very favourable things about Moya, and here are a few more. Oxford's only Slovakian restaurant offers reassuring consistency in service, quality and menu, and some top class cocktails to boot.
The décor is sort of dated-modern in an inviting and unintimidating way; there are slightly budget-looking photos of Oxford on the wall and crisp white table cloths. I think I've only ever seen two or three of the same people working at any given time, and they greet you promptly in a friendly way that is welcoming but not overly familiar.
Always start with a cocktail. They really make some of the best drinks in town, and their happy hour (which is nominally til 8pm, but can often stretch longer) means the perfect Makers Mark Old Fashioned is £4.55. Unheard-of value!
After the bourbon appetiser we went for the prawns in batter and the enticingly-titled Devil's Toast to start. The prawns' batter was nice and crispy - not too oily, not too soft. The black tiger prawns were big; none of this skimpy shrimpy. The homemade tartar sauce dip was tasty and necessary and the side green salad was fresh and well dressed, offering a significant but not too distracting relief from the rest of the plate.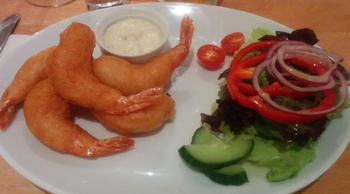 The Devil's Toast dish of toasted sourdough with smoked sausage, onions, tomatoes, peppers, fresh chillies and a thick gooey slab of paprika-topped grilled goat's cheese was absolutely stunning. Moya are clearly not too worried about pandering to the mild-spiced militia. This was powerfully flavoured with wonderful stacked layers of texture. I'd definitely order this again.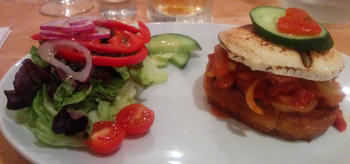 Having successfully previously opted for the Moya pork shank, this time I went for the slow-cooked duck confit with braised red cabbage and gratin potatoes. The generous duck leg was crispy and tender, falling enticingly off the bone.The leg was perched on top of a pile of apple and star anise-infused red cabbage. It's a dish that's clearly been put together with a great deal of thought and care, and it all works wonderfully. The side of gratin potatoes were creamy and delicious, and swiftly polished off by a greedy scavenger when the duck defeated me.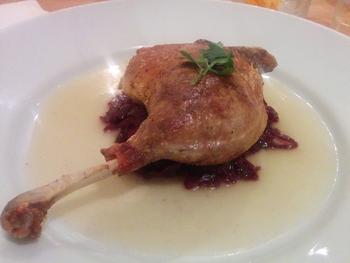 My dining companion is a fan of 'interactive foods' - the type of person who'd buy a Müller Corner or a pack of a Salt 'n' Shake crisps - so the bean goulash where you get to add the little dumplings to the dish yourself was apparently 'great fun'. The beans were so enormous we spent a good portion of the rest of the evening speculating where they might get them, and how we could get hold of our own. The goulash was a pulse-enthusiast's dream of monstrous purple beans, cannellini beans and mixed vegetables in a rich tomato and pepper sauce. Overall, not as spicy as expected, but still very tasty, and the perfect size.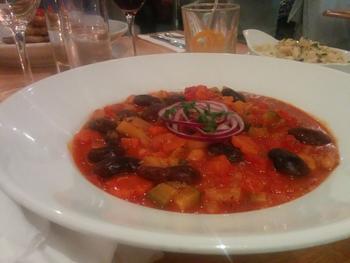 With a daily specials board as well as their perfected long-standing menu, Moya is really the destination for any occasion. That kind of sounds like an ad for them, but it really is. The service in prompt and uninvasive, the whole experience putting you at ease. It's great for drinks, quiet dinner or large party. You'll only ever be disappointed if you turn up on a Monday, as they're closed.
---
We dropped in to this bright Slovakian restaurant in St Clements for a quick pre-concert supper. It was very cold outside, but warm and welcoming inside. The décor is modern, understated and not at all what I imagine is traditional in Slovakia. The service was excellent throughout.
As we were in a hurry, we passed on starters, although they all sounded interesting, especially the venison one on the specials board, and went straight to mains. I had Rezen, which is a pork schnitzel, with Slovakian potato and green salads; Elizabeth had Segedin, an interesting dish of pork and sauerkraut, which turned out to be more delicious than it sounded. There was a choice of fried potatoes or sliced dumplings with the latter and she went for the spuds.
We had time for a dessert, so we shared a couple of freshly made fruit dumplings. They were really quite light, the size of snowballs, and were stuffed with apricot puree and smothered in a poppy seed and butter sauce. Appropriately, they obligingly melted in the mouth. One eye on the clock, we just had time for a swift Americano, and then off out into the cold night air. With drinks, a large Budvar and a glass of Sauvignon-Tierra, the bill came to under 40 quid. Highly recommended - and we'll be more leisurely next time.
---
I absolutely adore going to Moya. It's like a friend you can always rely on to feed you well, give you just the right drinks and send you on your way happy. Even though I've been more times than I can (quite) remember, every time feels like I've had something new - have I had the goulash with the Avalanche banana cocktail followed by one the excellent selection of Martinis? No! Always something different and you don't even have to look in the back pages of the menu. Fanatastic.
---
Moya is my favourite Oxford restaurant. The surroundings are civilised and relaxing; the food is delicious and intelligently planned; the presentation is lovely and while the staff are friendly and attentive they never come bounding up ingratiatingly to ask whether you're enjoying your meal.

They also do excellent cocktails. The mojito is my favourite: a generous glassful, a lovely balance of sweet and sharp and plenty of mint. But there's also definitely a case for the kooky pleasure of their mint-choc-chip cocktail; and their walnut alexander is inspired: smooth, cold and velvety with a wonderful walnuty aftertaste. For macho types, there is draught Staropramen.

I usually start with the fasirka - a breadcrumbed venison and pork meatball, the succulent savouriness of which is exquisitely complemented by sweet redcurrant jelly and sharp horseradish sauce. It is absolutely mmmmmmgh! The salmon and haddock fishcakes are crispy and good too, as is the Devil's Toast - a tomatoey salsa of vegetables and peppery sausage on toast under goat's cheese.

The menu rarely changes, and this is a good thing in my opinion because the dishes are all so beautifully designed, with attention to the balance of flavours and textures. You can rely on something you enjoyed last time being as good again.

For mains, I can recommend the excellent trout - crisply fried and tender, with a small cylinder of cool potato salad; the enormous pork shank is lovely if you're feeling carnivorous, and the duck confit on red cabbage is melting and flavourful. The beans and carrots with ginger and chilli are very good; the fresh flavour of the vegetables is conserved.

Desserts, if you're still going, include a decent chocolate fudge cake, an interesting if stodgy apricot dumpling (have the poppyseed and butter sauce) and a bubbulina light sponge with berries baked into it. Oh, and the liqueur coffee is the best I've had anywhere.

The decor is modern without making a fuss about it - pale woods, and chairs wrapped in turquoise fabric. There are photos of Slovakian scenes on the walls, gigantic vodka bottles in niches and there are always fresh flowers in little vases on the table.

I have only three quibbles: the enabled toilets are all the way upstairs (occasionally a daunting task after one mojito too many); and the background jazz/pop/ee-zee soul CD could do with occasional substitution - if you go there as often as I do you start to get tired of the same tunes!

Also, it's not the best place to take a vegetarian group - while it does what it does extremely well, and the veggie dishes are nice, the best dishes all contain some meat. Well, it is Slovak cuisine! Vegetarian devil's toast is to be recommended though. They are accommodating about gluten free / dairy free meals, but, again, it's not what you would go there for.
I was not sure what to expect from a Slovakian restaurant, but it far exceeded my expectations. Warm and inviting on a particularly miserable evening, the staff were friendly and helpful and we were seated at a lovely table.
Cocktails both alcoholic and non alcoholic were fantastic. Much better than what you normally receive in a restaurant, and then onto the food:
Devil's toast and my Slovakian salad were both wonderful, followed by pork shank which was just fab, the meat fell off the bone and was just a delight to eat. We are gluttons so we opted for desert which just about laid us out on the floor. Perfect end to a perfect evening.
In addition, when we came to pay there was no option and therefore no pressure to 'add service charge' to your credit card which meant we left a generous tip in cash!
Would definitely recommend to friends.
This is a great little restaurant with fantastic staff and service and killer cocktails!

The Devil's Toast is fantastic but be warned, it's quite filling and I think you could easily get away with sharing it between two. Last time I was there I ordered the goulash which sadly wasn't the best I've ever had (the meat was a quite tough, though the flavour was good) and I didn't like the bread dumplings, though that's just personal preference. My partner enjoyed his pork loin, as did I when I pilfered some from his plate. Had I not had the Devil's Toast I would have opted for the grilled smoked sausage, and I ended up wishing I had!
But all in all, excellent value for money and a lovely place to spend an evening. A final word of warning (or, depending on who you are, advice!): the Long Island Iced Tea has five shots of spirits in and, unlike some places, at Moya you really get your five shots' worth!
My wife and I visited Moya for dinner and had a lovely evening.
On entering we were made to feel very welcome by the warm and courteous waiting staff, and we were seated at a table of our choice. Drinks were ordered and served promptly, and we sipped on them whilst looking over the menu and the "specials" board.
Starters of "devil's toast" and fish cakes were scrumptious, full of flavour and beautifully presented. The fresh and crunchy salad garnishes with a tasty dressing were an excellent accompaniment. Our mains of sea bass fillet and the "special" cod fillet were perfectly cooked, and they came with some delicious buttered vegetables and carefully prepared hot side plates of gratin potatoes, the sauce of which was light and of just the right consistency to go with the delicate flavours of the fish. We shared a fabulous dessert called "bublanina" (bubblecake), which was served, in style, with a light vanilla custard.
There is an calm and gentleness about Moya and the people who work there that is very engaging. Owners Richard and Ivona, and their staff, go to great lengths to take care of details. The presentation and quality of the food and drink, the cleanliness and tidiness of the surroundings, and the homely touches of the decor all reflect a strong desire to portray Slovakian home cooking in the best possible light. We had not been for a while, but we have promised ourselves a return visit in the near future. Very highly recommended!
Wet day in early January. After a long day at the Boat show in London stepped off the coach outside the front door. I have pondered outside before looking at their menu and always thought it could be a little more exciting. But looked nice inside, so in we went tired. Grumpy and needing a glass of wine quickly and a menu, I got it. And a friendly smile, so I took more notice. Restaurant was almost full and a good chatter and some great looking plates of food, simple but good. Ours arrived. I ordered the duck and the other half fish, well cooked simple and wow, tasty, and shared a pudding. Fast, attentive, very clean, sparkly, comfortable. Fun to watch the other customers all enjoying the evening. Well done!
I've loved this restaurant ever since my first visit (about 4 years ago, shortly after moving into a house off Cowley Road, having worked my way steadily through East Oxford's many establishments). I keep meaning to put up a review, but then I think of Moya like a hidden gem and would hate it to suddenly become 'trendy' and over-crowded. However, it's just too good a secret to keep! So why's it so good? Well, they just get everything right: the service is friendly, prompt and attentive, but never rushed or fussy; the atmosphere is a great mix of lively (at the front, around the bar, where lots of people come in just for cocktails - particularly around happy hour!), and then quieter towards the back, where the main restaurant seating is; and of course the food - which is absolutely first class, and makes me wonder why Slovak food is not more widely served! I could take up several paragraphs with reccommendations from the menu, but my top tips would be: battered prawns with the most amazing home-made tartar sauce (best I've ever tasted); Slovakian goulash - flavoursome, not too spicy; and duck leg with red cabbage - cooked to perfection! Frankly though, you can order pretty much anything though and be confident that it'll be lovely.
My husband and I have lived around the corner from this place for 2 years and never came in. We didn't know what Slovak cuisine really meant, and it always looked empty. We tried it for the first time this week (October 2010) and we were completely pleasantly surprised! The interior is a lot bigger than is appears from the street. The restaurant was actually about half full and we had no idea! The bar was really stylish looking and the atmosphere was one of the coolest of anywhere in Cowley. We have been to pretty much every restaurant in Oxford and this was a standout.

We went for traditional dishes including a smoked cheese starter which was delicious, and were really impressed with the mains. We had a kind of fruit dumpling for dessert which was beautifully presented. All in all, wonderful. Would really work for a date or a classy dinner of any kind. Highly recommend!
My wife and I had a very nice, three course meal for two at Moya last Saturday. Very attentive service, all the courses were very nice and at fair prices. I certainly recommend this place.
We live in the area and are regulars at Moya. We love it and have never been disappointed with either the food or the cocktails. We think it's the very best in town. The price is right too!
This must surely be one of the best cocktail bars in the world, never mind England or Oxford, even when they're busy. Go in when it's quiet and ask Richard to conjure up a magical concoction for you and your partner (or go by yourself, milady, and have them both!). The food may be unfamiliar to many people; but it is yummy.
A really great place. The cocktails and food are both good enough that my girlfriend and I are now regulars at Moya, and walk past every restaurant and bar on the Cowley Road to get there!

The cocktails are better than anywhere in Oxford, although more expensive than the happy hour scrum at the Duke of Cambridge and with a slightly shorter happy 'hour'. The staff have just the right balance of friendliness and formality. The food is always very good and beautifully presented, and dispels any stereotypes about Eastern European stodginess. The specials board changes regularly, and always has something interesting. All in all, a gem of the Oxford scene.
Simply the best! I recently went there for my birthday and I had one of the best moments in my life! There were roughly 30 of us and it's only a small restaurant, so in order to cater for us all we got the pre-set menu - devil's toast and shared platters for £16.50 pp. The restaurant was very helpful and truly catered to customers' needs - whether it needs to be vegetarian, egg-free, nut-free or no pork... etc. We arrived around 6.30pm while it still had the happy hour offer. Cocktails-wise superb! I had a strawberry caipirinha and was impressed by the berri-ness inside! The food was simply fantastic. Everyone enjoyed it and the portion is definitely on the generous side! It's a place that I would definitely go back to again and again in the future!
We had a fantastic meal here last week. Great fun, attentive service and amazing food. Outstanding value for money as well. Five of us enjoyed a three course meal, 2 cocktails and our share of a bottle of champagne for just £36 a head which was excellent value given the quality of the food and drinks.

Our particular recommendations would have to be the devil's toast starter, and the pork shank or goulash for mains, all cooked to perfection. Choclate fudge cake for pudding was divine. A few cheeky brandy alexanders finished off the evening perfectly!

Delicious food, and a menu with something to suit every taste, and a truly great selection of cocktails. We would thoroughly recommend Moya to everyone.
Absolutely agree with the other comments.

We had a great meal on Saturday, on a cold and rainy evening, at a very reasonable price. And finished up with two slivovice to send us out fortified to face the elements!
Moya has to be the best resturant in the UK!!! I have never written a review before but felt compelled to. I have been to Moya several times, the last time being my fiance's birthday. Nothing was too much trouble. I left a small cake and candles and just after the main course 3 of them came out singing happy birthday and being generally lovely. Then they brought us 2 complimentary glasses of champagne. The staff are always lovely, helpful and hard working, the food is amazing and the cocktails the best anywhere, whatever you have! I only wish I could afford to eat there every night!
Moya is just a great place, whether you want just a drink after work, a romantic dinner or organise a group party.

We have been regulars at Moya since its opening almost five years ago and have enjoyed all the previous services without ever been disappointed. Over this time they have maintained an excellent standard for the quality of their food and customer service, and, a most rare feature in Oxford, also kept their prices at bay. Their staple menu has not changed much over the years time, which helped retaining the Slovak character of their restaurant and avoids confusion to regulars such as us. Still, they always have new and delicious daily specials. Personally we love their Goulash, Rezen, Fasirki and their trout, but above all their Mojito's and Pina Colada's!!!

Overall I can only recommend Moya, which so far remains one of our favourite restaurants in Oxford, not only for the previous reasons but also because it delivers very good value for your money.
Had dinner at Moya on 27th Oct 07 and it was delicious. Great menu and fantastic staff. Very, very reasonable in price - unlike some of the gastro-pubs around Oxfordshire, where the food is not half as good. I had a great Vodka Martini. Highly recommended.
They seem to have changed their opening hours although their website still gives the old ones. They don't seem to do lunches any more and I've had trouble phoning them to find out what their opening hours are. I wish they would correct the info on their own website at least.
Visited Moya in October for the first time, on the strength of the good reviews here. It was a good call, as the reviewers are right - tasty, well prepared food, friendly efficient service, good value and great cocktails as well.
I have been coming to Moya pretty much since it opened and now we've moved to North Oxford we still think it worth making the journey back to eat here as we simply feel it's the best restaurant in Oxford. It beats the rest without a doubt. No way is the food stodgy or in overwhelmingly large portions. It's beautifully and carefully cooked authentic Slovak food, very tasty and with some surprising (to a non-Slovak) combinations of ingredients and lots of good vegetables integrated into the menu. As a starter the devils toast is absolutely delicious and I became addicted to the rum-batter aubergine in goat's cheese sauce for many years in favour of 'fasorky', the finely minced venison and pork patties, served with game veloute, spinach and potatoes dauphinoise.

The puddings are delicious, especially the Bublalina cake, a very moist raspberry sponge.

Cocktails are fabulous; Richard will always make one up for you if you want something different to what's on the extensive list.
This restaurant really cares about what it does; it has its own high standards and it deserves much credit for not going down the hackneyed 'mediterranean and modern british' fusion direction that all too many restaurants in Oxford serve up.

I reckon we have been 30 times at least and never had a bad meal.
raisethestandard4Oxfordfood
I really recommend Moya. I eat there quite often and it is very consistent in terms of food and service, and the drinks are great too. It is a good place to take people who are visiting Oxford as it has a really good atmosphere and is a bit unusual.

I'm not sure that a vegetarian would have much choice on the menu but I think they have added more dishes recently.

I have never felt disappointed going there, and that is something I can't categorically say about any other restaurant in Oxford! (except maybe Chiang Mai but you have to book several days ahead there!).
Food at Moya is consistently good value (as you'd expect from an Eastern European restaurant), and of a surprisingly high standard for traditionally simple, hearty cuisine. Portions are generous, but the food is tasty, well presented and is not stodgy. Staff are really friendly and helpful.

The cocktails are excellent, and well worth the trip on their own. We've tried a good range, and they are probably the best in Oxford.

On the minus side, the dessert menu is limited, and food service can sometimes be slow, especially if there's a large party in. However, overall Moya is easily one of the best restaurants in East Oxford.
The best cocktails north of the equator!!!
Johannes & Dalene Claassen
Moya is by far my favourite restaurant in Oxford. Although I know this type of food very well, I have been very impressed every time I have been, and have also managed to positively surprise many friends with this.

Moya can be summarised in few words: An interesting experience (most people here will never have tasted this kind of food before), filling, generous portions of unpretentious, simple but healthy food (sauerkraut and goulash does NOT mean stodgy, greasy, fattening food!), very friendly service, reasonable prices. It is worth the "long hike" up to St Clements.

My personal recommendations: The Devil's Toast. A must.

For mains, it is difficult to decide which is better - the Goulash, the Szegedin Goulash, or the Venison Medallions... Make sure you try some of the traditional sides, especially the "knedla".

The puddings - best try them all. The "dumplings" are traditionally eaten with poppy seeds (rather than chocolate) - the apple tart is JUST right, the sponge cake is the softest that I've ever tasted... Just don't go for the boring Ice Cream (I am sure they do it nicely too but you want to try something you havent had before!).


Moya is a superb restaurant/cocktail bar, with an interesting menu and guaranteed good quality food, service and portions.

If you eat out in the East Oxford area and have never visited I would strongly recommend trying this place.

The menu is fantastic - I often eat the Goulash or Segedin, both very traditional dishes served with potatoes or traditional Slovakian bread. These are tasty, beautifully-prepared meaty dishes guaranteed to fill those with strong appetites. I can also recommend the Rezen, a breadcrumb pork dish with a fabulous Slovak potato salad. Overall, the food is healthly and the premises are clean (a great change from a lot of local restaurants).

They serve traditional beers and cocktails (reasonably priced if you get their before 8.30).

The decor is great - very clean, soothing lines and simple design. The staff are friendly and overall the place is well managed.

A must visit!

10/10 Rating *****
Unfortunately, Moya achieved rather low rating after our visit two years ago. I hope their customer service and menu have improved significantly since 2004.
The sign did not specify Slovak cuisine at that time which makes me believe Slovaks are not proud of their service and culture. Decoration of the premises was decent but the large bottle of Becher herbal liqueur (made in Carlsbad, Czech Republic) was very confusing for my husband. He wanted to order some Slovak wine but that was not available.
The staff were unable to speak English, the waitress on duty had been there for two weeks and did not know the menu - but it was still a feeble excuse. Menu was very limited though dishes were delicious.
Compared to similar restaurants in Bratislava - well, nothing really special. Charging that price for a single apricot dumpling is not appropriate. Maybe caused by high rents in that area...
But if your tastebuds appreciated your visit it makes sense to visit Slovakia for a weekend food fete and explore more!

Rating 4/10
It's clean, bright, cheerful and the staff pay attention to you. As we entered, about 20 bright young things were enjoying cocktails and chat about the bar. We sat beyond and ate well for £34.75 for two all-in, which is pretty good for a sophisticated meal. My partner had a dry manhattan martini followed by thick slices of rum-battered aubergine, a side salad and chocolate nut pancakes. I had a mai tai, and then pork ghoulash followed by apricot dumpling - all very tasty, but my weight has gone up to 15st. 11 3/4 from 15st. 10½!

Moya opened last summer. Clean, crisp, summery and seemingly on the Bar Baby model, it looked like yet another new bar upgrading the Cowley scene. On taking a closer look, I was surprised to learn that it was a Slovakian restaurant bar. Inside, the owners claimed that it is probably the only Slovakian restaurant in the UK. Better than this novelty, the food is great, the staff are friendly and the surroundings just right.
You don't have to eat (although I would recommend it), as there is a large selection of cocktails, complete with happy hour. The whiskey sours were excellent (raw egg white optional).
The food is traditional, which means lots of pork, beef and knedla (bread dumplings), but by no means stodgy. There is also a wide and yummy selection of veggie food. I had a lentil soup, with sour cream, served with a range of black and rye breads unavailable anywhere else in culturally-stunted Oxford! The rum-battered aubergine with goats cheese was a great main event, served with new potatoes and a home-made horseradish sauce. My friend had the beef goulash with knedla and was charmed. Wicked!

Review this venue
97 St Clements
Oxford
OX4 1AR
Opening hours: Tue - Sat: 5.30pm onwards. Tue - Thu licensed til 1am; Fri & Sat til 2am. Special bookings available outside these times.
Happy hour: 30% off all cocktails every day 5.30-8pm
01865 200111
Visit website
View menu
Share this venue