Add your own event listing...
Know what you're doing? Click to add your event!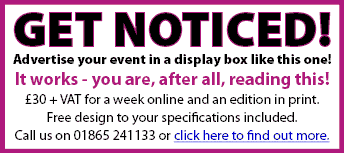 Don't know where to put it? Choose the most relevant section:
You can enter your event at the bottom of any of the pages above. Or just click here
NB - BEFORE LISTING, it's a good idea to check to see that no one else has put up your listing already!

See also:
Terms and Conditions of placing your event on Daily Info.
What's On Today / Any Day for all Oxford events on one page.