"An inspector calls". The words have a ring of old-world gentility, conjuring up cosy Edwardian dining rooms and set texts in musty classrooms. A play that was once defiantly, almost violently revolutionary has become comfortably staid, a morality play version of Downton Abbey. If An Inspector Calls was a person, it would be the middle-aged executive chuckling at his longhaired yearbook photos.

Thank god then for Stephen Daldry's production, which hammers at your preconceptions like the questioning of a mysterious, avenging police inspector. Just a warning: if you don't enjoy slightly heavyhanded symbolism, this may not be the show (or the review) for you. Ian MacNeil's breathtaking staging is packed with the stuff.

The Birlings' mansion squats in the centre of the stage like a surreal dolls'-house, its tiny door forcing the revellers to contort themselves as they clamber out into a cobbled wasteland, simultaneously suggesting urban decay and aerial bombing. This production refuses to be nailed to time or place, mixing 1900's decadence with wartime devastation. As the Birling family's world collapses under the guilt the Inspector forces from each of them, so their house literally quakes, shattering crockery and upturning furniture. Crowds of silent, accusatory figures appear as if from nowhere, like the vengeful shades of those forgotten by society.

Spectacular is the word, but it's not just spectacle. This staging gives Priestley's dreadfully earnest script a surreal quality, by turns fairy-tale and nightmarish. The inspector becomes an almost supernatural figure, stripping away petty deceits and evasions to force confessions of the thoughtless cruelties we inflict on other people. The mood remains tense and thrilling- partly due to some brilliant performance from the cast.

Karen Archer's Sybil and Geoff Leesley's Arthur are a pair of pitch-perfect bourgeois bastards. I don't think I've ever wanted to slap a pair of characters quite so much, which is in fact a compliment. I think. The younger generation, too, are nicely pitched, particularly Kelly Hotten's Sheila, who manages the transition from thoughtless girl to conscience-struck woman splendidly.

Tom Mannion's Inspector Goole is a rock of solidity in a collapsing family (and stage)- his only concession to the increasing tension being to remove his jacket. Oh, and shout. He shouts a lot, so much that I thought the Birlings, dastardly as they were, might have had a point when they accused him of overstepping his authority.

In fact, this whole show is at high volume, from staging to mood. It's aggressively spectacular, from the mood-setting rainstorm that accompanies the inspector's arrival to the devastating finale. This production of An Inspector Calls is a wake-up call, making a familiar play into a relevant, gripping drama once more.
Alwyn Collinson (DI Staff), 11/10/11
---
I like JB Priestley, but had never read or seen An Inspector Calls - an admission akin to loving the Bard but never having read Hamlet. So I must admit the cinematic opening of Daldry's production wasn't quite what I was expecting. An Inspector Calls is my husband's favourite play; it wasn't what he expected either!

Building on Priestley's assertion that "only a fool would think that I was a realist dramatist," the production has a doll's house parlour, set up initially to exclude the audience from a private family dinner, heightening the sense of distance from the central characters. Inspector Goole quite literally throws open their world to his – and our – questions.

You probably know the play – if you don't, I won't spoil the plot. Suffice to say that a well-to-do family are brought face to face with some harsh truths about the effects of their actions on Eva and John Smiths everywhere.

Highlights of the production were Marianne Oldham's Sheila – opening in a fashion that brought to mind Miranda Richardson in Blackadder the Second, and fast growing up to become the only sympathetic character in the play. Louis Hilyer's Inspector Goole moved from slightly edgy questioning of each character to a goading, almost manic conscience, matched only by Sandra Duncan's wonderful stage presence as upper class matriarch Sybil.

An Inspector Calls is a play that ends, then ends again and this was a production that, having seen it once, I'd rather like to see again.
Cath Little (DI Reviewer), 09/06/09
---
J.B. Priestly's moral mystery play has not worn well over time. The brutal exposure of the dark secrets of a complacent middle-class family was daring in 1946, but now seems tame, and the mechanism of that exposure workmanlike rather than brilliant. There is still pleasure to be had from the competent performance of a well-crafted mystery, and this particular production tapped into a vein of unexpected humour, not all of which was, I fear, intentional.

I can't see that the play has that much to say to a modern audience that they haven't heard more cogently a thousand times before, so I wonder why it was chosen for performance, other than to provide the players with the jolly good time they were clearly having. There were in fact many elements of the pantomime in this production. However, such as it was, they did it well enough to engender an enthusiastic response from the audience. The performances were mostly adequate, if not pedestrian: their Sheila Birling was alternately shrieky and whiney (an unappealing combination) so that as a moral compass of her family's selfish greed she was ineffectual, as we were all on their side. Arthur Birling was comically blustering, Mrs Birling a convincingly outraged matriarch. Inspector Goole was clearly aiming for a supernatural origin from his entry, at least I hope his skin isn't really that colour in everyday life. He appeared (and acted) in a cadaverous manner which would have alerted the Birlings to his suspect status much sooner, if they hadn't been hoovering up the port all evening.

The one really impressive performance was Rob Marley as Gerald Croft, a portrayal of huge but quiet authority that overbalanced the moral judgement of the play – his cheerfully arrogant expediency seemed quite reasonable, and made Sheila's moral clarity appear more like a self-indulgent guilt trip. Maybe that's what the director intended. One wonders what would be the result if someone updated the play. The sense of relief experienced by the family when they figure out that the "Inspector" was bogus is surely misplaced. Nowadays your next thought would be that he was a journalist in disguise, about to publish your peccadilloes in the scandal sheets; surely even in 1912 (the year the play is set) you might anticipate that some blackmailing would be the result. But these are quibbles. Would I recommend you to go and see this? Not really. You'd do much better renting a copy of the excellent movie with Alistair Sim.
Andrea Hopkins (DI Reviewer), 02/11/06
---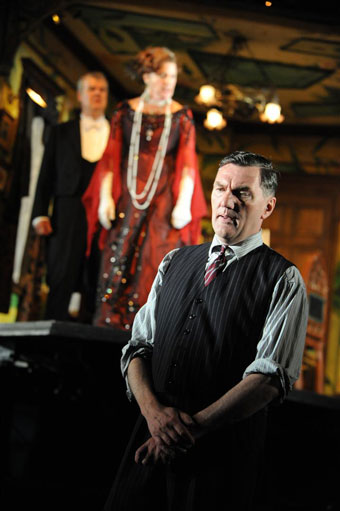 Latest reviews