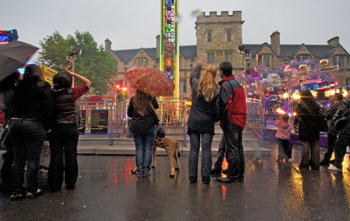 Established in 1555, now with around 390 undergraduate and 200 graduate students,
St. John's College
(tel 01865 277300) was founded on the site of a former monastery, and is undoubtedly the richest college in the University. It was reputedly possible at one time to walk from St. John's College, Oxford to St. John's College in Cambridge without leaving St. John's land. The hall and
Chapel
are both in the First Quadrangle which was mostly built in the 17th century, as was the Canterbury Quad beyond. It is said that the opening of these buildings was celebrated with a banquet which cost more than the buildings themselves. The college's crowning glory is its 5 acres of
gardens
, the results of centuries of careful cultivation. The gardens are open to the public 1-5pm daily (or until dusk in winter), and to Oxford University members 9am-5pm (with three guests).Wheelchair friendly.Wifi access available.
Next events at St John's College