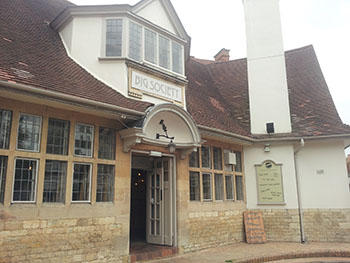 A new pub/bar/eatery hang out zone on the Cowley Road on the site of the old Elm Tree pub. Has a welcoming ethos and want to be doing something a bit different from your regular pub or bar, opening itself out to being used by local people; there is a space for pop-up shops on Saturdays, they are planning to have pingpong tournaments, groovy quizzes, maybe live gigs, and different local DJ's on Fridays and Saturday nights, when they are open until 2am. Happy hour 5 - 7pm.
Opening hours: Sun - Thurs: midday - midnight; Fri & Sat: midday - 2am; kitchen open daily, closes at 10pm. . Food served: American style hot dogs, chicken wings, burgers, and doughnuts. Wifi access available.
Real Ales, Children welcome, Food served & Cocktails . Games: Ping Pong.



Twitter
Facebook
95 Cowley Road
Oxford
OX4 1HR
Cowley Road Area
Sun - Thurs: midday - midnight; Fri & Sat: midday - 2am; kitchen open daily, closes at 10pm.
Telephone: 01865 792755
office@bigsociety.com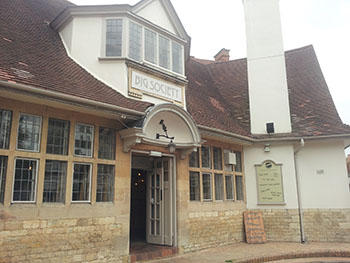 Coming soon to Big Society:
Kinship of Oxford Pop Up Shop!
Sat, 1st November 2014: 12-5pm

Bad Cover Version - Music Quiz at Big Society!
Tue, 18th November 2014: 7.30pm

Smash Disco
Sat, 22nd November 2014: 10pm-2am (runs until Sat, 27th December)

Ads by Daily Info: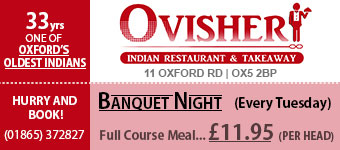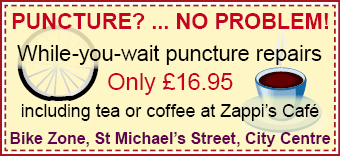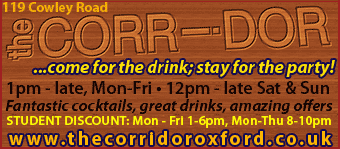 Advertise your special promotions on this page!

Free up to a month, special benefits for £2.50/week. Find out more...

Oxford Offers
+ This week at Big Society >>>
Kinship of Oxford Pop Up Shop!
Sat, 1st November 2014: 12-5pm

And beyond this week...
Date visited 24 April 13
No pints, draught served in 2/3 pint glasses (but cost 2/3 price). This may bother some people though.

It's easy to find, just walk down the Cowley Road away from Oxford, from the Plain, takes about 5 mins. Upon entering it strikes you as something very new (and different) for Oxford. The decor has that 'up-cycled' look, with school chairs and scaffolding for tables. The staff seem friendly and have that kind of 'pleased to meet you' vibe. The drinks are served in jam jars and the (absolutely awesome) burgers arrive on metal trays. The fried chicken is worth mentioning, crisp and moist and seasoned beautifully. This is basically American comfort food, but gourmet. It is prepared from scratch, the barman said the burgers are ground everyday day and the buns are specially made for them but the food prices are way below the average prices in Oxford. As you walk in on the left is a ping-pong table. The choice of artwork on the walls is very different, its just another little detail that adds to this whole package of a fun place to be in, but I like it because there is a hint that they don't take themselves too seriously. There is also a nice outside area behind the pub which also has that urban feel to it, (but it was being painted and and having work done). This is yet another string to its bow!! There is nowhere like this. Its logo says:" Music, Drinks, Eats, Hangout", and it definitely does all these very well.
texasjim (DI User), 25/04/13
---
The Big Society has an excellent location in the heart of East Oxford. Formerly a traditional pub, then a truly awesome oriental restaurant Lan Kwai Fong (the owners of this do still run the delightful 'One Fusion Bar' on Botley Road), now a hipster bar from the team behind North Oxford pie pub 'The Victoria' and North Oxford cocktail bar 'Raouls'.

So another bit of North Oxford heads East-wards as has happened with other East Oxford venues like 'The Rusty Bicycle (from 'The Rickety Press' & 'Oxford Pantry' kitchen shop team) and 'The Oxford Blue' (from Italian bar evicted from Walton Street for new development duo).

There is nothing particularly wrong with The Big Society. It's spacious, light and smart. However much of the décor is muddled and the on-wall art is simply not to my style – exclude the diver drawn around a wall light that acts as his snorkel which is pretty cool. Inside this feels like a school canteen. Fantastically they offer local crafters the opportunity to display their pop-up-shops and have a table tennis table in the back room.

Beer/Ale are served in Australian measures of ¾ pint and though prices reflect this it is a rather irritating quirk. Having said that the range of drinks is great and a huge selection of wine, spirits and mixers also on offer – some are in hiding so do ask if you cannot see what you want on the back shelf.

Soft drinks are from cans/bottles rather than the syrup tap mix which is a good thing. They are served with a jam jar which can be used as a glass.

I've given the food a couple of chances now and its okay. Nothing more, nothing less. The menu is very small with a 'special' desert each day.

The food is served on a paper lined oven tray with a selection of sauces and a roll of kitchen towel. The kitchen towel – a somewhat bizarre touch – proves to be fundamental to the meal as this may be among the moistest (greasy) food you might eat.

The burger is homemade, though small. Rolls good quality and served with inserted gherkin.

The little salad that comes with the mains is a mix of red cabbage, basic lettuce and gherkin with a squirt of some sour cream type sauce.

The home-fried chicken (not actually fried at home I assume) is very tasty, without bones, and very moist (of course).

My partner and I had these 'mains' without fries and instead opted for the Chilli Cheese Fries to share. These were pretty crazy, decent fries and decent cheese presented in a metal bowl. However the beef chilli served only to make this dish feel like a chip lasagne – one that was a little soggy and typically, ummm, wet.

I can't dislike this place but I don't like it either. Bottom line is there are countless much better places to eat and drink around here.

Expensive food for what it is. Very fast service so good if one has limited time for a snack. This is still lots better than a lot of high street fast food takeaways.

Eating here I was reminded of scout camp, lots of space, metal serving platters, desperate wanting to be somewhere better. Plus there is no campfire, the highlight of any camping experience.

Service: 3/5
Value: 2/5
Venue: 3/5
Food: 3/5
Total: 11/20
BarntheBarn (Unverified), 16/04/13
---
The Zeitgeist has been captured.
Patrick Vale (DI Reviewer), 13/03/13
---
The former Elm Tree pub on Cowley Road, which was also previously the Lan Kwai Fong restaurant, has just relaunched as Big Society.
I dropped in on Saturday evening to see what it was like. The building itself is pretty spacious, and the main bar leads to two side rooms, one of which has a table-tennis table, the other is mostly table seating. Beyond this is a covered outdoor area (being used by smokers on the wet night I visited), which in turn leads to a rear yard with picnic benches.
The bar staff were friendly, and there was an excellent selection of beer - Mean Time's Pale Ale and Pilsner and Shotover Scholar were on draft, and there seemed a fair choice of interesting bottled beers too. Draught beer gets served in a "schooner" glass (2/3 pint), which seems like a bit of an affectation to me.
The whole place has a slight "austerity" look to it, with blue-and-white tin mugs in evidence. When I ordered a hot dog, onion rings and coleslaw, they came served on an aluminium tray lined with brown paper. The hotdog was pleasant, but the onion rings were truly stupendous - homemade, chunky, with light crispy batter. Coleslaw was also clearly freshly made, and crunchy with red cabbage.
I suspect this place'll do well. I certainly hope it does!
MikePJ (DI User), 10/02/13
---