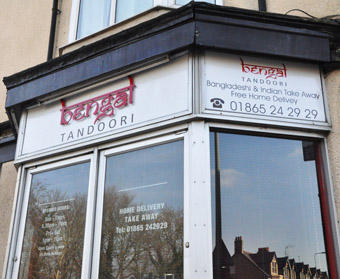 (Formerly Bengal Spice.) 10% discount on collection of orders over £10. If you're feeling festive and well organised you can order a whole lamb leg, marinated and slow-cooked, accompanied by a feast of side dishes and large enough for at least 6 people. They also do burgers and such, and one of their specialities is tandoori chicken stuffed with cheese!
Opening hours: Sun-Thu 5.30-11pm, Fri & Sat 5-11pm. Including Bank Holidays. Home delivery available.
Cuisine: Indian & Bangladeshi.