56-60 Cowley Road
Oxford
OX4 1JB
Cowley Road Area
From 4pm weekdays, all day at weekends
Telephone: 01865 256091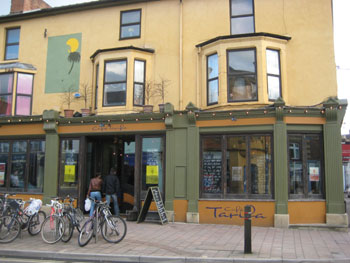 Coming soon to Café Tarifa:
Charlie Cunningham
Sat, 26th April 2014: 6-8pm

James Apollo
Wed, 30th April 2014: 7pm

Ads by Daily Info: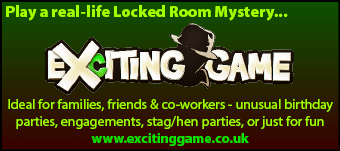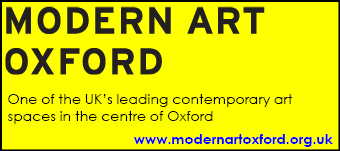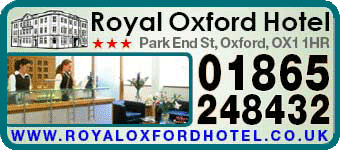 Advertise your special promotions on this page!

Free up to a month, special benefits for £2.50/week. Find out more...

Oxford Offers
+ This week at Café Tarifa >>>
Charlie Cunningham
Sat, 26th April 2014: 6-8pm

James Apollo
Wed, 30th April 2014: 7pm

And beyond this week...
Tarifa is a pretty venue with a nice atmosphere. The drinks are overly expensive but fairly good. However, unfortunately they almost always play extremely loud background music, which makes it impossible to have a normal conversation there after about 6pm, especially if you are with a group of people and some of them are sat at the other side of the table. They tend not to turn it down noticeably even if there are few other customers and you ask nicely. This makes it a place that I tend to avoid, because I like to talk to my friends when I go out, not just sit in silence with an expensive cocktail.

In the summer, the garden is pleasant, and it's much quieter out there too.
Rachael (Unverified), 21/05/13
---
Had a very pleasant evening at Cafe Tarifa recently. Very nice chilled atmos with a very well stocked bar (but no Pisco!). Cocktails were fine and priced just about acceptably (Jamiacan Mule particularly good). As far as beer goes there's none on tap so would recommend getting the large bottles of Mahou (1 litre) which work out better value and are good for sharing with a couple of glasses.
Live music was really good and added to the atmos and was not deafening which made a change. Toilets were very clean with a lovely giant copper washbasin (it's the small things in life!) and there's some nice outdoor seating at the rear. These sorts of places for all their casuality can veer towards being quite pretenious but that wasn't the case on the evidence I saw and I will definitely be returning.
Joe B (Unverified), 02/04/12
---
Two of us were with a friend, who was going to have a birthday drink at Tarifa's. What a brilliant find and agreable surprise that turned out to be! The welcome was friendly as was the efficient service. The atmosphere in this cafe is so relaxed and chilled, forget needing to go on holiday. On that particular evening, they had a flamenco dancer strutting her stuff followed by some live music. We had a fabulous time and will certainly be going back.
rita maria (Unverified), 01/07/11
---
I went into Café Tarifa last Sunday evening with some friends for one of their weekly Cult Film and Cocktail nights. The bar itself is a beautiful Moroccan styled place, with a nicely intimate and relaxed atmosphere. Cocktails are around the £5-6 region, well mixed by the friendly staff.

The film itself, Back To The Future, started around 8:30pm in the top section of the bar. The projection was perfectly watchable, getting better as the evening wore on and the late evening sunshine pouring through the lower windows diminished. The audience seemed to be a good mix of people who had come explicitly to see the film and those who had popped in for a drink and been distracted by a little bit of 1980's time-travel.

Overall, a great little bar and an interesting place to catch a classic film. Although be warned the best seats for seeing the screen were gone by 8, so showing up early would be a good idea if you're going for the film.
Mepheisto (Unverified), 01/06/10
---
Discovered this place by chance, when meeting a friend supposedly in another local 'tapas' bar, which was rammed with people - so we dived in here.

What a lovely, relaxing garden - they have worked wonders.. and as for the Mohitos, they are the best I've ever had. When I came back with my husband another night, he loved the peach bellinis and thought the bar staff were very professional (he mixes a mean cocktail himself).

The little chairs in the garden might not be suitable if you are over 5' but as I am not much, they suited me.

Inside, it's a bit dark and difficult to see - but no doubt this will come into its own in the winter months, when the lights are on.

We are planning to try the Sunday brunch over August BH weekend, so will review food too then.
Suze (DI User), 21/08/09
---
Ads by Daily Info:

Browse ads by tag:
Previously, at the Café Tarifa...
Great entertainment and really strong performances from the three leads here. Joel Edgerton, who plays the physics teacher whose ...read more