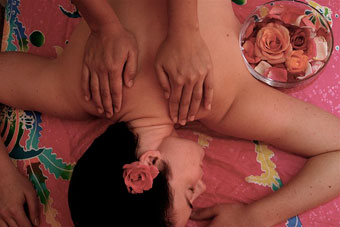 Oxford has long been one of the UK's major centres for things alternative, with many established healthfood shops, groovy bookshops and alternative health centres. Complementary Medicine is basically that which is used in addition to (i.e. it complements) standard or conventional medicine and therapies. It is also referred to as Alternative Medicine, usually when used alone. Some of these practices are widespread, supported by evidence, legislated and may even be prescribed or recommended by GPs in the UK; others are considered more controversial, or less scientifically proven. Most of the therapies listed below have their own systems of regulation, for instance the National Institute of Medicinal Herbalists.
For further Oxford medical advice, see our links here.
Acupressure Massage
For our review of Yvette Best's mobile service, click here.
Acupuncture
Based on the principle that health is dependent on the balance of vital energy forces within the body. Lists of practitioners are available from: The British Acupuncture Coucil, 63 Jeddo Rd, London W12 NHQ; The Traditional Acupuncture Society, 1 The Ridgeway, Stratford-on-Avon, Warwick CV37 9JL.
Local centres:
Oxford Natural Health Centre, 3 Church Cowley Road, Oxford OX4 3JR.
Bigroom Acupuncture Clinic - Multi-Bed clinic at Eau de Vie, 24 Cowley Rd, OX4 1HZ, 01865 200678.
Cumnor Clinic - The Old School, 7a High Street, Cumnor OX2 9PE. 01865 863646
Local practitioners include: Rebecca Minton BSc (Hons) LicAc, (Central Oxford Osteopathy, 23 Park End St - just by the train station; tel 07912 936222), Michael McIntyre MRTCM (Midsummer Clinic, Kingham; tel 01993 830419), Helen Midwinter-Morten (Witney; practices at Pirate Fitness, 01993 705533, and Oxford Natural Health Centre - details above) and Jonathan Bruce at the Iffley Acupuncture Clinic, and Claudia Smith Lic Acc MBAc at Cumnor Clinic.
Alexander Technique
Improve your posture in order to improve your general health, well-being and with-it-ness. Oxford's centre is in Headington; info on AT in Oxfordshire can be found here; and the UK society is a good source of info for beginners/nationwide. Tel. Stephen Cooper: 01865 765511.
Applied Kinesiology
A system of diagnosis and treatment using muscle testing as functional neurological evaluation relating to structural, chemical (food intolerance, allergy etc.) and psychological dysfunction. Contact Clive Lindley-Jones B.Ed. D.O. M.R.O. Registered Osteopath, member of the International College of Applied Kinesiology, 17 Warwick Street, Oxford, tel 01865 243351.
Bach Flower Remedies
A simple and natural method of establishing equilibrium and harmony by means of wild flower extracts. General information from: The Bach Centre, Mount Vernon, Sotwell, Wallingford, Oxon OX0 0PZ (SAE please). Tel 01491 834678.
Chiropody / Podiatry (foot care)
Not a complementary therapy as such, and available free on the NHS (depending on local arrangements), chiropodists / podiatrists treat conditions of the foot and lower limb - from ingrown toenails to arthritis. A quick Google search will reveal several Oxford specialists. Shuropody on New Inn Hall Street is, conveniently, a shoe shop and chiropodist in one. Oxford Foot Clinic on North Hinksey Lane offers treatment for corn/callus removal, verrucas, ingrowing toenails and arthritis; nail surgery; insoles/orthoses; sports injury treatments; diabetic foot health assessments and musculoskeletal assessments, including gait analysis. Contact them on 01865 204311 / info@oxfordfootclinic.co.uk
Chiropractic
...is concerned with the mechanical disorders of the joints, particularly those of the spine, and their effects on the nervous system. Diagnostic methods can include X-ray. Treatment is mainly by specific manipulation, without drugs or surgery. Oxford Chiropractic Clinic: contact Jonathan Howat DC (USA), 14 Holyoake Road, Headington, Oxford (tel 01865 761802) - member of the British Register. Institute of Pure Chiropractic (McTimoney technique - a particularly gentle form of treatment with no cracking and crunching, suitable for all ages and pregnant women): PO Box 126, Oxford OX1 1UF, tel 01865 246687. Olivia Thompson B.Sc (also McTimoney): 36 Chester Street, Oxford OX4 1SN (and also Henley), 07966 436312. The McTimoney Chiropractic Clinic, tel 01865 761272, has a reduced fee for those on a low income. Dawn Akers is the practitioner at the Cumnor Clinic in Cumnor, OX2 9PE.
Craniosacral Therapy
Counselling / Psychotherapy
Oxford Counselling & Psychotherapy service. No waiting list. www.oxfordcounselling.co.uk. 01865 515324 / 01865 865927.
Counselling for anxiety, stress, cultural issues, eating disorders, work problems, relationships available from Dr Anastasia Economou (Counsellor, Member of the British Association for Counselling and Psychotherapy). For more information call 01865 510270.
Counselling & Psychotherapy, Oxford û Jaimie Cahlil (BACP Accredited Counsellor/Psychotherapist; UKCP Registered Psychotherapist).
Enquiries: 01865 453131 (weekdays 8am-8pm).
Biodynamic Massage and Counselling from Julie Jenner: 07947 279843. Confidential, integrated bodywork and counselling.
Plain Talking in Oxford: Low cost counselling, psychotherapy, coaching. 07582 542 453. www.plaintalking.org.uk
Herbal Medicine
Uses plant remedies. Contact: Janet Scanlon MNIMH MBTER, Medical Herbalist and Bowen Technique Practitioner. She practises from Summertown Clinic (362 Banbury Road, OX2 7PP) and also has a clinic in Kidlington. Tel 01865 513388 / 07970 179662 or email info@oxfordherbalist.co.uk.
Homeopathy
Uses small doses of naturally occurring remedies to stimulate the body's own curative processes. There are several practitioners and one homeopathic vet in the area.
The Oxfordshire Homeopathic Group has monthly meetings. For details, contact: David Morgan, 11 Besselsleigh Avenue, Wootton, Abingdon, tel (01235) 726136.
Sue Anello PHSH, homeopath, offers special rates to students seeking treatment for stress, emotional adjustment, concentration, chronic ailments such as asthma and skin problems, and general well being. She also specializes in women's health and children/teens. 0787 191 2207 or anellony@yahoo.com
Karima Brooke (LCPH, PhD) has a homeopathic practice in Botley and can also do home and workplace visits. Specialities: alternative travellers' health service; PTSD; fertility; mother & baby; flower essences. Contact: 01865 429339 or karima-brooke@hotmail.com
Hypnotherapy
...'attempts to address an individual's subconscious mind, using the power of suggestion for beneficial change'. This quote comes from The UK Hypnotherapy Directory, which you can visit to seek a qualified, registered hypnotherapist near you, as well as to find out how hypnotherapy might be able to help you with anything from quitting smoking to recovering from trauma. There are several practitioners in Oxford and the surrounding area.
Massage
Neuro-Linguistic Programming (NLP)
Nutritional Therapy
Osteopathy
Physiotherapy
Reflexology
Reiki
Shiatsu
Structural Integration (Rolfing)
Veterinary Medicine