Decent off licences are almost a thing of the past now you can get a spectrum of drinkable/specialist booze in supermarkets - but Oxford still has a few.
Some of them will loan glasses for a party free if you buy the drinks there. It's worth an ask.
Independent Suppliers
Classic Wine (aka 'The Deli')
254 Cowley Road. Tel 01865 792157
Open: 1-3pm and then 4-11pm daily
The Deli, as it is known despite not having sold any food except crispy snacks for some years, has a remarkable range of beers, many reduced heavily in price due to being way out of date. Also nice Belgian ones, and organic wines. No glass hire.
The Grog Shop
13 Kingston Road. Tel 01865 557088
Open: 7am-11pm daily
Once splendid independent off-license now less splendid, and with more of a 'supermarket' range. Free glass loan and delivery service within town boundaries, we think.
Oxford Off Licence & Groceries
48 St Clements. Tel 01865 726065
May look like a newsagents, but don't be fooled! They sell six different kinds of Absinthe.
Oxford Wine Café (formerly Summertown Wine Café)
38 South Parade, Summertown Tel 01865 558800
Unusual and pleasing venture: a bar where you can sample 12 different wines for £5, and buy cases of whatever takes your fancy at very decent prices.
Stevens Garnier Ltd.
47 West Way, Botley. Tel 01865 263303
Open: Mon, Tues, Wed, Sat 10am-6pm Thu, Fri 10am-7pm
Posh wine warehouse and retail shop for those who know their stuff. Parking available.
Wine Palace
47 Westlands Drive, Headington(/Barton). Tel 01865 763716
Open: 10am-10pm daily
We have no idea about this one I'm afraid - do let us know!

Tim's Newsagent
17 High Street, Oxford, OX1 4AG Tel 01865 201205, Facebook: Tim's newsagent and off-licence, Twitter: @timsshopoxford, Email: mattattims@gmail.com
Open: Daily 7am-11pm
Relatively new to the Oxford off-licence scene, Tim's offer a wide range of refrigerated booze as well as a wide range of beers, wine, cider, ale, spirits and mixers. They also stock an exciting range of specialist tobacco products, including cigars.
And further afield...
Andrew Chapman Fine Wines Limited
14 Haywards Road, Drayton, Abingdon OX14 4LB.
Tel. 01235 821539
Website 24 hours; shop open Saturday mornings 10.30am-1pm for free tastings & purchases; call for appointments at other times.
Family run specialist mail order business with nearly 1,000 wines (ranging from limited releases of fine and rare bottles to over 30 wines under £5). Glass hire; wine gifts including personalised wines; beers; even olive oil. Minimum purchase 12 x 75cl. Delivery free within Oxfordshire.
Eynsham Cellars
43 Mill Street, Eynsham, Witney, OX29 4JX.
Tel 01865 884405 / eynshamcellars@gmail.com
Open Monday - Saturday 10am – 10pm, Sunday 11am – 9pm.
Paul, a reader of Daily Info, recommends Eynsham Cellars: An independent place run by two knowledgeable and friendly guys called Oli and Iain. They stock about 400 different wines and 60 bottled ales, plus cigars and snacks. As well as regular small tasting sessions on Saturday afternoons, if you sign up for their email bulletins or follow them on Twitter you should get invitations to free evening tastings (well worth the effort, as often up to a dozen wines are available and they are quite generous with the top-ups).
The Oxford Wine Company
Standlake, nr. Witney. Tel 01865 301144
Open: Mon-Sat 9am-7pm, Sun 11am-4pm
Serious wine warehouse with helpful and extremely well-qualified staff. Bulk purchase, fine wines, tastings, free glass hire, internet ordering.
Chains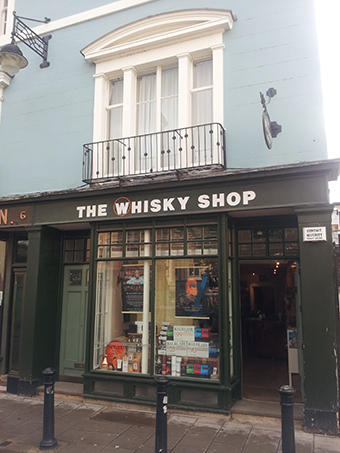 The Whisky Shop 7 Turl St Oxford OX1 3DQ Website Tel: 01865 202279
Opening Hours: Tues - Sat 9.30am - 6.00pm Sun - 11am to 5pm Mon - noon to 6pm Wheelchair friendly.
Just what it says on the tin - many many different varieties of whisky, including four huge barrels of unusual brands (£7 - £10 for a taster bottle of about 3-4 glasses-worth). We think they are a chain but it's a nice idea and they have a friendly Scottish bloke behind the counter, which always lends atmosphere.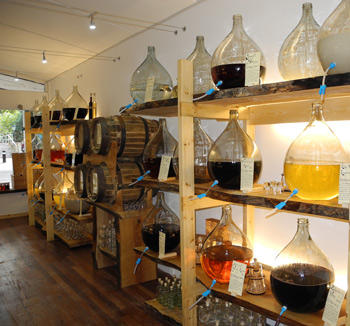 Demijohn - The Liquid Deli 20 Little Clarendon Street Oxford OX1 2HP Website Tel: 01865 552179
Opening Hours: Sun 11.30am-5pm; all other days: 10am-6pm Wheelchair friendly.
Delicious and unusual fruit liqueurs and the occasional whisky, plus high-end oils and vinegars. Taste your preferences, choose your bottle and take away your liquid jewels.
Oddbins
Feb 2012: now only at 7 Little Clarendon Street, OX1 2HP - Tel 01865 558838
Open: Generally 10.30am ish - 9pm/10pm ish
Once Oxford's main quality wine shop chain, known for their expertise (the Little Clarendon Street having its own dedicated fine wine department) and the wide variety and high quality of their wares, the chain went into administration in 2011 leaving only one store open in 2012. Their High St branch once sold more Pimms than any other single outlet in the world. Sigh.
Majestic Wine Warehouse
Unit 5, 379 Cowley Road, Oxford OX4 2BS. Tel 01865 716959
Unit 1, 280 Banbury Road, Oxford OX2 7ED. Tel 01865 292987
Open: Mon-Fri 10am-8pm, Sat 9am-7pm, Sun 10am-5pm
Wine megastore of almost Calais-like proportions. Easy parking. Free glass loan (deposit required) and helpful, knowledgeable staff.

Threshers
6 Cherwell Drive, Marston, Oxford OX3 0LY. Tel 01865 744043
146 Oxford Road, Cowley. Tel 01865 749465
Open: Mon-Thu 11am-10pm, Fri & Sat 10am-10pm, Sun noon-10pm. Seasonal variation likely
More standard multibooze. Free glass hire if you buy your wine there.
Is your local offie missing? Do let us know and we'll add it here.
Click here to see 24-hour alcohol outlets in Oxfordshire (thanks Tom, October 2011) on a useful map.