More vegetation on our gardens page and our allotments page. Our excellent map of Oxford shows some of the city's most remarkable trees.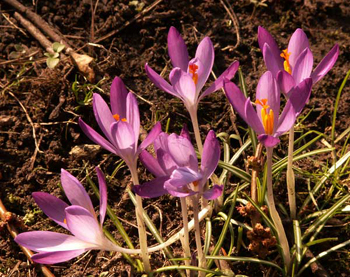 You can have flowers in your garden (besides winter pansies) from the last week in January onwards. First come snowdrops, which overlap with crocuses (or should, unless the weather is particularly bad).
St John's College
and
Headington Hill Park
are particularly remarkable for carpets of thomasiana crocuses in February. The crocuses continue until daffodils and hyacinths appear March - mid April.
You can expect to see fritillaries in Christ Church Meadows from about the third week of April. Tulips flower mid-April to mid-May.
Late August/early September planting of Autumn bulbs gives yellow (Sternbergias), pink (Colchicums) and the more common purple and white colours to the October garden in under a month. The flowers of these bulbs come first, and the leaves follow.
Planting your own bulbs!

The writer of this guide feels that all too often bulb-growing enthusiasts give their bulbs an insufficient covering of soil when planting. The following is a guide as to how this might be put right. The measurements refer to the amount of earth to be left between the top of the bulb and actual ground level.