Shop shops and
shoe repair
services
- click to return to Oxford Shopping Guide index -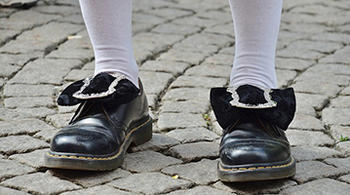 ...from a penny to a thousand pounds! Daily Info recommends...
Hobbs
115 High St, Oxford, OX1 4BX.
Tel 01865 249437
26 - 27 Little Clarendon St, Oxford, OX1 2HU.
Tel 01865 310435
Very good for smart shoes. Try not to drool on the window.
Kassam Boot Sale
Kassam Stadium car park, every Sunday, 11am - 2ish.
Not just a bad pun! Nothing is guaranteed from one week to the next, but we have found: army boots, new shoes from warehouse clearance (£1/pair) and of course a lot of second hand (foot?) shoes in all states of (dis)repair. Fabulous bargains if you don't mind hunting.
Fitrite
48 High St, Oxford, OX1 4AP
Tel 01865 201075
An oddly shaped shop full of eclectic footwear - funky wellies, cowboy boots, trainer pumps, S+M shoes, goth boots and more. If it's odd and it goes on your feet the chances are they'll have it. Also sells pashminas and sexy nurse outfits. Brilliant for window-shopping!
Bombay Emporium
36 Cowley Rd, Oxford, OX4 1HZ
Tel 01865 243346
Lovely beaded Indian slippers and Tibetan slipper-socks.
Footprints
23 High Street, Oxford OX1 4AH
Tel 01865 725133
Occasionally adventurous and reasonably priced mix of footwear for adults & kids.
Sassi
55 The High St, Oxford, OX1 4AS
Tel 01865 205151
Very very posh, lovely, mainly Italian heels, boots and slip-ons. Occasionally (at sale time) almost affordable for ordinary mortals.
Schuh
1 Northgate Quarter, Magdalen St, Oxford, OX1 3AA
Tel 01865 248324
Chain store but more interesting than most. Good for fancy silly high heels and generally fun stuff: anything but sensible lace-ups your mum would approve of. Trendy brands include Red or Dead & Rocket Dog.
Marks & Spencer: women • men
13-18 Queen St, Oxford, OX1 1AB
Tel 01865 248075
M&S own brand, FootGlove, manage to combine glamour and comfort. They're no more expensive than most high street brands, but made of soft leather and available in wide sizes without looking clumpy. They do half sizes as well.
The Oxford Boot Store and Macs A Million
The Covered Market, Oxford, OX1 3DX
Tel 01865 251940 and 249531 respectively
Old fashioned family-run places we think. Lots of real leather.
Clarks
50 Cornmarket St, Oxford, OX1 3HA
Tel 01865 245794
Mothercare Branch
Children's World, Unit 1 Oxford Retail Park, Oxford, OX4 6XJ
Tel 01865 747953
The king of shoe chains. Very good for kids as they fit to the correct width as well as length of the foot.
Ecco
20 New Inn Hall Street, Oxford, OX1 2DW
Tel 01865 728728
The opposite end of the spectrum from Schuh and co, Ecco's shoes may not be the most pointy and glamorous but they are comfy and particularly good for your feet.
Shoe megastores
All the usual suspects are represented. Most of these can be found around the commercial centre of town: Queen Street, Cornmarket and the two shopping centres (Westgate and Clarendon). There are also shoe megastores at the John Allen Centre in Temple Cowley and beyond that at the small, ring road-based Oxford Retail Park. The list includes Clarks, Schuh, Barratts, Sole Ltd, Ravel, Jones the Bootmaker, Ecco, Bally, Faith, Bradleys and Russell and Bromley. (Further details of some of these are included above.)
Shoe Repair
Plenty of choice as long as you like Timpsons! The most central branch is in Oxford's Covered Market - tel. 01865 723586. They also stock a wide range of shoe care products - and offer key cutting and other ironmongery. Alternatives include the wonderfully named Oxford Snob in Gloucester Green (01865 722185), and Bill's Shoe Repairs, 91 Wilkins Road, Cowley (01865 775252).