Check out our events pages for many hundreds of Oxford events happening now, our Editor's Picks for Daily Info's summary of the most interesting events this week, or our reviews page to find out more information or to leave your own comments.
Oxfordshire has an enormous range of regular annual festivals, celebrations and events throughout the year. We are the proud home festivals of art, science, rowing, music, feminist discourse, literature and food, as well as some pretty decent summer music festivals. Our most famous festival is probably the folk-fest on the first of May, with morris dancing, choristers, fancy dress, music and plenty of ale!
If you happen to be in the county upon an occasion of extreme significance to the British Royal Family (eg weddings, coronations), keep an eye open for Abingdon's delightfully individual form of celebration: civic officials throwing buns to the populace from the top of the Abingdon Town Hall. Once attended, never forgotten.
January
Running since 1974, OMF offers classes and performance opportunities to young classical musicians from around Oxfordshire. The concerts and masterclasses take place in January and February at the Jacqueline du Pré Music Building, St John's College, Headington School and Rye St Antony School. Applications must be submitted the previous October.
February
Oxford Music Festival
As January.
The three Turl Street colleges, Lincoln, Exeter and Jesus, come together for a week-long celebration of all sorts of different performance arts. Students and staff are involved, and most performers are of a professional standard. Expect delightfully obscure lectures on Greek theatre, 18th century concerts, rock and jazz gigs, newly written theatre, barely rehearsed poetry readings and even film screenings.
The best 4 new plays by Oxford University students are performed at the Burton Taylor Studio in the 5th week of Hilary term. The plays are shortlisted by the OUDS committee and then finally chosen by a theatre luminary - judges have included Michael Frayn, Christopher Hampton and Lucy Kirkwood. The submission deadline is usually mid-November the previous year.
Music At St Hilda's has events throughout the year, but in late January or early February there's usually a fabulous display case - the Marathon - of cutting edge music from UK-based composers. One of this writer's favourite memories is of a jazz trio for cello, dustbin and washboard. Usually minimalist, often electronic, always teetering on the brink of insanity, the M@SH Marathon is not to be missed. The shows cost around £5 and take place in and around the JdP Music Building. If you like the sound of this, see also audiograft in March.
A free annual series of talks, screenings and forums, organised by students and local left-wing activists held at Wadham College. Topics vary from year to year, but will be concerned with social justice, the environment, sexism, racism, homophobia, migration and current events. If you're worried about it, they'll probably have a world-class speaker on it.
An enlightening festival of films, talks, workshops and performance arts exploring human rights issues and projects throughout the world. The group was founded in 2003 by MA students in Development and Emergency Practice at Oxford Brookes to raise awareness of human rights concerns through the arts and now attracts international speakers. Their Facebook page is a useful source of info on social justice events throughout the year. Events take place in venues all across Oxford.
Celebration of Oxford's fairtrade status, including talks, tastings and treats. Usually end February-beginning of March.
An inter-collegiate rowing "bumps" race on the Isis river. Free for spectators; active competition open only to Oxford University college rowing crews. Much more info at:
March
As February.
Running for over 25 years, OIWF highlights women's local, national and global issues with a highly diverse programme. Walks, talks, political debates, screenings, coffee mornings and workshops, in venues around Oxfordshire. Most events are free; paid ones are usually under a tenner. Expect inspiration, information, intellectual challenges and emotional support, depending on which events you pick.
Celebrating the talents and achievements of young people in the Henley area. About 1,500 people below the age of 18 take part in this two week series of about 35 events. The programme includes sport taster sessions, performances at the Kenton Theatre and workshops in visual arts. There are also competitions to enter in pretty much every creative category.
A wonderfully weird week-long assortment of cutting-edge experimental music, sound-art concerts and exhibitions, curated by Oxford Brookes's Sonic Art Research Unit and co-promoted by Oxford Contemporary Music. Usually minimalist, often electronic, always teetering on the brink of insanity, audiograft is not to be missed. One of this writer's favourite memories is of a jazz trio for cello, dustbin and washboard. Concerts cost around £10; exhibitions are usually free. As with January's M@SH, performers are usually music academics or highly renowned professionals. Venues include Holywell Music Room, Modern Art Oxford and the OVADA Warehouse.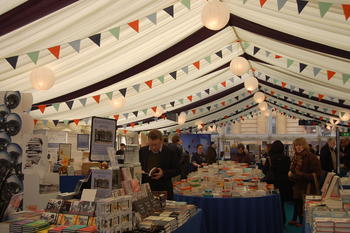 High-profile series of hundreds of talks and workshops by literary luminaries. Prices for talks are usually in the £5 - £15 range, but a few workshops can be considerably more. The physical centre of the festival is a collection of marquees at Christ Church College, but the Sheldonian is also a host. There are so very many events packed into a brief 7-10 days that you'd have to take a week off work to do justice to this festival!
Curated by local group Young Women's Music Project and hosted by Modern Art Oxford, this is an afternoon and evening of music and interactive talks to inform, inspire and empower. £5 entry.
Biannual set of catwalk fashion shows featuring the work of a wide range of designers, graduate and professional, in venues including the Sheldonian. The other week is in October; the other cities are London, Paris, New York and LA. Never let it be said Oxford's not up there with the global trend-setters.
April
A growing festival of folk and traditional music, held in venues across the city. From concerts to ceilidhs, workshops to morris displays.
The annual battle between Oxford and Cambridge, held on the Tideway in London.
Chipping Norton's very own literary festival.
May
Traditional 6.00am gathering at Magdalen Tower followed by breakfast. The streets are packed with bagpipes, morris men and revellers. Oxford's answer to the Mardi Gras.
Charity run in aid of muscular dystrophy running (pun intended!) for over 30 years.
Love Oxford Festival
An open air christian church service attended by churches across the city with live music and singing, a keynote speaker and children's activities.
The major display of dance in Oxford, from both community and professional troupes. May/September.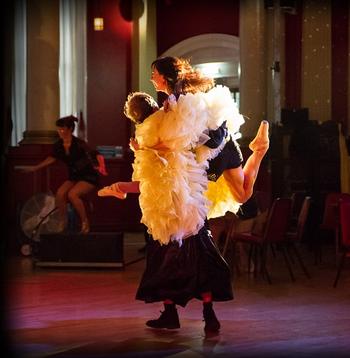 Intimate but wide-ranging popular music festival in the village of Witney.
Three separate festivals across Oxfordshire, with one special Christmas edition, exhibiting Oxfordshire artists and craftspeople. May/November.
A collaborative celebration of music, science and the arts, featuring innovative interdisciplinary events.
High quality series of concerts featuring music by solely English composers through the ages.
Eco-conscious music festival in Brazier's Park, combining music and nature.
The annual showcase of Oxford's new musical talent.
Competitive festival with a wide range of categories for instrument and voice
Extremely high-quality display of early music, featuring top artists and fantastic performances.
Oxford University's annual summer regatta. See our page for more Pimms, partying and pile-ups.
Held annually in a pub in Roke, near Benson, in South Oxfordshire, Rokefest has been serving up great music, food and beer for over 10 years.
A celebration of lesbian, gay, bisexual, transgender and queer life in Oxfordshire. May/June.
A joyous celebration of live arts that anyone can take part in. May/June.
June
Combining music, art, eco-friendliness and summer fun.
Local festival with a wide range of activities, from children's art workshops to jazz nights.
Everything bike! Bike rides, bike workshops, bike parties. Celebrate the bike!
The epicentre of global Pooh stick competition. Try your hand at the world title.
The Lord Mayor's Celebration
Large public event in Gloucester Green, featuring music, stalls and activities.
Local summer festival with a range of events over several days.
A collection of events throughout June celebrating the people of Wantage and surrounding villages.
Held in Abingdon, two new one-act plays are staged every night for a week and adjudicated by professionals.
A teeny music festival raising money for local charities.
Summery outdoor opera at the beautiful Wormsley Estate. June-August.
Wallingford's summer music festival.
Blues music and real ales in a unique, welcoming atmosphere.
Week-long local summer village festival.
Occasional festival featuring the unique pond stage.
More plants than you can shake a stick at.
Quirky acts performing in a tent at The Perch. What more could you want?
A week of open community events, from theatre and film to public meetings around refugee issues.
A week of cultural and community events designed to promote ecological awareness.
A popular family-oriented event with stalls, activities and entertainment.
A highlight of the rowing calendar, featuring crews from around the world. June/July.
Aims to offer creative and cultural experiences to Oxford's diverse communities, especially supporting youth engagement with the arts. June/July.
A fantastic series of events centred around public understanding of science, with talks, hands-on activities and street fairs throughout the county. There are many events for children over the two to three week course of the festival, but also plenty of more challenging events for adults. You can find anything from a photo parade of the world's ugliest animals to a lecture on the latest research into the spread of ebola. Most events are free.
July
Warborough & Shillingford Festival
Three day local celebration of music, arts and stalls.
Exciting and popular 5 day festival featuring contemporary music, street theatre and more, all to the backdrop of the Thames.
Over 400 artists and craftspeople gather in Waterperry Park to demonstrate their work and their processes in action.
A series of amazing piano concerts, with special emphasis on young professionals.
A summer fête with indie bands, or a rave in a cowshed.
"Every rock festival should be like Cornbury".
Mass celebration of Oxford's vibrancy - excellent music, street food, dancing and fun.
A series of mostly free events around Oxford commemorating Lewis Carroll's Alice.
Charlbury's free music festival featuring local and bigger acts.
The annual census of the Queen's swans along the Thames - just like herding geese.
One-day festival of Americana, folk and roots music at the Isis Farmhouse.
A friendly local beer festival on the lovely Cogges Farm. July/August.
The Red Lion Old Marston's annual mini music event, with live music all day. Charity event, running for eight years and counting!
Folly Fest (previously Faringdon Arts Festival)
Popular local music festival - great outdoor stage in the town square.
August
The show offers a wide range of attractions for families and people of all ages including arena events, craft stalls, animals, historic vehicles and much, much more.
Urban oasis organised by members of the Elder Stubbs Recovery Group, in support of the charity Restore.
Music festival that's been running since the 1970s, organised by Fairport Convention themselves.
The 80s festival that has taken the nation by storm.
Jamie Oliver and Alex James' celebration of food and music.
An ecological music festival for the people, nestled in the Cotswolds.
Uniting folk, acoustic and blues musicians in a four-day collaborative milieu, incorporating youth and children's festivals.
Summer food and drink festival.
Ecocentric festival fostering communal spirit and natural engagement with the arts.
Celebration of Thai culture, in aid of education funds for Thai schools.
Growing music festival that raises funds for the local sporting community.
Quirky arts festival centred around artistic creation
Launched in 1994, it offers the audience the unique experience of hearing their favourite authors exploring a theme. This develops into a weekend-long dialogue between speakers and audience that often leads to surprising results.
September
Yoga, Martial Arts, Meditation, Reggae Sound System, Breathwork, Meditation, Crafts, Relaxations and more. 100 workshops over the weekend in East Hanney. Sauna, hot tubs, river, food all incl.
Wide range of wine events, from tastings to talks. Held at the Oxford Union.
Wallingford's free family festival, with music, dance and beer.
Run by the Oxford Preservation Trust, Oxford's fantastic buildings are opened up to the public.
Horses jumping over tractors and through arches of bins? This and more at Blenheim's premier display of equestrian eventing!
Many beers and lots of sausage. That is all.
Camping, cider and music at the Bo Peep camping and caravan park.
High-profile series of events, talks and lectures given by a wide range of influential writers and personalities.
Exciting events for all foodlovers, from stalls and pop-up restaurants to chef's demonstrations.
The unique street festival on St Giles' in Oxford, dating back to 1625.
One of our favourite beer festivals, held at the Masons Arms.
Wide-ranging series of events, incorporating a children's festival. September/October.
High-quality display of chamber musicians, some regulars and some new faces . September/October.
October
Educating the public in beer appreciation, beer quality and building the local beer community.
Banbury's weekend festival of concerts, ceilidhs, dancing, music, singing and entertainment. Now incorporating the Banbury Hobby Horse Festival.
World-famous festival celebrating the lieder tradition, with stunning concerts and study days centred around composers.
November
Blackwell's and OUP present a week of philosophy talks, debates and events designed to scintillate the mind and provoke interesting discussion.
Oxford's largest fireworks display with a bonfire that can be seen from miles around, with all profit going to local charities.
A celebration of homegrown popular music in venues all over town.
December
Charity run around the city dressed as Mr Claus in aid of Helen & Douglas House.
Similar to St Giles' fair, the entire area is taken up with stalls, fairground rides and a large music stage. Opened with a parade of light sculptures constructed by Oxford schoolchildren.