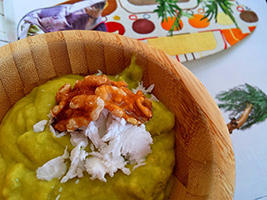 I would not wish a gluten allergy on anyone. If you have to stop eating wheat you suddenly realise how much most countries depend on it. But it will make you try all sorts of things you've never eaten before, and it'll make you understand how cooking works a lot better, and I can't imagine what it would be like to be 'normal' anymore! You'll learn a lot about different cultures, and world cuisines: it's a great excuse to eat an awful lot of Indian food! Just don't try and count up the hours you spend reading labels...
This information was originally intended as a useful guide for anyone newly-diagnosed as coeliac or indeed with any food allergies. It should also be useful for anyone who, for instance, finds out their lovely new partner can't eat a lot of things. For each of these people a sudden shift in thinking is required. Wholewheat is no longer the healthy, favoured ingredient so beloved of breakfast cereal commercials. It has become a poison, and ironically just as you learn this you discover what an enormous range of foods contain it.
I am not coeliac, but am allergic to wheat, and less so to barley and rye. I can eat oats, and I can eat dairy, though goat milk is better for me than cow's milk. Mainly the advice below is about gluten-free living, since that trail is more clearly defined than mine and more thoroughly blazed! Most of my family don't eat milk products, so there are notes about dairy-free-ness where I think it's particularly notable. In time it would be nice to turn this into a more comprehensive page, and apologies to people for whom critical information is missing. Please tell me, and I'll do my best to add it.
Click here for advice about eating out in Oxford,
with recommended restaurants and cafés. Or,

Click here for the special edition Gluten Free living in Oxford Podcast!
I'm going to start with practical stuff, and then go onto interesting but not immediately useful things. So in order:

Intro & Medical disclaimer
Foods you can buy including ready-meals and flour
Websites and the Allergy Fair
Shops
What to watch out for in ingredients lists: wheat lurks everywhere!
Eating out (incl. limited advice about different countries)
Useful books
General advice for allergic people
Advice for the Host
Diagnosis (combinations, like mastermind...)
Allergies vs intolerences
Some Biochemistry
Recipes
Sourdough vs The Chorleywood Bread Process
The Future


I've used g/f to mean gluten-free throughout.
Medical Disclaimer
I am not a doctor, and what is written here comes from my own experience rather than medical training. You should seek medical advice if you think you might be suffering from a sensitivity to anything, food or otherwise. If you do need to leave a foodgroup out of your diet you must compensate for the nutrients you'll be missing. As always, use common sense.
Please email me to add anything you think is missing from this page, or suggest improvements.
---
Gluten-free Foods You Can Buy
Twenty years ago allergies were only just beginning to be recognised. Since then the number of people diagnosed has shot up, and not surprisingly the range of products has shot up too. You can now buy some remarkably realistic bread, not just the bricks of yore, and I think some of the foods are even preferable to their wheaty originals. This is a quick guide to what's around and what I think is worth eating.
Bread
Dietary Specials do white and brown sliced - very nice, and buns. These guys are now the bread-and-butter of g/f bread, and have set a good standard for other companies. I still think their bread is nicer toasted, however!
Procelli are a fab firm. Everything of theirs I've eaten except the pitta bread has been great, esp hamburger buns and croissants!
Ener-G old version tastes like sand. The new one is lovely, and stays soft and doesn't go mouldy for a very long time. Good toasted. Slightly on the salty side, and slight smell of lactose/cheese.
Tesco have an own brand which is very nice. The white is better than the brown at current time of speaking because it doesn't fall apart so much. I've found with the brown that out of 8 or so slices you might get 5½ slices of toast and a lot of croutons for salad!
Sainsbury's do a very similar packet to the Tesco's ones. It's nice, and the fruit loaf version is particularly good! It's not too cakey, so good for toast and also nice with cheese.
Budgens have a delicious soft white bread and buns made by Antoinette Saville. Waitrose also stock this. My local Budgens had a "free from" section but cheaper g/f bread in the bread section. This is also true of other supermarkets!
Barkat very edible. I think this may be one which contains wheat starch but is suitable for coeliacs.
Stamp Collection is wheat-free not gluten-free! It contains barley and/or rye.
Genius is a very new brand. The ingredients list is much less chemical, and its chief delight for me is that you can make the sort of sandwich which rises up again when you squash it. Incredible! It's quite airy, and when toasted is a bit brioche-like. It has a habit of going mouldy before I've finished the loaf - it doesn't hang around. However I take this to mean it's not as full of preservatives or as dry as some other brands. And when it does go mouldy it does it in a reassuringly traditional way with nice blue furry penicillin. Again this is unlike some other brands, which don't look mouldy but smell strongly of acetone!
Mrs Crimbles, long known for cake, is now following in the Genius footsteps with a soft, fresh white bread. Its ingredients aren't quite so straightforward and it's quite cakey and crumbley. Don't take it travelling, but it's very nice. Both this and the Genius bread need slicing. Undoubtedly this keeps them fresher, but introduces contamination issues with breadboards etc.
There are lots of others which I haven't tried. Either try them all once (expensive!) or find one you like and stick with it! Or make your own... for which I'd recommend the help of a breadmaker (see below). Some of the above, including Antoinette Saville I believe, are cheaper on prescription. See later for more info on diagnosis of coeliac disease.
Most of the above are dairy-free as well as gluten- and wheat-free. However, it is NEVER safe to ASSUME this is the case. If in doubt, check.
Pasta
Pastas depend less on the brand and more on the ingredients.

I like corn (maize) pasta best as I think it has the nicest texture and flavour, and it's bright yellow which is fun. However it falls apart easily especially if overcooked. Tastes quite like wheaty brown pasta - wholemeal-y.
Rice and maize behaves much better. I worry about eating too much rice as the flour I use is mostly rice too. Good taste and texture — like wheaty white pasta.
Rice-only pasta is a bit bland. I prefer noodles to pasta. Rice vermicelli is easily available, usually in the Chinese section of supermarkets, near the tinned water chestnuts etc!
Quinoa is often mixed with rice and the result is very similar to rice and maize mixed. Good for varying the grains you eat.
Soba (buckwheat) pasta is strong-flavoured and black. Soba noodles are eaten in Japan, I suspect with lots of soya sauce on! They're lovely for some things including dressings made with toasted-sesame oil and wheat-free soya sauce (Tamari). Good also with creamy mushroomy sauces, or strong flavours like ginger.
Chickpea (gram flour) pasta used to be available fresh at Waitrose. Lovely lovely cannelloni! I haven't seen it recently, but may just have been in too small Waitroses. I don't know if the new Headington Waitrose stocks it.
Orgran are a useful make — they do animal shapes, lasagne and tinned spaghetti hoops! Tesco do a very practical rice and maize in different shapes, and sell bigger packets than most people though other supermarkets are catching up. Mrs Leepers is a nice all-corn (maize). Delis, including Il Principe on the Cowley Road, sell very nice big packets of Italian rice (and rice/maize) pasta, in fancy shapes and colours. It's expensive, but good for celebrations, or for making wheat-eaters jealous. Unlike most of the Dove's Farm range, I didn't like their pasta. It comes in a very swanky packet, but is difficult to get a nice texture. I found it both soggy and gritty.
Gluten-free pasta is more expensive than wheaty, or at least there aren't Savers-style options for g/f-ers. SESI do a bulk-ordering option, which helps. See: www.sesi.org.uk or catch them at the East Oxford Farmers' Market (Saturdays 10am - 1pm, East Oxford Primary School, behing Tesco's on the Cowley Rd) or Wolvercote Community Market (Sundays 10am - 1pm, White Hart Community Pub). I went to Italy once with a big group, and took some corn pasta with me. The hotel cooked it far far better than I did, and it had a perfect al dente texture. So if you're good with normal pasta you'll probably be fine with g/f. It's very important to have enough water (all the pasta should be covered even after it has expanded) and it must be properly rolling-boil hot enough too. I think pasta is one of the areas which is just as, if not more successful than g/f, and my boyfriend is quite happy to eat g/f pasta rather than cook two different sorts! Warning: trying to make your own is very hard and causes angst and woe! If you do want to make it I think a rice/potato or rice/gram flour mix is best, and you need to use lots and lots of eggs. I have done it, and it's really good for making chunky, homespun lasagnes, but if you want delicate frilly tagliatelle I'd probably stick to boughten brands and save effort for other things! Even making gnocchi is notoriously difficult - a strong wheat flour binds the potato together and is an integral part. Gluten-free gnocchi tend to turn into a mashed potato soup when you boil them, though if you fry them they're delicious.
Breakfast cereal
I don't know much about this because I usually eat toast for breakfast. However it's worth noting that Kelloggs are a dead loss — you'd think cornflakes and rice crispies would be fine but sadly they contain malt which is not safe (made from malted barley grains). You can buy safe cornflakes at Holland and Barrett and Uhuru. Some g/f people can eat oats — if so there are mueslis you can buy or make your own, or of course porridge.
If I was rich I'd eat Procelli croissants for breakfast every day. They're par-baked. You used to be able to buy them in big supermarkets, though they've gone very quiet recently. They're made in Spain, so I guess import problems may come and go. Worth watching out for!
There are also commercial g/f cereals some made for kids with sparkly bits in — you know the kind of thing! I've never tried any of these.
If you're more organised than me you could always make pancakes every morning!! G/f waffle batter works well, and electric waffle irons can be a good investment if you like this sort of thing.
Pizza and other frozen delicious things
Dietary Specials make a wonderful range of frozen foods like pizza, lasagne, pies, sausage rolls and more every day. You can sometimes buy these in Tescos, and more reliably in Waitrose. Sainsbury's seems to have the best selection of G-F products, including Yorkshire Puddings. And there are good internet shopping sites.
Sauces
There are lots of rather unhelpful sauce companies who have some safe and some unsafe in their range. For example some Patak's and Sharwood's sauces are fine but you have to read labels every time. Meridian do a whole range which are safe. The alternative is to batch cook and then freeze portions of home-made sauces. Sacla have started (around Jan 2015) making a gluten- and dairy-free pesto which tastes very like their ordinary one.
Stock cubes and gravy
Kallo do a whole range of safe stock cubes. Bisto do some gravies which are g/f, including the glass jars eg roasted onion flavour. It's very useful as instant gravy — if you're going round to someone's house for Sunday Lunch you can take the jar or even make some up in advance in a thermos. It's very thin — I thicken with about equal amounts instant mashed potato (Tesco Savers is jolly useful, being dairy-free too; some other brands, including Smash, contain lactose).
Again you can make stock in advance and freeze it in icecube trays. You can beg bones from the butchers who are usually very happy to sell or give them away. I'd really recommend this, but only if you like French faffy cooking! Stock cubes are easier. You can also buy tubs of Marigold Swiss Bouillon powder most of which are safe, though they're not always dairy-free.
OXO are Not Safe!
Sausages and beefburgers
Normal sausages contain rusk. Rusk is sometimes called breadrusk. It's those biscuity things babies chew on. It is made of wheat though not all butchers / sausage sellers seem to realise this. Toulouse sausage (the really big coily one) is traditionally made without binding agents such as rusk or flour.
The Black Farmer do lovely g/f sausages which I used to buy in Budgens, and Waitrose now do a range too. In the covered market, several butchers as well as the specialist Sausage people offer g/f sausages with various different flavourings. Farmers markets often sell g/f sausages, and some butchers will make them for you especially if you are prepared to buy a big batch and freeze them.
Incidentally sausages with high meat and fat content tend to stay pinker even when cooked, so test carefully! And they're also more likely to explode because there's no bread-type substance to soak up the steam. Make sure you prick them!
Marks and Spencers now make many sausages without gluten, but with pea protein instead. They do not signal this in any way on the front of the packet - only in tiny letters in the ingredients list! Top marks for ingredients, but bottom of the class for helpful labelling.
The same sorts of things go for beefburgers. You can make those yourself more easily than sausages. In any supermarket freezer there'll probably be one brand with no gluten but labels saying 100% Beef DO NOT MEAN IT! I think legally they mean all the meat is beef rather than the product is 100% beef. You can tell I've been caught out by this one before, or at least severely annoyed by it!
Cakes and biscuits
The nicest, nicest bought cake I've had is OK Foods Chocolate and Hazelnut. They also do an apricot and almond which is marzipannish. Other lovelies include Village Bakery chocolate and orange brownies (beware: they make wheaty brownies too) and delicious chocolate/almond cake you can buy by the slice in some health food shops. It's made by the Village Bakery and you can buy a whole one mail order for 17! It has a little almond on each slice and you'll recognise it once you've had some!
My favourite biscuits were Trufree, who do custard creams and bourbons for when you get cravings and the most wonderful ginger biscuits which are far more gingery than any wheat version, and you'll have to hide them to stop them being eaten by everyone else. However, Trufree have recently come under some criticism for adding milk to previously dairy-free recipes, and for not making the change obvious enough on the packaging. Some varieties are still dairy-free I think. They have really fallen in my estimation over this, because it suggests a rather more cavalier attitude to allergy suffering customers than you'd hope for.
The Doves Farm lemon zest biscuits are also very nice, as are Tesco chocolate chip cookies. Some blessed soul has now started making g/f Jaffa Cakes, and for him there will surely be a special welcome in paradise. I did try making them once, using orange flavoured jelly cubes, but it just wasn't up to scratch!
Biscuits generally don't come cheap, and are pretty easy to make by using g/f flour in normal biscuit recipes. As far as I'm concerned they tend to be for special occasions or when I need cheering up. Nearly all brands and flavours seem to contain coconut, so read carefully if you're nut-sensitive.
Junk Food
Such are the wonders of the new expanded gluten-free empire people are even making junk food! Orgran's tinned spaghetti hoops have already been mentioned, but now you can buy pot noodles too! Both Barkat and Trufree make their own versions. They're very useful for camping as well as snacks. I have no doubt this area will increase!
I suppose crisps belong in this section, but I eat an awful lot of them as they substitute for both biscuits and bread, especially on the move. Very useful on picnics, but check ingredients carefully — flavourings often contain wheat flour. Sometimes cheaper crisp brands have fewer ingredients (unlike most products where cheaper brands tend to be bulked out with wheatflour. Cup-a-soups are particularly bad for this). Walkers ready salted and all Pom-bear crisps are fine.
If you are a true coeliac and can eat wheat-starch but not gluten then there are more flavours of Walkers open to you (labelled as suitable for coeliacs) and Pringles will also be ok.
Flour - not a food as such, but a very big area
You have a choice of the following (and I'm sure there are more):
Rice, potato, quinoa, millet, buckwheat, gram (chickpea), tapioca, sago, maize (also called polenta, cornmeal, cornflour and cornstarch), soya, urid (lentil), chestnut, manioc, teff and ground almonds.
There are also ready-made mixes. The most useful of these are Doves Farm Plain flour and Bread flours (white and brown). The bread flours already have xanthum gum mixed in, which is meant to act as a gluten substitute. It's not so noticeable that you can't interchange them if necessary. A fine producer of bread (and cake) mixes is Glebe Farm. I'm very impressed with the chocolate cake and the bread mixes.
These blends are a very useful place to start, but depending on how much cookery you do you may want to build up a collection of other things too. Here are some notes about specialist uses:

Rice is very useful for everything. It is bland but versatile. Well-known as a shortcake ingredient.
Maize is nicer tasting and prettier but things made only of maize fall apart. Blending with rice makes it easier to handle. ( rice, maize works.)
Buckwheat / soba (no relation of wheat, related to rhubarb) is strongly flavoured! Best used in small quantities or in specialist recipes eg galettes. Not a good all-rounder! But for a rustic ginger cake a bit of buckwheat's ideal. The taste of buckwheat is mitigated by potato flour.
Gram (chickpea flour) and urid (lentil) flour are used in Indian cooking. Nice, quite nutty.
Ground almonds are very good for replacing flour in desserts. Goes especially well in chocolate cakes etc. Nice nutty flavour (obviously!) and not suitable for nut allergy sufferers (again, obviously!).
Potato flour is sold in France "to make cakes lighter". Also v good in pancakes / dropscones and useful for thickening gravy. You can also use instant mashed potato for this. For baking I would use part potato and greater part rice.
Cornflour is well-known as a gravy thickener. Don't make biscuits using only cornflour — they bake like little rocks.
Chestnut flour is peasant-food in Italy and terribly expensive here. It's nice tasting, though I haven't found specific uses for it yet.
Various flours are made from things which are not grains at all eg. soya, manioc (a South American tuber?), lentil flour and so on. Soya can be used to replace dried milk powder in bread recipes if you're avoiding dairy, as can ground almonds.
Rye, barley, spelt, kamut and some others contain gluten but are wheat-free. The Stamp Collection flour mix uses these.
In Chinese shops you may find " glutinous rice flour", but I think the word glutinous just means gluey here. It is gluten-free. Sometimes you'll find potato starch not potato flour. Starch, flour and ground are all used interchangeably.
Most baking powder is bulked out with flour. You will need to buy specific g/f baking powder. Different makes are widely available eg. from Holland & Barret and Waitrose. Or mix your own from bicarb of soda and cream of tartar. That's probably cheaper, and not bulked with anything!
Most gluten-eaters have never heard of these different grains and flours. And yet much of the world never eats wheat. Some grains like quinoa are not really grains and therefore contain all the essential amino acids and are meant to be better for you than wheat. Also they're less processed and often available as organic foods. This may be small recompense for all the things you can't eat, but it helps when trying to look on the bright side!
Ready to use pastry
New on the market! The Gluten Free Pastry Company based in the West Country have a range — sweet, savoury, flakey etc. G-free www.gfree.co.uk do savoury and sweet ready-roll pastry. I haven't tested these, but I'm glad someone's making them. Dietary Specials have followed suit, with frozen puff pastry, which is remarkably hard to find even in big supermarkets, is made with butter so isn't dairy-free.
Snacks — to buy and eat on the move (see later for advice on eating out)
Uhuru sell pasties and pancakes, home-made and gluten-free. They also stock Clive's Pies, which are an excellent range. Gluten-free flavours include: Cheese & Potato, Minty Chickpea, French Cassoulet (meat-free!), Vegetable Chilli, Lentil & Olive and Aloo Gobi. I think Uhuru only stocks the vegan ones of these. (Beware — Clive's Pies also do wheaty pies in similar packaging.) The pies have foil dishes and are meant to be heated traditionally but I transfer them from the foil to a bowl and microwave for 3 minutes. (The Clives Pies cakes are also good, especially the lemony one.) In general I'd say crisps and salads are the easiest snack foods, as so many of the other things on offer really need heating up before they're delicious.
Pret a Manger are good — they do No Bread Sandwiches (essentially a smart salad) and other salad options. They don't always display ingredients in the shop, but the website lists a full menu, and clicking on products gives you nutritional info including free-from information! They seem generally good about leaving out wheat where it isn't needed, and they do a gluten-free orange cake. Their chocolate mousse is gluten- and wheat-free and most of their crisps are. If only everyone was this clear and straightforward! They have the added advantage of being a chain and pleasantly ubiquitous. There's one right by Victoria station in London, which I seem to have been to an inordinate number of times!
Similarly, M&S Simply Food have spotted a niche. There are now many branches at railway stations and motorway services too. Many of their salads are g/f, and carrot batons make an extremely good driving food! Various coffee-chains now offer g/f sandwiches and cakes. I was recently told that Mortons on New Inn Hall Street offer lovely gluten-free sandwiches and Starbucks do a very good g/f chocolate cake, which is clearly labelled in their cabinet. Caffé Nero (including the one in Blackwell's) also offer a wrapped chocolate brownie which is gluten-free but not wheat-free! Beware.
The Mars Bar effect:
Where products come in different sizes one might have thought the ingredients would be the same in each size. Guess what? It is not so. At the last count normal and king-size Mars Bars were wheat-free, snack and fun-size were not.
This happens too with preservatives and drinks — large bottles of Orangina contain sulphites while cans do not. That at least has some logic to it.
But the Mars bars... mad.
---
Useful Websites including The Allergy Fair
Internet shopping websites
goodnessdirect.co.uk is almost impossible to find things on, but does include a vast range. Beware: it caters for all sorts of special diets so not everything is gluten-free.
wiltshirefarmfoods.com Ready meals delivered free across the UK. Also ice-cream and desserts. Don't know much about these people.
freefromfoodsmatter.com has a lot of links to different websites selling g/f food.
Supermarkets' own websites — advice, internet shopping, recipes, etc
Advice websites
There are plenty of others: "coeliac" (spelt "celiac" in USA) or "gluten-free" bring back literally millions of results on google. These include blogs, some of which are more useful than others, but which tend to contain some philosophy as well as practical thoughts about special diets. I like Wheat Free Gluten Free, which even contains Oxford-specific info!
Individual producers' websites
The Allergy Fair
Or more properly The Allergy and Gluten-free Show. Held every year in spring (usually early June) at Olympia. This can be a good event to go to and celebrate feeling normal, or even feeling lucky when you see a stall related to something you don't suffer from! Good for free (or cheap) samples and info about new products. This year there were not so many free samples, but some excellent talks eg about food intolerance and migraines, new labelling laws regarding allergens including gluten, and many many diverse topics. There are also cookery demonstrations.
I find this event useful as an annual roundup of what's new and what's changed. My best discovery was Glebe Farm bread and cake mixes. It can be very interesting to hear people's stories and understand why they got interested in the free-from market. Rebecca from Glebe Farm used to bake (normal) bread for her local farmers' market, and was bombarded with requests for wheat- and gluten-free loaves. She did some experimenting, and now has a nationwide clientele, and her farm grows its own spelt (though not rice, yet, she says!). Many exhibitors have developed a product for their families that was so good it's become a small business. Ultimately, however, this is a trade fair, and it's a little sobering to realise one man's digestive trouble is another man's big bucks.
---
Shops
Supermarkets
Tesco's, Sainsbury's, Waitrose, M&S, Asda, Morrisons, Co-op and Budgens all sell basic gluten-free foods, though it depends on the size of the store how comprehensive. Beware of the strange effect where bread might be in the Bread or Free From sections, or both.
The only downside in the enormous range of g/f products is that shops seize on those as easy to deal with, neglecting the much more useful job of advising customers on what they can actually eat! After all you want to know all the things available to you. So you'd rather they knew which sauces were g/f than just which they have in their Free From section. I'm afraid the only way round this is to spend hours and hours reading labels. Make lists of the safe ones! The Coeliac Society's food directory might help, if gluten is what you're avoiding.
As a g/f shopper you will quickly learn to dread the words "New and Improved" on your favourite products. This means they've changed the recipe, and often means they've bulked the product out with wheat, which is cheap and nutritious to those it doesn't poison.

Not shopping at Supermarkets
Many people choose to avoid supermarkets because of their corporate, ubiquitise-the-world nature, or simply because of the length of the queues. If you wish to do this you can shop instead at:

Farmers' markets which are very good for g/f sausages and general organic stuff. Useful to be able to talk to the people producing the food.
Holland & Barrett which sells lots of flour, biscuits and lesser-known bread varieties. For some things it's very cost effective but others are much more expensive here than elsewhere. Useful shop nevertheless. GNC is a similar chain. In fact I think it's owned by H & B. Also very good if you're avoiding dairy, as they do a good range of vegan products including Provamel soya desserts and Tofutti soya "cheese" spread.
Julian Graves: sells nuts, dried fruit etc. Has some very useful things — ground almonds etc and plenty of special offers. There's now a branch in the Westgate centre.
Local health food shops. There's always a little one tucked away in every town. They'll all have their idiosyncratic take on gluten-free food. It used to annoy me that g/f always gets lumped in with vegan / picky / weirdo food. We didn't choose to eat odd things! But the shops are useful, and vegan food can be really helpful if you're avoiding dairy. Uhuru is the prime Oxford example, though I think some of the delis around Jericho and Woodstock Road may also be useful. Uhuru has a really good range, though it doesn't always stock all its range at once, since its stockroom is quite small! Also, it is quite pricey for some goods, but its flour is very comparable with Holland & Barrett, and I haven't extensively compared other products. Wild Honey is a wonderful new place on Magdalen Road which has a wide variety of gluten free and other products, including gf oats which I've never before found outside a supermarket.
Ethnic shops. In Oxford of course this is easier than many other places. But something like gram (chickpea) flour is a staple in many Asian households where it is a rarity in Anglo-saxon ones. Thus from a health food shop it might be twice the price as in an Indian supermarket. My favourite of the Indian food shops is Eastern Continental Stores (roughly opposite Tescos on the Cowley Rd, green wordwork, door set into the corner). It is a really cheerful place to shop as well as being an Aladdin's cave and remarkably cheap. Jamaican shops stock instant mashed potato, and plantain flour. Indian shops will have gram flour. Chinese shops often have rice noodles, rice pancakes, mochi (rice/potato flour sweets), tamari (gluten-free soya sauce) and so on. Borrow all you can from non-wheat-dependent cultures!
And of course the internet, especially useful for favourite brands which suddenly disappear from their usual stockist. The internet can often be a bit cheaper, but you'll need to order in bulk as far as possible to negate the delivery charges. (See Websites section.)
---
What to watch out for on Ingredients Lists (or Gluten Lurks Under Every Bush...)
It's easy enough to remember you must check for:

wheat (wheatflour)
flour
rye
barley
oats (oats themselves are gf but are usually processed with wheat)
but of course it's not as easy as that!
You may also find wheat lurking under the following pseudonyms:

spelt (an early form of wheat)
kamut (no-one seems to know exactly what this is — but consensus is it's like spelt)
couscous - tiny flour and water balls, ie like very small, non-Italian pasta. Couscous is not a different grain, no matter how many waiters/chefs try to tell you otherwise.
bulgar wheat - cracked wheat grains
durum wheat - used to make ordinary pasta
semolina (a very finely ground wheat flour, not a different grain)
rusk (esp in sausages)
pasta or noodles (eg in ready made soups). Rice or soba (buckwheat) noodles are fine. Udon or Egg Noodles are bad.
pastry (not usually found on ingredients lists, but a useful word to associate with warning bells)
Similarly, batter should sound the alarm for you, and "crispy deep-fried" probably means batter. This is more of a menu issue than an ingredients list one.
breadcrumbs
soya (soy) sauce (unless specifically wheat-free is made with fermented wheat)
mustard (ready-made mustard in a product may have been made up with wheat flour)
stock (see section on stock cubes)
malt (see section on breakfast cereals)
thickener / thickening eg in sauces / gravy
wafer (including communion wafers, though these are now available gf too)
tortilla / wrap (usually made of wheat. Can be maize/corn but check it's totally maize/corn not half and half. NB Spanish Tortilla is a type of omelette and has nothing to do with flour!)
Similarly, French pancakes called Galettes can be entirely buckwheat, or buckwheat and wheat. In French, buckwheat is called sarrasin.
Things which could contain wheat but do not contain gluten:

Monosodium glutamate (MSG)
dextrose
maltodextrin
& glucose syrup
These do not contain gluten, but can be made from wheat starch without having to specify this. They may be made from rice or corn starch instead.

starch and modified starch
Thus Pringles are safe for Coeliacs.
Stamps, crazy as it sounds, are made with starch glues so they aren't poisonous (for most people) to lick. I don't know for certain that they are still unsuitable for people avoiding wheat, but it is likely!
Shampoo is another strange entry in this list, but both Wheat Germ shampoo and shampoos which are thickened with wheat starch (eg Herbal Essences 2 in 1 Lavender) might be dangerous. It's not just about getting shampoo in your mouth - you can absorb substances through your skin, though I don't know how sensitive you would have to be to suffer.
Things which should be wheat- and gluten-free:

Flavouring can cover a multitude of sins, but as far as I know people do not try covering up wheat as one of a list of flavourings. To find out more about labelling issues such as this may well require studying a lot of food law.
Buckwheat is entirely safe. It is unrelated to wheat. In fact its closest relative is rhubarb.
Spanish Tortillas are omelettes, albeit a special sort, not like Mexican tortillas (wraps), and usually wheat-free
Changes to labelling laws
Recently there have been some new developments, which are very helpful to allergy-sufferes, to do with labelling laws. All pre-packaged products must now declare if they contain one of 20 Allergens. These include gluten, milk, soya, shellfish, nuts and some others. These will often be in an Allergy Advice section. This applies if the food is definitely (deliberately) included in the product. It may explain why packets of peanuts have taken to saying "Warning: contains nuts" and other self-evidences. The update early in 2015 is that now all allergens are to be highlighted directly in the ingredients list (in bold) rather than listed spearately.
The list doesn't include the nightshade family (tomatoes, potatoes etc) nor kiwi fruit (which can give anaphylactic shocks), so it's not fully comprehensive. The law doesn't apply to any foods sold unpacked, such as deli counter items, bread from pic'n'mix style bread counters etc, pic'n'mix sweets and so on. As far as I can tell it doesn't apply to toothpastes, stamps, or any other items which aren't food but which go in your mouth!
Prescription medicines should all now be gluten-free. However they are not all dairy-free, as most still contain lactose, and non-presription medicines, vitamin supplements and the like are allowed to contain wheat. I don't know what the laws are on allergen labelling for these products. They fall unhelpfully between categories.
Another law that has changed is to do with wheat starch. The Codex Alimentarius has set a limit of 200 ppm (parts per million). If the gluten content is lower than that then a food can be labelled gluten-free. However new tests allow greater sensitivity, and the threshold has now changed to 20 ppm. This has come into force over 5 years. Wheat starch will also become better labelled, and a new term "Very low gluten" will probably come into force. The Coeliac Society are trying to make sure that as many products which are safe are included in the labelling, and it's clear what people can and can't eat, while still giving as much information as possible.
The "May Contain" labels are still out in unhelpful force, and dieticians advise people to ring the factories. I'd like to think I have better things to do with my life, and that labels exist so you shouldn't have to contact manufacturers all the time! However it's still your best bet if you want to be sure. Sometimes factories have to warn people about eg nuts just because something else on the same site uses nuts, but sometimes it means the line makes nut-based products, and there's a real risk of cross-contamination. Green and Blacks notably changed their labelling to include milk in the ingredients of their dark chocolate. Testing showed milk traces were present, although the recipe hadn't changed, because the equipment is used for milk chocolate production and it's impossible to get it 100% clean.
This is clearly a large and difficult topic, and not one we have seen the last of. I think things are heading in the right direction, but you still need a good deal of tenacity and ingenuity to decipher food labels.
---
Eating Out / Going Away
This is a rough guide, and can never be 100% accurate. Obviously, if in doubt, check. Your waiting staff should be able to help you! Restaurants appreciate as much warning as possible, and ringing in advance never goes amiss. This caution applies to all restaurants and cuisines mentioned, but it would be very boring if I repeated it every time!
Research into styles of cooking is always helpful. I'd recommend reading lots of cookbooks to find out how things are traditionally made. The library has a good selection. Google Translate (or a dictionary!) should help you work out useful phrases, words for "wheat" etc. If you're travelling you'd be wise always to have emergency food handy, to help you avoid temptation as much as anything.
For people going to foreign parts there are now some useful products which provide phrases in many languages, tailored to different diets. Two of these include The Gluten Free Passport and Dietary Card. I haven't tried them but would seriously consider investing if I was travelling somewhere I didn't know the language. The makers of the Dietary Card also say the Chinese version is more often sold to people wanting to eat out in Chinese restaurants in England, than to people travelling abroad.
Personally I find it hideously embarrassing to ask restaurants about food. My partner is very sweet and quite willing to ask for me. It doesn't have the same emotional connotations for him. I try to remind myself that a) paying to poison yourself is pretty stupid; and b) every time a restaurant has to provide an answer to the question of what contains gluten it helps all allergy sufferers.
English / Pub Grub:
Ham, egg and chips is usually safe. Chips from McDonalds and similar are often dusted in flour to make them crispier. Avoid ultra crispy French fries! Jacket potatoes are good, but check toppings — tuna mayonnaise is usually made commercially, and that and both mayo and baked beans can contain wheat. Omelettes should be ok. Don't go for things in sauces as a general rule, because commercial thickeners often contain wheat. Similarly be careful of ketchup. Fishcakes will normally be breadcrumbed, and you should avoid batter. Tortillas are often half and half wheat and maize. The word "crispy" should ring alarm bells. Sausages are likely to have wheat in (maybe written as 'rusk' on the label).
Essentially you either need a knowledgeable chef or to avoid things which are processed. Stick to ready salted for crisps and peanuts, or read ingredients of flavoured ones. Some fish and chip shops can do unbattered fish. In Oxford, Posh Fish (Headington) are most obliging and will grill unbattered fish for you. In chip shop chips watch out for the crispy lumps of batter which end up in the chips! The Victoria Arms in Marston does home-cooked food and the chef is able to come out of the kitchen and tell you exactly what's safe, and sometimes to make something special if you want. The Gardener's Arms on Plantation Rd is clear and helpful, and able to provide safe food, and is noted as being entirely vegetarian but the sort of place even dedicated carnivores are happy to go. The Anchor Inn is also helpful about ingredients. It sits at the posh and pricey end of the pub spectrum. The Magdalen Arms is another excellent gastropub which cooks its own food and therefore knows what's in things. Perhaps this is a good thing about allergies - the more likely an establishment to be able to help you, the better their food is likely to be, because they know what they're doing.
Possibly the most comprehensive gluten-free pub menu (in England?) can be found at The Black Horse in Thame. It lists ingredients, it serves homemade gluten-free pies, it can accommodate lactose-free diets. It's staffed by people who know what they're talking about and want to help. No wonder their supper sittings are pre-booked tables only!
All-day breakfasts
Sausages usually contain rusk, and are not a safe option unless they're specified gluten-free. Unfortunately, the Big Bang in the Castle complex, which served a multitude of gluten-free options, is now closed. David John's butchers shop in the Covered Market does, however, have several different gluten-free flavours.
If you like your sausages ready-cooked, for a gluten-free fry-up, we like the Tick Tock Café. They don't advertise their gluten-free options but they are very capable and accommodating and the food is fab.
Sandwiches/cake
For a lunchtime gluten-free sandwich (and cake!) try Morton's on New Inn Hall Street.
Organic Deli Café is a cafe serving hot gluten-free main dishes, toasted sandwiches and all sorts of tea. Staff are helpful, and it's brilliant for lunch in town. It's down Friars Entry, the little passage way by the cinema on Magdalen St.
If you want to forget the sandwich and just eat cake then you can head to the Art Café on Bonn Square. And you now have a number of other venue options including Turl Street Kitchen, Branca Deli, No 2 North Parade, Chester Arms, Jericho Coffee Traders all of whom stock cake provided by local company Barefoot Kitchen, and you can also order from them directly, and they do a vegan range too.

American:
In Oxford there's only really one diner, and that's Atomic Burger on the Cowley Rd (sister to Atomic Pizza further out). They do gluten-free burger buns (available most of the time though it's worth pre-booking if you want to be certain) and gluten-free burgers. If you opt for a combination of toppings which contain flour they're usually ok at pointing this out and offering alternatives. These days they warn you that onion rings and chips are cooked in the same batter.
French:
French food in England is a very different thing from French food in France. In France it's easier to be gluten-free than vegetarian, by a long way! Meringues are fine, but most other patisserie is out. Desserts are harder than main courses. Often French chefs do not thicken gravies etc with flour (making jus instead), but of course white sauce has flour in. Galettes can be made of pure buckwheat flour or half and half buckwheat and wheat. Check! Dairy-free French food is very hard, as butter is so widely used in cooking, and cheese a French speciality.
Blé and froment both mean wheat.
Farine means flour — wheat unless otherwise specified.
Sarrasin means buckwheat. Sarrasin pur is what you're after, pas melang.
Amidon means starch.
Gluten is gluten. For crepes, you can try The Old Bookbinders in Jericho which houses What a Load of Crepes, the excellent company who cater at Creation Theatre performances, and do a good gluten-free galette. For your patisserie fix, the chain of shops along the Cowley Road associated with Rick's Café offer authentically pretty macaroons which are gluten-free, and which come in a bewildering array of flavours.
Indian/Nepalese:
Poppadums are fine ( urid = lentil flour), onion bhajis should usually be fine (gram flour = chickpea) but it can still be difficult to be sure you have made yourself understood. Chapattis are made of wheat, as is naan bread. Most sauces are thickened with lentils, cream/yoghurt etc and not flour. It's harder to avoid dairy than wheat in curries, but both are eminently possible. Dosas, available at Majliss (Cowley Road) among other places, are rice flour wraps filled with spicy mixtures.
Nepalese food is an interesting hybrid, broadly similar to Indian sort of things but heading towards Chinese flavours, and as such you should watch out for soya sauce. Everest Nepalese can be exceedingly helpful, and their food is excellent.
Chinese / Japanese:
Very very difficult! Soya sauce is made with wheat. This means most options are out. Sweet and sour dishes usually contain meat that has been battered or floured before frying. Spring roll pastry is wheat-based. Other sauces (eg Hoi Sin) frequently contain soya sauce. Sushi usually has soya sauce mixed in with the sushi rice. Consider investing in a Dietary Card (above)!
If you really want to go for a Chinese meal then try the Mongolian Wok Bar (part of SoJo) on Hythe Bridge St. Here you pick your own selection of raw ingredients and they stir-fry them on a huge round hotplate (the eponymous wok). It's good for vegetarians as well as g/f-ers, and is a charming and theatrical way to eat. We are also reliably informed (in Nov 2010) that Xi'an in Summertown also has some gluten free items on the menu and that the staff are fairly knowledgeable.
Japanese options in Oxford are good: Red Star on the Cowley Road are brilliant - they have a gluten-free menu (not online - you need to learn it / photograph it in the restaurant!) and are helpful even to the point of supplying tamari and crushed chilli since they can't guarantee the chilli sauce is ok, and can adapt dishes. Check out their useful and fabulous loyalty card. Edamame on Holywell St mark the gluten-free option(!) on the menu. And big chain Wagamama has a very long and comprehensive allergy menu, and clued-up staff.
Thai / Vietnamese / other Asian:
Slightly better than Chinese food, due to slightly less soya sauce and a greater reliance on rice. Vietnamese spring rolls usually use rice flour pancakes. Banh / Mochi (little round sweetmeats) are made of rice and dusted with potato flour. The paste in the centre is made of beans. However they sometimes contain wheat starch. Your best bet is to have a good wander around Jing Jing or the Chinese supermarket on Hythe Bridge St and read lots of ingredients, and research in a good cookery book what dishes usually contain what. Chiang Mai Kitchen, the excellent Thai restaurant in an Elizabethan house hidden away off the High St, is good at advising what is gluten-free, as it is good at everything. And it is worth noting that most Asian cuisines use very little in the way of milk products, so they're a really good option for avoiding dairy.
Noodle Bars:
Usually offer rice noodles as well as wheat. However sauces will be largely asian-style, so soya sauce is a danger. It sounds as if you need to make your requirements clear to your waiting staff, as some dishes must be modified, but they have a gluten-free menu in store and if you tell them what you're after they're very helpful. Itsu (Cornmarket) has a printable menu on its website so you can go in prepared.

Types of noodle made of wheat:
Egg noodles
Udon noodles
Ramen (soup noodles)

Types of noodle which are safe:
Rice noodles (flat) and rice vermicelli (the really thin ones)
Cellophane or glass noodles (made of mung beans, usually)
Soba noodles (buckwheat)
But anything that's just called "noodles" probably isn't safe, so you'll need to check.
Italian:
"Normal" pizza and pasta are out, which makes Italian seem a difficult option. But things are not as bad as they sound. Risotto is fine. However true Italian cuisine is very possible — meat, potatoes, sauces largely unthickened with flour, amaretti biscuits (ground almonds and peach kernels, traditionally) and so on. You'd be fine in Italy, but Anglo-Italian cuisine may be harder. Having said that...
Gluten free pizza availability is on the rise. Hooray! Atomic Pizza on the Cowley Rd (nr Divinity Road) offer gluten-free pasta and pizza too! They're also very accommodating, particularly if you ring in advance and warn them (which we recommend). They've managed wheat and dairy free food before with very good grace! Rumour has it they also offer gluten-free tiramisu, with a bit of warning.
Pizza Hut and Pizza Express offer gluten-free bases, in both their restaurant and delivery menus.
Carluccio's on Little Clarendon Street have an extensive gluten-free menu available on request.
Both branches of Mamma Mia also have gluten-free pasta on the menu, and offer a gluten-free pizza base for a £1.50 surcharge.
The prize for the most secretly helpful restaurant goes to La Cucina, which does serve gluten-free pasta but doesn't tell anyone! We've been advised that once you're in on the secret they're extremely helpful, knowledgeable, reassuring and able to feed you safe food.
Big chain Zizzi's has gluten-free pasta, and a special allergy menu marking wheat, dairy, fish etc. There aren't a lot of options which are both dairy- and gluten-free, but the food is good and the staff helpful. (They're also pretty good at being speedy, which is useful since Zizzi's is so near the theatres and central cinemas.)
Another helpful reader recommends Bella Italia. 'They have moved with the times and offer gluten-free options on their menu, marked with a special symbol. We find the staff there very friendly and helpful.' (Oct 2015)
One of our reviewers found the White Rabbit on Friars Entry to be a hidden jewel of g/f pizza in the centre of town, proclaiming it to be "genuinely tasty" and not looking too different from the pizza being served to everyone else. (Nov 2014)
Wheat in Italian is frumento or grano.
Semolina (fine ground wheat flour) is semolino.
Gluten is glutine.
Greek / Lebanese:
Filo pastry is a Greek favourite, but if you can avoid that then the mezze style dishes are likely to be ok. Sausages often contain wheat (rusk). It's probably a good idea to do some research — have a look at a Greek cookbook / recipes online. That should tell you which dishes will traditionally contain wheat. This is another where I suspect it's much easier to eat out in Greece than to eat Greek food in England.
Main dishes of the slow-cooked meat variety are probably fine. We are reliably informed (in Nov 2010) that Al Shami in Jericho has some gluten free options too.
Beware: Lebanese rice is a mixture of rice and spaghetti - not safe! But often kebabs are prepared very simply with just meat and spices.
Spanish / Tapas:
Local Al Andalus (Little Clarendon St) label everything on their online menu, and have extensive gluten-free options including lots of their paellas. Kazbar (Cowley Road) do it the other way and mark things that do contain gluten rather than what doesn't.
Jamaican / Mexican / Brazilian:
Rice and maize predominate in this part of the world, so true South American cuisine is ideal for gluten-free eating. The natives eat maize, and expect tourists to prefer refined wheat, making you popular as well as healthier for following your diet. If you're travelling, you're fine. However, in England, Anglicisation of these cuisines and the fact they're often done by large chain restaurants undoes much of the good work.
Hi-Lo's on the Cowley Rd are likely to be much better (authentic, gluten-free) than Las Iguanas on Park End St. simply for the individual vs chain reasons. In London there is an excellent Mexican restaurant called Wahaca, near Covent Garden. The cuisine is Mexican street food, a bit like tapas, and is delicious, and they're very helpful about dietary requirements.
In Spanish flour = farina (or sometimes harina)
and wheat is trigo.
Gluten is gluten.
Chain Restaurants:
You'd have thought that chains would be good, since menus and ingredients are likely to be standardised, and wherever you are you'd find the same options and know which ones are safe. Unfortunately these places are large and corporate, meaning no-one will take responsibility for what is in anything in case you sue them. I was told by the waiting staff at Bella Pasta that they could not guarantee anything on the menu as being gluten-free. I left this place, and have avoided chains as much as possible since. If a chain gets its act together enough to mark safe options on the menu, fine. If not, leave well alone!
Random Oxford Specialities:
In Oxford we're lucky enough to have loads of places which do help you out. In addition to places mentioned above I'd recommend:

Moya Slovak Restaurant (and cocktail bar) on St Clements. Possibly the best restaurant in Oxford, and extremely helpful.
Organic Deli Cafe on Friars Entry does hot and cold sandwiches, pasties, soup, and cakes. Discount if you have a Key from Oxford Bus Co.
The Atomic Twins: Atomic Pizza and Atomic Burger as mentioned above for g/f Italian and American respectively.
Vaults and Garden Café under St Mary the Virgin Church on the High St. can also be helpful, but check carefully — soya sauce doesn't always hit the radar as containing gluten! On the other hand the gluten- and dairy-free cakes are good.
Mamma Mia Pizzerias, in Jericho & Summertown, offer g/f pizza and pasta dishes, and have a usual range of g/f antipasi & salads.
Edamamé on Holywell St can tell you what is gluten-free on the menu, although the choice is not extensive!
The Black Boy gastropub in Headington, which I have not tried but they've been helpful on the phone
The Victoria Arms, Marston. Food cooked on the premises, so you can speak directly to the chef.
The Gardener's Arms on Plantation Rd (nb not the one on North Parade). This place is noted for its vegetarian cuisine, and can tell you with confidence what is g/f.
The Magic Café on Magdalen Rd caters for g/f, dairy-free, vegetarian and many other diets.
The Old Parsonage appreciates knowing about special diets when you book, but even at short notice can pull out the stops, create a special starter and even offer gluten-free bread! Fabulous.
The Phoenix Picture House usually stocks HoneyBuns GF cakes in their snack selection.
LASSCO Three Pigeons is a posh salvage yeard near Thame with a cafe serving gf goodies.
Art Café does quite cheap gluten–free lunches (e.g. baked potato with tuna) and snacks such as gluten free lemon slice, shortcake or pecan slice.
Café Coco has been recommended by a Daily Info reader. They have a good selection of gluten-free salads, and a clearly labelled menu.
The Crepes-o-Mania Truck on Broad street has also been recommended, for their 100% buckwheat crepes and nice toppings.
Joe's Grill in Summertown is also mentioned by the same intrepid gluten-freer as a place which will happily make you something up if you ask them nicely. Hooray!
This is not an exhaustive list — if you've found a helpful place, please tell us!

---
Useful Books
There are a range of g/f cookbooks on the market, most like any other cookbook: just a selection of recipes. Some have more information on health and nutrition, most have some recipes which are also dairy free. The books below are recommended for different reasons:


Cooking Without, by Barbara Cousins


publ. Harper Thorsons. ISBN 0-7225-4022-1
This is an astonishing book — mainly recipes free from gluten, dairy, added salt, fat etc etc. It's notable because by being far stricter than you need you realise how many things you can eat, and it makes a welcome change from all the cookbooks in the big wide world where you keep having to adapt and ignore ingredients. There's an interesting section on the psychology of ill-health and eating disorders, and general advice on good fats etc. Not nearly as fascist as you'd expect either!


Amazing Gluten-Free Bread and Cakes from your Breadmaker by Carolyn Humphries


publ. foulsham. ISBN 0-572-03002-9
This seems to have been reprinted without the Amazing in the title, which may or may not be significant! This book is very useful and very annoying in roughly equal measures. There are some great recipes, and breadmakers are jolly useful things to the g/f, but beware of the amounts of water she recommends. I have had to double the amount of water specified in some recipes! So each time you try a new bread you have to stand over it while it's mixing, or even mix it by hand, to check it's wet enough, then amend the book. Having said that my favourite bread recipe came from this book (Farmhouse Loaf).


The Everyday Wheat-Free and Gluten-Free Cookbook by Michelle Berriedale-Johnson


publ. Grub Street. ISBN 1-898697-90-6
General all-round book with some nice recipes. It's old, but still in print. Michelle Berriedale-Johnson is the editor of Food Matters magazines, and recipes of hers can be found there too. She comes across as eminently practical.

This is but a small selection of the "special diet" cookery books on offer. You'll probably need to browse cookbooks for yourself, to find one which strikes the right note, and there are selections at Blackwell's, Borders and Waterstone's, not to mention online! Amazon returns 67 options, it tells me, for "gluten free cookbook".
It's worth remembering, however, that plenty of sections of your old cookbooks will still be useful, and once you start looking, gluten-free recipes leap out at you from the most unlikely places. I choose cookbooks on the feel and the style of cuisine and the glossy pictures, just like I always did. You can always adapt the recipes. And out of Nigella Lawson's How To Be A Domestic Goddess, a book largely concerned with baking, I found around 150 recipes which either used no flour, or only a spoonful or so, meaning that the flour probably isn't structural and therefore replacing it with gluten-free flour is probably just as good.



Bread Matters by Andrew Whitley


Much info on the Chorleywood Bread Process and other ills. Includes some recipes. Alarming background reading and not specifically aimed at g/f-ers.


Not On The Label by Felicity Lawrence


Alarming but very readable book about the state of the food industry in the UK and beyond, and the problems associated with it. Lawrence is a journalist for The Guardian. Not specifically related to allergies. May put you off supermarkets!


E Is For Additives


Comprehensive guide to what E122 and companions actually are.
---
Recipes & Case Study
COMING SOON
---
General advice for allergic people
Variety is the spice of life! If you're susceptible to becoming allergic to things don't feed your body too much of any one substance. Living off soya milk, soya flour bread, edamam and soya sauce is a recipe for disaster. If you're eating commercial gf bread, check what's in it and try to balance things out. If you eat a lot of rice, try pasta that's 100% maize.
Eating seasonally is a good framework to ensure you vary your diet. Meat is seasonal too! If it weren't for our phenomenal ability to preserve food we wouldn't have lamb except when the lambs were ready for slaughter. When you can't see them in the fields any more — that's when we would not normally be eating them! And of course no fruit and veg would naturally be available all year round. I find I enjoy foods much more when they're not available all year - absence makes the stomach grown fonder...
If you look after your general health and wellbeing then you'll ease the load on your immune system. You don't need to become a nun, but exercise, ways to de-stress, cutting down the alcohol etc will all help! Keeping cheerful isn't a bad idea - be nice to yourself! I recommend acupressure massage, and changing your job to one where you're not permanently stressed!
If you are ill, or just overheated, stick to the least allergenic foods (the blander the better!). If you are already reacting to something in your system, or are too hot, then your immune system will be busy. Don't give it anything else to react to, or you may find that the reaction remains even when you're feeling better.

Do bother finding out about food on menus. Health is more important than embarrassment. I say this knowing full well I'm very bad at convincing myself of it. Be prepared if possible — try to find out about food before you go out somewhere, and carry snacks with you when travelling. You're most likely to break your diet when you're tired and hungry.
Don't underestimate the link between food and emotions. Firstly, food is a very basic need. That food needs to be safe, and reliable. It can be extremely unsettling to be in the situation where politeness or your diet will have to suffer. Low blood sugar will affect your mood, and so will eating the wrong foods. There are fascinating accounts of people who, on being diagnosed coeliac, found they'd started wearing a totally different spectrum of colours.
It is said that allergic children do worse at school. I'm not at all surprised. For a start there's the time they spend feeling under the weather, either before diagnosis or through the difficulties of managing to exclude all gluten from the diet. And then there's the preoccupation — food is essential, and constant vigilance is bound to take its toll, using up a small part of the brain all the time. Coeliacs can't afford to forget.

Offer to bring g/f food to hosts. Stock cubes, tamari (wheat-free soya sauce), g/f flour, pasta and so on can be useful for cooking with. This can also act as a polite way of informing people where there is hidden wheat. It's much easier than saying "Are you sure you know what you're doing?"!
Know (if you're really organised make a list!) of snacks which are safe. Where there are dishes of nibbles etc you can't read the ingredients. The Coeliac society publish lists (and updates) of foods that are free from gluten. Different brands will have different ingredients.
While it might seem extravagant or selfish, having your own butter/marg and your own jam can prevent crumbs! Your own breadboard and bread knife are also important. It's hard to explain to non-allergic people about contamination, because you need to make them see that a perfectly harmless substance is in fact poisonous.

Beware of eating replicas of glutinous foods all the time. These are likely to have achieved an authentic look, texture or taste through the use of chemical additives. If you're susceptible to allergies the last thing you want to do is rely on heavily processed, chemical-rich foods. And yet the foods made specially for people on special diets have ingredients lists that read like a chemistry lesson. The more cooking you can do from fresh ingredients the better. If necessary make big batches when you have time and freeze portions. Take leftover supper with you for lunch. Otherwise you may find you're living on hydroxypropyl methyl cellulose, pre-gelatinised rice flour, soya lecithin, glucona delta lactone and other such tasty morsels.
You don't need me to tell you your attitude to risk-taking. This will depend on many things, including your personality, the severity of your allergies, whether you're currently in an aeroplane, stranded on a desert island or otherwise without access to medical care, etc. Some allergy advice just consists of "check, check, don't take risks". That is no help at all - what you want to know is what the risk is. You can decide how to handle it.

Some food intolerances are reversible, if you avoid the allergen for 6 - 12 months. (Eating seasonally would be a natural way to avoid foods.) NB. This is not true of anaphylactic type allergies as they work in a different way. And of course if you have a severe reaction to something you should only "challenge" your body with it under strict medical supervision; this is usually done in hospital.
Some allergies can be treated by vaccination with miniscule but increasing doses of allergens. This is called de-sensitization or hyposensitization, and reduces the severity of symptoms, sometimes eliminating them altogether. HOWEVER this does not seem to work for food allergies, perhaps because the body reacts to such miniscule amounts of the food. The good news is that scientists in Norwich are working on a cure for allergies, using vaccines to genetically engineer (correct) the immune system. Fingers crossed...
Cravings
There will come a time when you have a longing for a particular food. Let us say lasagne. For most normal people who don't want the faff of making it at home, they can go to any pub and eat some. If you're on a special diet it's harder. You can now buy frozen lasagne, but until recently you had to wait until the longing got strong enough to make it yourself, or do without. For me the thing I crave most is doughnuts. I haven't tried making them as they require so many stages including injecting jam. I expect if I ate one I wouldn't want another for a good long time, but for now I can't stand being around other people eating them!
If you have serious cravings then it's worth trying to work out whether you might be missing something nutritionally. If you're avoiding wheat you might need extra vitamin E (usually found in wheatgerm). And of course dairy-free means you're getting a lot less calcium in your diet. You might need occasional supplements. Additionally if you've eaten something you shouldn't then you probably won't be absorbing vitamins and minerals properly. When I eat wheat I need to eat zinc supplements, and untreated coeliacs tend to be anaemic. It's better to get your vitamins and minerals from a balanced diet if you can, but sometimes your body needs help to adjust.
---
Advice for the Host
Let us say you are hosting a dinner party at which you will have a gluten-free guest. These days it's not that unlikely, and in fact it's quite possible you'll have one g/f, one vegetarian and one dairy-free guest. You've settled on a menu, involving interesting vegetarian food with no cheese, which suits everyone. Big sigh of relief! But it's not over yet... Here's some possibly useful advice.

Don't be offended if the guests wish to check with you what is in things. They're not trying to slight your knowledge or competence in the kitchen. They just don't want to be ill. They'll know from bitter experience the worst that could happen, and they don't want you to be responsible for that. If you've used processed foods at any stage keep the packaging, and let guests read it. Think of it as proudly proving your efficiency and cleverness.
Don't expect people who can't eat things to like everything. They're still human, and will still have preferences.

If you were suddenly to realise that you had put soya sauce in something after all, confess immediately! At worst someone might need to seek medical help. At best they can assess how much of a problem it is, and be prepared for what will come.

If you really are faced with this diversity of special diets then a meal where people can pick and choose really helps. Baked potatoes don't necessarily make for a posh party, but something like that with many different toppings laid out can be an easy way to suit everyone. Just make sure there are different spoons to avoid cross-contamination, and make sure people know what contains what.

Avoid cross-contamination while cooking. If you're cooking g/f and normal pasta you'll need different spoons for stirring, and to drain the g/f first so you don't have to wash up the collander. Scales will need a proper clean if you've used them for normal flour. Even if they don't look dusty they probably are - run your fingers round the inside and see if any flour comes off.

Consider making the whole meal free-from. This will help enormously with contamination issues, and helps the allergic person feel normal! Consider making recipes which are naturally gluten-free. I think this particularly applies to puddings - you can make your usual cake-de-resistance with non-wheat flour but it may fall apart. Perhaps a fancy jelly would be better?

Be careful of stock cubes and baking powder. Read ALL labels, even of things that can't possibly have gluten in! If you're offering nibbles, check those too. See here for what to look out for in ingredients lists. If in doubt check with your guest. Ask them specifically what they can and can't eat. They can probably provide you with particular foodstuffs, like pasta, or tell you where to get it.

Bask in the glow of knowing you are providing safe food in a confident manner(!) rather than worrying about something tasting slightly different from usual when made with alternative ingredients. If you get a nice well-mannered g/f guest they'll probably be grateful that you've bothered, and relieved that the food is safe, rather than picky if a cake sags a little.

Remember that your guest is likely to find eating out quite alarming. Again, please don't be offended if they want to check specifics with you.
---
Diagnosis
Many doctors don't like self-diagnosis. There are some sensible reasons for this, like the fact that someone who radically changes their diet might end up without a balanced intake of vitamins and nutrients. There are also some sillier reasons, in that some doctors don't appear to believe patients know anything about medicine or their own bodies. And no specialist likes Tom, Dick and Harry muscling in! However, since people are all different you will know your body, and what is your "normal" better than anyone else. For instance you might notice that every time you eat a particular food you burst into tears and only want to wear brown. This might not always impress doctors as evidence of an allergy, but it can be real and consistent.

If you think you might be allergic to something the first thing to do is keep a food diary. In this you record what you ate, and any unusual symptoms that followed. It will help you work out what's going on, and may serve as useful evidence if you do need to convince a recalcitrant GP. Once you've identified candidates then you can try an exclusion diet — eat normally but avoiding one particular food type. (The other option, which you should not try at home, is to eat nothing but the safest foods (eg hypoallergenic baby food formula) and reintroduce other foods one by one. This is sometimes done when someone is very ill with food intolerances, and removing one food at a time is not revealing anything. Do this only under medical supervision!)

There are two effects which make diagnosis harder. The first is that you may react badly to foods in combination. A friend of mine would get hay fever symptoms after eating rice, but only in hay fever season. She could eat rice with no ill effects in winter. Similarly you could react badly to one food if you ate something acidic at the same time. This makes diagnosis less like spotting a simple cause and effect pattern and more like a game of Mastermind, with endless colours of pegs.

The second effect is that although you might have a dairy intolerance you might experience different symptoms with different dairy products — arthritic joints after eating icecream, but merely a stomach ache after yoghurt, or itchy legs after eating soft cheese but a migraine with hard cheddar. Your body can tell the difference between different substances with incredible discernment, so the effects above could be caused by differing levels of lactose (milk sugar) and the intolerance is to lactose rather than milk per se.

As allergies become more common and more widely discussed GPs have got a lot more open to the idea they exist, and the change from 20 years ago is enormous! Having said that, there's still a perception among some people that allergies are an advanced form of hypochondria among the Aga-owning sector of society. Some people probably do treat allergies as a sort of fad diet, and it's probably still true that allergies are better diagnosed among the middle classes. But allergies affect people mostly on the basis of their genetics, and not their wallets, and they are very real! I expect that in time perceptions will catch up with reality.

The alternative to self-diagnosis is to have professional allergy testing done. Which? magazine recently published a terrifying study, which found that many companies offering allergy testing were coming up with extremely inaccurate results — both finding sensitivites where there were none, and failing to diagnose life-threatening allergies. Your doctor should be able to advise which tests are trustworthy.

There is now a lot of money in allergies and intolerances, as you'll see if you go to Allergy Fairs. Wherever there's a new market there'll be people capitalising, and there may be unscrupulous companies offering tests they know to be imprecise. Intolerances and allergies seem to require different testing to show up, because of the different way they work in the body. And even Harley St clinics expect a 10% inaccuracy in their allergy test results, because the white blood cells don't always behave! Most people who have tests done already have an inkling they have allergies of some sort, and usually a fair idea what they're sensitive to. I guess until someone invents a foolproof test the best thing to do is research the types of test and use a reputable company, and temper the results with your own common sense.

In the old days the test for coeliac disease involved eating wheat for three months and then having a biopsy to see whether the villi (tiny finger-like projections in the intestines which absorb nutrients) were all flattened and dejected. This was not an attractive option! The new version usually just consists of a blood test, though you do still need to eat wheat beforehand. This is called a wheat challenge, and involves eating 4 slices of bread per day for 2 — 6 weeks, which still means you have to make yourself ill in order to prove your own diagnosis! If you have reason to believe you're coeliac and have not yet tried an exclusion diet then get tested before you do!

One benefit of being diagnosed as coeliac by a doctor is that you can get some gluten-free foods much cheaper on prescription, and some are only available this way. There is currently an NHS drive to find all the coeliacs who are out there undiagnosed, so all doctors should be on the lookout. The symptoms can be similar to IBS and a number of other problems, but tests should give a conclusive answer.

Undiagnosed coeliacs are liable to various problems including cancer of the bowel, because the immune system becomes suppressed and constantly at full stretch. Anaemia and other vitamin absorption problems are likely too. It's worth being certain you're cutting out the right foods! And surprisingly diagnosis can sometimes broaden the range of things you can eat - eg foods containing wheat starch might be ok after all.
---
Allergies vs Intolerences
I have read almost as many explanations for the difference between allergies and intolerances as there are medical experts — everyone seems to have a pet theory. In general food intolerances are thought not to be caused by the immune system (necessarily) and to be relatively slow onset, while allergies are immediate and involve an antibody called IgE. Most experts accept that the definition is blurred anyway, and by the time you have to avoid a food this discussion seems a bit academic!

Allergies have greater status because of anaphylactic shock. Even the most unaware man on the street is likely to have heard you can die from eating peanuts or being stung by a bee, and that this is because of allergies. So if you want to be taken seriously you're better off describing your condition as an allergy rather than an intolerance. Of course we're talking about everyday situations here, not a conversation with your doctor or allergy specialist!

And while it can be useful to shock people into taking you seriously, you'll need to explain to significant figures in your life what the consequences of eating the wrong foods are. Colleagues, family and friends will probably be curious when they first discover about allergies. While it may be uncomfortable to explain in detail your medical problems remember you're being an advocate for everyone else in the world with dietary problems. If you are prepared to talk about things calmly and honestly the easier it will be for the next person with an allergy that each of those people meet. It's always a relief when someone says "Oh yes — my friend/aunt/brother can't eat..." and you know you're with someone who understands.

It's not easy to make someone understand what it's like to have food allergies. Usually vegetarians find it easier to grasp, as they're used to assessing food and avoiding ingredients that are sometimes hidden. But for everyone else you are asking them to consider something safe and vital as something invisible and dangerous. It requires quite a change of mindset.

I find the first conversation usually goes along these lines:
You: I'm allergic to wheat.
Friend: What does that mean?
You: I can't eat things with flour in — bread, pastry, pasta, pizza, biscuits, that kind of thing.
Friend: What the hell do you eat?
You: Well, potatoes, rice, cornflakes, meat, vegetables...
Friend: Oh! Don't those have wheat in?
Somehow they get you coming and going!

Don't be too upset when even your nearest and dearest suddenly offer you a sandwich after years of remembering you don't. They'll probably be more mortified than you. And do try to remember what other people can't eat! People with allergies themselves can be astonishingly bad at this. Maybe that part of the brain is already full with their own information, we might conclude kindly... Or maybe the allergy-sufferer is just used to being the special one where food is concerned.

If I were in charge I'd have a national special diets week, where everyone would try cutting something out of their diet, and all restaurants would have to label their menus properly.
---
Some Biochemistry
Allergies and intolerances are a result of the immune system working overtime. The body has to be able to distinguish between friend and foe — ie things that it's safe to find in the body like food and things which definitely shouldn't be there like viruses. It must be able to react to tiny quantities of bacteria and viruses before they overrun the system, but allow the body's own cells, proteins, molecules and fuel to go unmolested. Given that the two immune systems(!) we have are so complex it is only surprising they don't go wrong more often.

What seems to happen in allergies is that the different types of antibody become sensitive to the wrong things. It's a bit like an innocent citizen ending up on a Wanted poster with all the police after him, although he hasn't done anything wrong. This is a much better way for the system to malfunction than if the immune system were to let all the baddies go free, as we're exposed to so many germs and invaders all the time that we'd be overcome very quickly.

Allergies are a combination of nature and nurture — your genes give you trigger-happy antibodies, but what they become oversensitive to depends on what they meet. In Europe or America where wheat is cheap and prevalent wheat allergies are common. In these countries peanuts are often added to processed foods, as they're nutritious and protein-rich. Nut allergies rise alongside this practice.

The converse is also true, however, that growing up in a place with no cows doesn't mean you won't be free of sensitivities: there is a prevalence in some Asian countries for lactose sensitivity because adults have no enzymes to break down the lactose and use it in the body. This is like the native American sensitivity to alcohol because the enzyme which breaks down alcohol is not produced. Alcohol is poisonous (to everyone) while lactose is not, but undigested lactose present in the body where it should not be could cause the immune system to respond, resulting in an allergy.

If you go undiagnosed for a long time and continue eating a lot of something you're allergic to then you can make yourself allergic to more substances. Let's say you always eat bread with strawberry jam. Your body reacts to the bread, and mobilises the immune system. If this happens often enough you are effectively training the body to respond to whatever's there, and in time you can become allergic to strawberry jam, even if you eat it without bread. In your darkest hours of temptation this can help you remember it is worth giving up those lovely foodstuffs after all.

There is still a lot that is not properly understood. It's relatively easy to isolate one protein, make more of it, run tests and so on. It's harder to study a whole system like this, with so many interactions. And then there's the brain chemistry. Food affects mood, even in non-allergic people, and we don't really understand that either. There's lots of research going on, and one set of results often contradicts another. It's wise to ask who is sponsoring each study.

Advice on best practice for small babies is very contradictory — nuts, no nuts, dust, no dust, is breastfeeding helpful or not? The debates rage, and presumably parents just do their best in the middle of it all! All babies are born with a hole in the gut, which closes up after birth. It's possible that allergens pass into the blood stream during this phase, triggering lasting sensitivities. Or it may be that foods pass into the blood causing the body to think of them as benevolent later on... As far as I know the jury's still out on this one.
---
Sourdough vs The Chorleywood Bread Process
There has been a suggestion (see Bread Matters by Andrew Whitley) that the Chorleywood Bread Process (CBP) may have contributed to the rise in gluten allergies. CBP was invented for speed and thrift, and by a variety of means it substantially cuts down the time needed to bake bread. The bread produced has lower nutrional value, higher salt, more chemicals and can be produced with UK-grown low protein wheat. 80% of the bread in the UK is made this way.

Its link with gluten intolerances is that the traditional slow fermentation partially breaks down the gluten. The quicker fermentation of CBP does not, meaning that the body has to deal with larger particles, and they're easier to become allergic to. Slow fermentation would also break down ergot (a bacterium) which grew on the grain and produced something akin to LSD. This was very important historically, before we could store flour hygienically.

Some breadmakers have a QuickBake sort of cycle, which only has one rising stage, and makes bread in 1h20 minutes as opposed to 3 or 4 hours for normal cycles. If you're worried about intolerances it's probably best to go for the longer cycles, even though with gluten-free flours the makers recommend the Quick cycles. This should help to avoid problems with yeast and flour that have remained unchanged.

Beware — advocates of artisanal breadmaking and especially sourdough fans will try to convince you that such breads will be safe for you. This does not necessarily follow, unfortunately! Once the body has developed a sensitivity it may still react to any bread, even lovingly hand crafted sourdough. If you do want to try it be careful - some sourdoughs are sprinkled with flour to make them look rustic — this flour will not have been slowly fermented and will still be full of gluten.

You will know the possible consequences of an adverse reaction, and be able to weigh up the possible benefit of being able to eat sourdough bread. I've never tried spelt pasta, because the benefit does not outweigh the possibility of being ill, and true gluten-free pastas are probably as readily available as spelt, and are very nice. Bear in mind, too, that you would need to try a new food on several occasions a couple of weeks apart in order to know if you get a reaction (like the wheat challenge before the coeliac test). This is because of how long it takes the body to mobilise the antibodies.

The term coeliac (19th Century) pre-dates the term allergy (1906) and something very like coeliac disease is described by the ancient Greeks. Both pre-date CBP.
---
The Future
The future is almost certainly going to improve for people on special diets. Gene therapy is developing all the time, and that's what you need if you want to correct a faulty immune system. Knowledge and specialist products are increasing. Scientists are discovering more and more about immune systems and metabolism.

But the advances in the last 20 years have been huge. It's almost surreal to think of the journey allergies and free-from foods have taken in my lifetime. My parents were diagnosed with food allergies in the mid '80s. In rural Herefordshire no-one had heard of allergies, and people tended to assume you were imagining things if you thought your food was making you ill. Gluten-free as a term didn't really exist. If you wanted bread you had to make it, and I do remember the most vile experimentations wrought by my poor mother. Her buckwheat bricks were totally inedible with anything other than salad cream. And now we live in a world where it's reasonable to walk into any cafe or restaurant and ask what is gluten-free, or to walk into a supermarket and buy free-from poptarts. It's another world.

Things aren't perfect right now. The larger the institution the greater the inertia, and some of the worst culprits for not being able to supply safe food are places like colleges and hospitals. On a medical note: some medicines are not available without lactose, including the contraceptive pill, although the g/f situation here is definitely getting better.

I'd like to see the development of paper indicator strips which you can dip in a small amount of food in order to tell whether it contains gluten. It's possible to detect glucose like this - diabetics already use them to test their blood sugar. It'll take a bit of biochemical research, particularly to make a test which works immediately, but it should be perfectly possible. When you see these in the shops, remember you read it here first!
And finally, an exhortation.
Remember you are not A Coeliac: you are a person who happens not to be able to eat gluten. Be you first and foremost, and if at all possible, stay calm about and continue enjoying food. Good luck.
---
© Jenny Pawsey 2009. Updated March 2015.