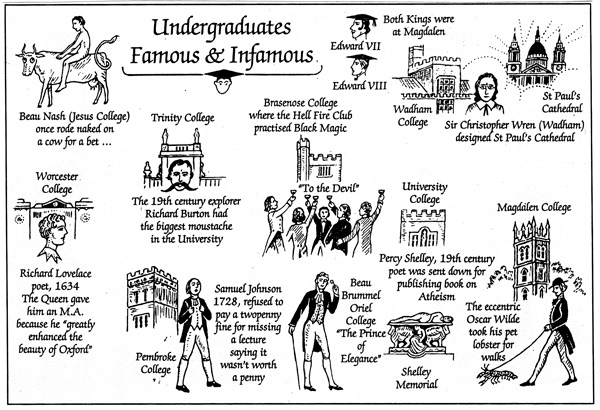 Visitors arriving in Oxford and demanding to see "The University" are liable to be disappointed. Unlike most universities, which are purpose-built on distinct integrated sites, the University of Oxford has evolved as a federation of largely autonomous colleges, which, for the most part, are found in the very centre of the city. Each college has its own rules and constitution, and individuals are at the University only by virtue of their membership of a college. There is a central administration, headed by the Chancellor and Vice-Chancellor, which for a long time was housed in the Clarendon Building on Broad Street but is now to be found in a purpose-built office block in Wellington Square, and the various faculties organise lectures and practicals as appropriate; most teaching - classes and tutorials - is, however, arranged by the individual colleges.
By international standards, Oxford University is modest in size, with just over 22,000 students at the various colleges (2014 - more facts and figures here). All are now mixed, now including St Hilda's college, which began accepting male students in 2008. Most undergraduates are 18 when they start their course of study (except those from Scotland, who will be a year younger), and most courses last for three years (although a significant minority, including Classics and Chemistry, last for four). Students are attracted from private and state schools in roughly equal numbers.
Trivium and Quadrivium
The life of an Oxford student has, of course, changed immeasurably over the centuries. In the earliest days, the course was divided into three parts. The first of these, the Trivium, consisted of a year's study in each of Rhetoric, Grammar and Logic. The second part, the Quadrivium, took four years to complete, with Arithmetic, Geometry, Music and Astronomy being taken for three terms each. The Master of Arts degree was awarded on completion of this course, and a ten-year period of study would commence, culminating in conferral of the degree Doctor of Divinity, still regarded as Oxford's highest academic award.
The dominance of religion in Oxford persisted through to the late nineteenth and early twentieth centuries, with Benjamin Jowett, a Master of Balliol college, warning one nineteenth century atheist that he would be sent down if he did not believe in God by the following morning. Right up to the Second World War students were expected to attend chapel every morning; those who professed to be Muslims or who otherwise believed themselves to be exempt from attendance at the service had nonetheless to sign up at the door.
Religion and Tradition
It is also true that Oxford remains a very religious university, with the intercollegiate Christian Union a large and active body. The rousing evangelical sermons at St Aldate's always draw large congregations, but all tastes are catered for, and there is generally a good turnout for the annual sermon on 'Pride' at the University Church (which is incomprehensible to most since it is preached in Latin).
Latin, indeed, is the language used in the first major University ceremony that undergraduates attend - Matriculation (when students are formally admitted to the University, usually in their first term) - as well as what may be the last: Graduation (where degrees are conferred). 'Sub Fusc' must be worn at these ancient rituals (see picture, top of this page): the black cap and gown (short for most students, full length for scholars, those students who do particularly well in their second year exams, Prelims) are worn over dark suit/skirt and white shirt with black tie or ribbon. The same outfit is required for examinations, taken at the grand purpose-built Examination Schools on the High Street. Candidates are reputed to be able to send for cakes and ale as sustenance, but such requests are usually turned down on the grounds that the candidate is improperly dressed - lacking details such as shoes with buckles or a dress sword. It is not unusual for students to be warned that the hue of their suit is too light for regulations. You'll notice that as well as sub fusc, finalists often wear carnation buttonholes of different colours. It's white for the first day of exams, red for the last, and pink for all the ones in between.
Undergraduate Days
Some colleges still insist that gowns be worn for dinner (which makes it easier to understand how Brasenose's Dean got into the papers in 2012 for banning students from wearing pyjamas to breakfast), and the evening meal remains a focal point of college life, when students are brought together regardless of their subject or year. A typical day depends on what subject a student is reading; scientists may have lectures and practicals during the day; those reading arts subjects may have lectures or seminars to attend. The centrepiece of the teaching at Oxford is the tutorial, where one or two students meet a tutor face to face for an hour or so once or twice a week. An essay has usually been prepared in advance and is discussed. This close personal supervision can allow students to receive help and guidance on personal as well as academic matters, but, in practice, can be haphazard.

It is unusual for students to be able to live in college during all their years of study. Most will need to 'live out' - either in private accommodation or in college-owned buildings further from the city centre - for one or more years of their undergraduate degree. There is an extremely vibrant rental market for shared housing in Oxford, as evidenced by local Rooms to Let and Houses and Flats To Let classified ad pages (read more info on accommodation in Oxford here).
Socially, a huge number of clubs and societies cater for every interest. College drama societies flourish and recitals and concerts take place every day. Sporting facilities are good and rowing is pre-eminent – everyone is encouraged to have a go and compete in the two big regattas, Torpids in late February and Eights in late May. The rules are slightly different in each case, but the basic idea is the same: the boats start one behind the other and each crew attempts to catch up the crew in front (thus 'bumping' them) before being caught themselves ('bumped') by the chasing crew. Failure to make contact with another boat either fore or aft is a particularly exhausting experience known as 'rowing over' the entire two kilometre course. A crew which achieves a bump on each day of racing is entitled to keep its oars ('to win blades'). Over 100 boats take part, divided up into divisions, and the crew which finishes top of the highest division is said to be "Head of the River". In recent years Oriel College has been outstandingly successful.
For a quaintly old-fashioned individual view of Oxford life in illustrated format, have a look at 'Potter-Pourri' by Mary Potter (£3.50, available from us on 01865 241133 or by emailing [email protected]). Thirty-six sketches of various aspects of the city and university are complemented by background notes and a host of anecdotes, all put together by our once-resident cartoonist (with some text supplied by our founder, John Rose).