Find the perfect Oxford venue for your class, meeting, conference or party!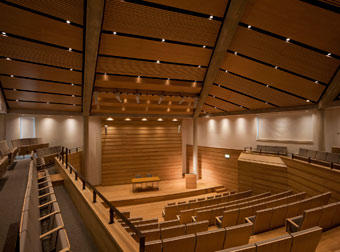 Looking for a calm, light space to hold your yoga class? Or a stylish setting for your conference? Or a party room for a birthday do? As befits a culturally active city, Oxford is rich in venues to suit occasions of all ambiences, sizes and budgets, from village halls at £10/hour to University function rooms at £500/hour.
Sections on this page:
Other useful Daily Info pages:
Venues by location
Venues in OX1
Venues in OX2
Venues in OX3
Venues in OX4
Venues in Cherwell District - including Kidlington, Bicester and Banbury
Venues in South Oxfordshire District - including Thame, Didcot, Wallingford and Henley
Venues in Vale of the White Horse District - including Abingdon, Wantage and Faringdon
Venues in West Oxfordshire District - including Woodstock, Witney and Chipping Norton
Venues by type
Village & Community Halls
Conference Facilities
Advice and questions to consider when hiring a hall
Work out the things you particularly need to know for your kind of event before you get in touch. This may seem obvious, but if you're deciding between several places there's an awful lot of information you will need to keep track of in your process of elimination.
If you're having a party, you might want to know whether the venue supplies its own sound system and how that affects the format of the music you bring. If you want special lighting effects, can they be provided? Will they let you add your own touches for decoration? And by what time do they need any such touches removed? How big is the dance floor? What time does the party have to end (very important, that one)?
Many venues offer catering, which is all well and good unless you particularly want to source some or all of your catering externally - check carefully, if that's the case, that you're not signing up for an unexpected corkage charge.
For a conference or a lecture, you might want to check the availability in house of tea, coffee or other supplies, whether wifi use is included, and whether there's a projector or sound system. Parking and public transport routes are always good things to ask about, especially because Oxford's buses are fairly decent and its parking facilities fairly awful, so it can be useful to inform your attendees of a specially easy way to arrive.
Doing something musical? Below you'll find music venues from the down-home style of village hall to the breathlessly upmarket glamour of the Sheldonian. For the professional low-down, have a look at our searchable databases of Oxford Concert Venues and Oxford Gig Venues - these are comprehensive guides with reviews on acoustics, facilities and floor stickiness by local classical and popular musicians.
If you want a stage, it's often worth considering schools. If the sound system is very important, you probably want to go for a professional gig venue such as The Wheatsheaf, or try one of the college auditoria.
To avoid nasty surprises, check well in advance that the venue has the right licensing for what you plan to do in it (performance / consumption of alcohol / live or recorded music). If not, it may be possible to get a Temporary Event Notice from the local authority. And always ask about cleaning and insurance arrangements, and the deadline and fee for changes and cancellations!