Daily Info's Tips on Oxford:
Eating out in Oxford
Oxford's food scene is of a sufficient size, diversity and quality to satisfy almost anyone. Unless, that is, you are from London. Sorry Londoners, we don't have a Korean burrito shack or (m)any Michelin stars to our name.
Arriving in the city for the first time, visitors may not be wowed by their immediate options. The area running down George Street, Gloucester Green and the Castle Quarter is where you will find the usual chain restaurant suspects: Nandos, Gourmet Burger Kitchen and the like. Unfortunately, since this is the main thoroughfare between the train station and the city centre, it's often the only part of town many visitors will think of when going out for a meal. Don't fall into this trap! Looking elsewhere will get you much more variety and better quality for your money.
Wining and Dining
The city's best selection of independent restaurants can be found in East Oxford, especially the area on and around Cowley Road. It is here you will discover Moya, Oxford's only Slovakian restaurant, an excellent cocktail bar and a firm Daily Info staff favourite serving the best ghoulash west of the Alps (we assume). For Italian food, try Mario's and make sure that you arrive early, since it is often so bustling with actual Italians (authenticity!) that it is difficult to get a seat. Ten minutes walk away, on the corner of Cowley Road's more sedate neighbour, Iffley Road, the Magdalen Arms serves delicious, upscale pub grub and an alluring Sunday lunch, and Cuttlefish on St Clement's will meet all of your seafood needs.
East Oxford is also the heart of Oxford's south Asian community and accordingly home to the best Indian and Bangladeshi food in the city. Try longstanding institution Aziz - which celebrated its 25th anniversary in 2015. There has been a happy boomlet of Nepalese restaurants in recent years, so go along to Kadai & Naan or Everest - a converted ex-pub on Howard Street - for something a bit different. Best of all is Yeti, where the manically loquacious chef might give you some free popadoms.
Twenty years ago, you might have been hard pressed to find Asian cuisine in the city that did not consist entirely of curry. Thankfully, Oxford's food scene has diversified and improved since then and Japanese, Chinese, Lebanese and Thai restaurants are all in good supply. Al Shami is an excellent Lebanese option, especially for large groups, since its long tables and mezze style menu make sharing a doddle. Zheng serves up a spicy fusion of Chinese and Malaysian flavours courtesy of chef Adam Tan, or if you have never sampled aromatic Thai dishes below Elizabethan timber beams, we recommend that you go promptly to Chiang Mai Kitchen. For Japanese food, try Taberu or Edamamé and be aware that the latter's tiny size and no-booking policy might mean it is difficult to get a seat at peak times. Edamamé will be a doddle, however, in comparison with much-hyped Oli's Thai, which is often fully booked months in advance. They do leave some tables unreserved for walk-ins, so arrive early and in a small group for your best chance of sampling their daily-changing menu.
Oxford has a smallish number of delicious, upscale restaurants perfect for special occasions. Students: wait until your parents come to visit and make them take you for a meal at Gee's, or in fancy riverside surroundings at the Folly or the Cherwell Boathouse.
Browse/search all Oxford restaurants here...
Cafés, Sandwich Shops and Light Bites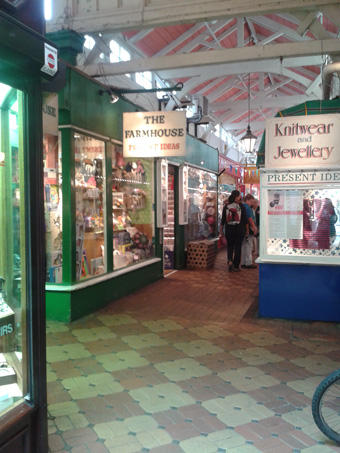 The winding, picturesque alleyways of the Covered Market, which dates to 1774, are a good place to start. You will find plenty of tasty options here, but it is difficult to go wrong with Pieminister's gourmet take on the traditional pie 'n' mash (whatever you order, make sure it comes with a side of their minty mushy peas) or one of Alpha Bar's monstrous salads. Afterwards, go to Ben's Cookies for the best baked treats in Oxford, or possibly anywhere, sold warm and by weight straight out of the oven.
By this point, your stomach will doubtless be groaning and you'll be ready for a siesta. To ward the nap away, head to the nearby Missing Bean, one of several trendy coffee shops that have sprung up in recent years. Other examples include Peloton Espresso on Cowley Road, Jericho Coffee Traders on King Edward Street, Brew on North Parade and the vibrant George Street Social.
The much-loved St Giles' Café reopened under new management in 2013 to much hand-wringing about the decline and fall of the traditional greasy spoon. Luckily, the new version serves an excellent, if rather less greasy, breakfast. Other good breakfast options are Rick's on Cowley Road and the Jericho Café. Sandwich-related needs in the centre of town are well catered for by several branches of local chain Taylors.
Oxford being an idyllic, historic kind of place, at some point you might find yourself craving a spot of high tea. If it's sunny, try the terrace of the Vaults & Garden Café and let your tea get cold while you gape in awe at the beauty of the University Church and Radcliffe Camera. There's also the Rose a few minutes walk away or the swanky Grand Café, which claims to occupy the site of the oldest coffee shop in the country, just opposite that.
It wouldn't be right to discuss Oxford cafés without a nod to G&D's, the city's favourite ice cream shop. Their three locations - on Little Clarendon Street, St. Aldates and Cowley Road - deliver a regularly changing flavour selection, along with baked goods and scrumptious pizza bagels.
Pub Grub
Oxford does not have more pubs than you can shake a stick at (we've tried and the stick is still extant) but it certainly does have a lot of pubs, and the vast majority of them serve food. Some of the best are located in Jericho. The Old Bookbinders recently reopened under French management and boasts a suitably mouth-watering menu, while the Victoria, not far away, specialises in traditional British pies. A little-known favourite of ours is the Gardener's Arms, whose entirely vegetarian menu will appeal even to avowed carnivores. Elsewhere, there's the Magdalen Arms (as mentioned in the restaurants section above) and delicious pizza to be had at the White Rabbit (on the former site of a heavy metal pub. I don't imagine they served pizza).
Search for pubs that serve food here...
Takeaways
Predictably, most Indian, Chinese, Thai, pizza etc. restaurants offer takeaways, but there are also some surprise takeaway options like Branca. For fun, pop culture-themed, artery clogging fare we recommend Atomic Burger, but perhaps the best burgers of all are at Pepper's. Many establishments will offer free delivery within a certain distance or takeaway discounts, so it's always worth asking before you order.
The Oxford Kebab Experience
Oxford is blessed with a number of life-enhancing kebab vans, which our reviewers have risked life and limb to try out. Where to go, what to avoid, and who does the best Chips & Cheese: all of the answers are below.
Learn more about the Oxford kebab experience here....
Drinking in Oxford
Pubs, glorious pubs. And, increasingly, some bars too. Oxford has a large and expanding crop of places to go out for a drink, varying from venerable city centre boozers to peaceful riverside beer gardens to swish cocktail bars. Below is a guide to some of our favourites.
Watering Holes
Starting in the city centre, you are a mere few minutes walk from some of the Britain's oldest and prettiest pubs, now suffering from various degrees of tourist saturation. The Bear Inn on Alfred Street, dating to 1241, claims to be the city's oldest. Accordingly, it was built with exceedingly tiny people in mind, and anyone over the height of six feet or having drunk in excess four pints should be wary of crashing their head on a low-slung beam. The Turf Tavern - said to be Bill Clinton's favourite pub when he was a student here - has a similar setup but also benefits from the addition of three large outdoor terraces: ideal for an afternoon drink on a summer day.
Just around the corner is the King's Arms, a large, studenty sort of place with a fetching coat of pastel paint and a good ale selection. If the weather is nice, the outside tables are some of the most sought-after in town. Other student haunts in the centre of town are the Lamb & Flag on St. Giles, which has been pulling pints for Oxford residents since the reign of Elizabeth I, and the Rose and Crown on North Parade Avenue, which hosts regular jazz events in their courtyard.
For those in the market for a quiet pint in cosy surroundings, Oxford is blessed with plentiful nook-and-cranny pubs. Try the miniscule White Horse on Broad Street, which, considering its ultra central location, really should be busier than it is. Also tiny and characterful is the Half Moon, Oxford's best Irish pub, whose live folk gigs on Wednesday and Sunday nights stretch on until 2am. Round the corner on Iffley Road there's the Fir Tree, a friendly, all-purpose sort of place with a good Thursday night pub quiz. In Jericho, we recommend the Gardener's Arms and Old Bookbinders, which have you covered for board games, fireplaces and comfy armchairs.
Eventually, if you linger in Oxford long enough, sunshine may arrive and you may feel ready to ditch the comfort of the armchair and the fireplace for the attractions of drinking outdoors. In such circumstances you don't need to venture far from the city centre to find riverside surroundings: try the bustling Head of the River, which boasts an enormous terrace right on the banks of the Thames. Those who want to feel like they've earned their drink might prefer the walk across Port Meadow to the recently refurbished and pleasantly thatched Perch, or a punt upriver to the sprawling lawns of the Victoria Arms. A bit further afield, there's the Trout Inn in Wolvercote, an upscale, slightly mad establishment featuring a waterfall and a roaming family of peacocks. Not recommended for ornithophobes.
As elsewhere, gastropubs have flourished and multiplied in Oxford in recent years. Along with those mentioned in the food section above, we recommend the fresh, pleasantly modern Rusty Bicycle and its newer Jericho offshoot, the Rickety Press. In the same vein, price- and atmospherewise, the Cape of Good Hope is conveniently located on the fringe between East Oxford and the city centre, and offers a funky take on a traditional pub grub menu. One step more gastro will take you to the Anchor Inn, which also offers a tantalising weekend brunch menu.
Search for Oxford pubs here...
Bars, Wine and Cocktails
If pubs aren't really your thing, the first thing you should do is to ask yourself why pubs aren't really your thing. The second thing you should do is head to Raoul's, the jewel in the crown of Jericho's cocktail bar scene and the sort of place that gets ranked among the best bars in the UK, let alone Oxford. Their Donn Beach Zombie - limited to two per customer per visit - has been known to finish many a punter's night. Not far down Walton Street, Freud serves probably lesser cocktails but in the magnificent surroundings of a 19th century neoclassical church. Within convenient drunken stumbling distance there's also the Duke of Cambridge and Angels. Other parts of town are less well served with cocktails, but if you're in East Oxford try Moya or Kazbar. In the centre of town, your best bet may be the Varsity Club. Nestled in the very heart of the University, its rooftop terrace offers unbeatable views over the dreaming spires.
Two newish spots in East Oxford fall into a category of their own. Both Big Society and Joe Perks & Co. embrace a formula of craft beers and gourmet hot dogs. Good if you've just moved here from Brooklyn.
Oxford has relatively little in the way of specialist wine establishments. There are two we know of: 1855 in the Castle Complex, on the former site of Krispy Kreme, and the Summertown-based Oxford Wine Café, which also offers free weekly Sunday night jazz sessions and regular tasting events.
Clubs and Dancing
The densest cluster of commercial nightclubs can be found near the station, in the form of the Bridge, Atik (or Park End as it will forever be known), Thirst and Spirit. Venture underground at Frewin Court to take in the glitz and glamour of Plush Lounge, Oxford's premier LGBTQ+ nightclub. The Bullingdon on Cowley Road is a reliable spot for weekend club nights and midweek gigs and, if all else fails, there's always the O2.
Go here for a more extensive list...
Where to buy?
Farmers' Markets – Low on artisinal yak's cheese? Don't worry - we have collated all of Oxford's farmers' markets for you. Read market shoppers' experiences on Daily Info's Guide.
Food Shopping in Oxford – includes lists of bakers, Delis, Supermarkets and providers of speciality foodstuffs in Oxford. Also includes details of local Organic Vegetable Box delivery schemes.
Oxford Drink – not a command, but perhaps a suggestion, with which the listed Off-Licences will help you comply.
Speciality Shopping Online – An enormous world of choice is out there, and we make some special recommendations.