A Guide to Oxford's Literary Locations
(Please be aware this article contains spoilers)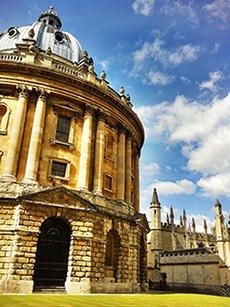 Oxford is full of ghosts. The poet Edward Thomas, writing about Oxford in 1903, declared that, "the past and the dead have here, as it were, a corporate life. They are an influence, an authority; they create and legislate to-day…the city and all its component ages speak out…as I walk, I seem to be in the living past."
A great part of Oxford's past is its rich literary history, and particularly its own presence in literature. It has been written about, again and again, woven into its own lore, brought to many different lives by many different authors. Sometimes fictional Oxfords bleed into each other, and sometimes, as in Thomas Hardy's Jude the Obscure, it feels like the ghosts are out in full force: "There were poets abroad, of early date and of late, from the friend and eulogist of Shakespeare down to him who has recently passed into silence, and that musical one of the tribe who is still among us."
This is a guide of sorts to Oxford, a map of locations in the city made meaningful in novels. Oxford features in many more novels than are mentioned here, of course, and there is much more of Oxford than the small central radius in which all of the sites described below lie – but if you want to walk with the ghosts awhile, this is a good place to start:
Centre of Town
Catte Street and the Radcliffe Camera
The blue-domed Radcliffe Camera, with its piebald stone and golden glow, is the quintessential Oxford building: full of books and students bent over desks, flanked by colleges (All Souls to one side and Brasenose to the other), presided over by the tower of the University Church of St. Mary's, ringed by lawn and cobbles and iron fencing to which residents regularly lock their bicycles.
Near here, "in All Souls, in Catte Street, across from the old Bodleian Library and the Radcliffe Camera", stands the nameless narrator of Javiar Marías' All Souls, speaking with his married lover, the scholar Clare Bayes. They are waiting for Clare's husband and a friend to arrive so that they can all go out to lunch. Marías' narrator returns repeatedly to this place, this moment, in his account of his two years as a visiting lecturer at Oxford. It's the fifth of November, nine months after Bayes and the narrator first met – "I remember the date because it was Guy Fawkes Day and from Clare's study window, in All Souls, in Catte Street, across from the old Bodleian Library and the Radcliffe Camera, I could see some little boys begging pennies for the guy they'd made for the occasion out of rags, string and old clothes". After a tense conversation the narrator goes to the window and Clare joins him; "the boys were on the steps of the Radcliffe Camera begging for pennies for their guy. I opened the window and threw them a coin, and the clink of coin on stone made the four of them look around at us".
New College Lane
Walk away from the Radcliffe Camera, towards Broad Street, and you'll encounter another pair of fictional Oxford lovers, these a little happier than Clare Bayes and her visiting lecturer. Dorothy L. Sayers' 1935 Gaudy Night is, on the surface, a murder mystery, but it's also a love story, charting the growing affection between Sayers' famous aristocratic detective, Lord Peter Wimsey, and the crime writer Harriet Vane. The novel ends in New College Lane where, murder neatly solved, Harriet eventually accepts Peter's marriage proposal:
"The traffic lights winked at the Holywell Corner: Yes; No; Wait. Cat Street was crossed and the shadows of New College walls had swallowed them up before she spoke" – and so in the closing paragraph they stand "closely and passionately embracing in New College Lane".
Broad Street
Retracing Peter and Harriet's steps, across Catte Street and the traffic lights at Holywell Street, which still wink, we find ourselves on Broad Street, where we're joined by William Jones, father of the eponymous Edgar in Elizabeth Garner's The Ingenious Edgar Jones. The book opens on the night of Edgar's birth: the 28th February, 1847. William, a night porter at an Oxford college, is walking to work from his home in Jericho; unbeknownst to him, as he strides down Broad Street his wife Eleanor is just beginning to go into labour. Broad Street holds particular significance to William, we learn, as he passes "the White Horse tavern, with its belly of a window pushing out upon the street. Every night it framed the same tableau; roaring men, jostling against each other, their backs bent by the beams. It was still remarkable to William that it was here, two years previously, that he had found the woman who had made him a husband. But that was the truth, and all he could really conclude from it was that here was opportunity in any corner of this world if only one had the wits and the will to look for it." The belly of the White Horse's window still pushes out upon the street, tucked between two arms of Blackwell's, and in its quiet way it may well serve as a reminder that opportunity may be found in any corner of the world.
Across from the White Horse is one of Oxford's most iconic buildings, the Sheldonian Theatre, designed by Christopher Wren in the 17th century and guarded by thirteen anonymous stone heads, known as herms. In Max Beerbohm's satirical Oxford novel, Zuleika Dobson, the herms act as a sort of Greek chorus. Beerbohm's "Roman Emperors" foresee the ruin that beautiful Zuleika, granddaughter of the Warden of fictional Judas College, will bring Oxford. The "high grim busts" note the arrival of Zuleika and pity the doomed Duke of Dorset who will, along with almost the entire undergraduate population at Oxford – all hopelessly in love with Zuleika – soon drown himself. The stone heads had, Beerbohm tells us, "awaited thousands and innumerable thousands of daybreak in the Broad, these Emperors, counting the long slow hours till the night were over. It is in the night especially that their fallen greatness haunts them. Day brings some distraction. They are not incurious of the lives around them – these little lives that succeed one another so quickly. To them, in their immemorial old age, youth is a constant wonder. And so is death, which to them comes not." Though as a matter of fact death did come to the Emperors, or at least to Beerbohm's emperors: the present set of heads were actually created in the early 1970s by the sculptor Michael Black, who copied the decayed originals.
The Covered Market
An antidote to the gaze of fantastical stone emperors is a trip to Oxford's Covered Market, which feels reassuringly prosaic, full of shops and cafes and people pushing past each other, lingering at windows, sampling cheese, choosing cuts of meat. In Joanna Trollope's The Men and the Girls it serves as the location for an attempted reconciliation between Kate, who has just left her long-term partner, and her angry teenage daughter Joss:
"She had said she would meet Joss by the hot little shop that baked huge American cookies on the spot, which you could carry away, warm and scented in an excitingly unEnglish kind of paper bag. Joss was late. Kate put her hands in her trouser pockets, and leaned against a blind wall of the cookie shop, and watched the people throng past, the local people buying cabbages and pounds of sausages, and the tourists, drifting in the mildly, aimlessly inquisitive way peculiar to all tourists."
Perhaps the hot little shop is Ben's Cookies, established in 1984 and now a successful chain; the original remains in the covered market, near the entrance from the High Street, and it is still possible to carry a freshly baked cookie away in a paper bag. The covered market also features in Philip Larkin's novel Jill, written while he was at Oxford during the Second World War. It centres on John Kemp, an undergraduate whose ordinary Northern upbringing and social inexperience set him apart from his fellow undergraduates. John visits the covered market and finds it a site of comfort, where he knows how to "choose lettuces with sound fresh hearts, and radishes that were not fibrous":
"The market was the best place to buy them, a stone-paved maze of semi-permanent stalls covered with a glass roof right in the centre of the town. John… had discovered that to step into it from the streets out side was to enter an unexpectedly different world, a world he found he liked. It smelt of chrysanthemums and vegetables; all around the butchers' shops sawdust was scattered on the stone flags, naked electric bulbs shone on boxes of fruit, and always pools of water were slowly draining and drying away as if the place was sluiced down with a hosepipe every hour or so."
Museums, Gardens and Rivers
The Ashmolean
Oxford's museum of art and archaeology is where the narrator of Javier Marías' All Souls sees his lover's son for the first and only time: "It happened at…the Ashmolean Museum of Art and Archaeology, a building that at the end of the seventeenth century housed the kingdom's first public exhibition of natural and historical curiosities (or rather the museum did, not the actual building, which did not become a home to them until two centuries later)." The actual building has undergone significant renovation, even since Marías' time (All Souls was published in 1989), but there is still a revolving door at the entrance, and it's here that the narrator, exiting the museum, "passed three people who were just coming in: the father, the daughter and the latter's son, that is, my lover with her son and her father." It's an outsider's book, told from the perspective of a visiting Spaniard, and there's something strangely poignant about the symbolism of the door, the inverted actions (they coming in, he going out); elsewhere in the book, the narrator notes that "in Oxford, the one really decisive factor is not just that I'm a foreigner about whom no one knows or cares…it's that there's no one here who knew me as a young man or as a child."
The Oxford University Museum of Natural History
Across the city is another well-loved museum: The Oxford University Museum of Natural History, on Parks Road, with its distinctive neo-Gothic architecture and glass roof. The building comes to life The Ingenious Edgar Jones, which is set during the period of its construction. Having been apprenticed to a blacksmith, Edgar finds himself recruited to help work on the building. When he first glimpses it it's still unfinished, wanting a roof, which has collapsed, and his first impression of it is as a living organism:
"The sandstone edifice sat in the centre of the University Parks, with row upon row of arched windows looking out across the land. It gave the impression of a crouching creature, many-eyed, watchful. In the middle of the wall was an arched wooden door, rearing up between the windows – a great mouth. The structure was skirted by a wasteland of rubble. It seemed to Edgar that this rock-beast had pushed itself up from under the earth, uprooting the parkland on its way into the world."
The Botanic Garden
Set back from Magdalen Bridge, lined on one edge by the river and by the gentle green of Christ Church Meadow and the Merton playing field on the other, the Botanic Garden is a good place to seek respite from the rock-beasts and bustle of the rest of the city. This is how it's framed in Evelyn Waugh's Brideshead Revisited, which opens in 1920s Oxford, where Waugh's narrator Charles Ryder first meets the childlike and charming Sebastian Flyte. Sebastian, having vomited through the window of Charles' rooms one night, guiltily invites the latter to lunch, an event which, Charles says, "was the beginning of a new epoch in my life". After everyone else leaves, Charles and Sebastian remain, drinking Cointreau, until Sebastian announces that he must go to the Botanical Gardens. They leave Sebastian's lodgings at Christ Church:
"He took my arm as we walked under the walls of Merton.
'I've never been to the Botanical Gardens,' I said.
'Oh, Charles, what a lot you have to learn! There's a beautiful arch there and more different kinds of ivy than I knew existed. I don't know where I should be without the Botanical Gardens.'"
The River
Even if you don't go in, you can get a good glimpse of the Botanic Garden from Magdalen Bridge. Here, too, is where many of the punts that are laboriously propelled up and down the river originate. This is an Oxford tradition, and it's whilst punting down the river in Gaudy Night that Harriet Vane finally acknowledges the tenderness she feels towards Lord Peter Wimsey. They agree to meet at Magdalen Bridge and set off on a summer afternoon in spite of Harriet's nostalgic misgivings ("There'll be an awful crowd on the river. The Cherwell's not what it was, especially on a Sunday. More like Bank Holiday at Margate, with gramophones and bathing-dresses and everybody barging into everybody else"). They make their way along the river and descend into a kind of wistfulness that feels peculiar to Oxford (and particularly Oxford literature); an encounter with old friends causes Peter to sigh: "It's the one great drawback to living in this place. It keeps you young. Too young." Eventually they find themselves "under the dappled shade of an overhanging willow a little down the left bank of the Isis"; where Harriet admits to herself that she loves him.
The Isis is, alas, also the site for a much less happy realisation of love's great pull in Zuleika Dobson; it's this stretch of river into which the suicidal undergraduates jump en masse during Eights Week: "From the towing-path – no more din there now, but great single cries of 'Zuleika!' – leapt figures innumerable", and when it's all over, "the patient river bore its awful burden towards Iffley." Earlier in the book, Zuleika and the Duke of Dorset walk down to the river together; the Duke, already intending to take his own life when they reach the water, looks up at the tower and as they pass Merton College. "Strange," he thinks, "that to-night it would still be standing here, in all its sober and solid beauty – still be gazing, over the roofs and chimneys, at the tower of Magdalen, its rightful bride. Through untold centuries of the future it would stand thus, gaze thus. He winced. Oxford walls have a way of belittling us".
"By all minerals we are mocked," Beerbohm writes as the Duke of Dorset trudges towards his fate and the stone walls and iron gates of Oxford stand steadfast, as they will "through untold centuries of the future" – and it's tempting, in such a city, which has inspired such reverent prose, to feel that the overwhelming character of the place is maudlin. But the closest thing to a truth about Oxford, or any place, is that there are multiple Oxfords, existing all at once, and sometimes, in the overlap, something new is born. So perhaps the trick is to not be weighed down by the ghosts, or stifled; to be amongst but independent of them. Nod at them as you walk past, but don't let their dramas define your own.
Miranda Ward, 2014
---
A selection of novels set in Oxford
The Waste Land, Simon Acland. Most of the action takes place before Oxford University was founded, following Hugh de Verdon's adventures in the First Crusade. But his tale is told by some Oxford Professors, whose commentary casts a different light on Hugh's adventures. The sequel, The Flowers of Evil, was published in 2011.
The Game, A S Byatt. Cassandra is an Oxford Don; Julia, her sister, is a bestselling novelist. They share a set of disturbing memories of a strange childhood game and of Simon, the handsome young neighbour who loved them both.
The Dead of Jericho, Colin Dexter. Morse turned the corner of Canal Street, Jericho. He hadn't planned on a second visit, but he was back as the officer in charge of a suicide investigation... Another compelling Morse mystery.
Dirty Tricks, Michael Dibdin. This gripping thriller is set in contemporary Oxford. Dennis and Karen live a life of cosy respectability until a dinner guest seduces Karen, setting in motion a chain of events which leads to ruthless murder.
The Reluctant Cannibals, Ian Flitcroft. Set in 1969, when a small group of dons founded a dining society to explore exotic areas of gastronomy with surprising and indeed fatal consequences.
Jude the Obscure, Thomas Hardy. Hardy's last and most controversial novel is set for a large part in Christminster (Oxford). The parallel stories of working class Jude, rejected by the University of Christminster, and Sue Brideshead, outcast by society for her social and sexual rebellion, focus on preoccupations of the time.
Another Kind of Cinderella, Angela Huth. 'Laughter in the willows', one of eleven short stories in this impressive collection, is the tale of an Oxford undergraduate's idyllic summer affair that is haunted by the ghost of a doomed romance.
The Oxford Chronicles, Melanie Jeschke. Inspirational historical/romances set around The Inklings, the famous group of Oxford writers that included C.S. Lewis and J.R.R. Tolkien. Book I in the series is called Inklings (2004) and Book II is Expectations (2005). Book III, Evasions, a "prequel" set in WWII Oxford will be released in July 2006.
Jill, Philip Larkin. Jill, Larkin's first novel, is set in the Michaelmas Term at Oxford in 1940. A literary classic which provides a precise evocation of the place and astute insight into character, emotions and social nuance.
All Souls, Javier Marias. A visiting Spanish lecturer finds that Oxford "is a city in syrup, where simply being is far more important than doing, or even acting". With its sparkling observations and amusing set pieces, 'All Souls' perfectly captures the drifting rhythms of academic life.
Bleak Midwinter, Peter Millar. Two weeks before Christmas, a trainee doctor at Oxford's John Radcliffe Hospital encounters a patient with rare symptoms which may be those of the bubonic plague. Could the bacteria have been wakened from a state of dormancy?
An Instance of the Fingerpost, Iain Pears. Set in Oxford in the 1660s this remarkable novel centres around a young woman, Sarah Blundy, who stands accused of a murder. Four witnesses tell their version of events but only one reveals the extraordinary truth.
His Dark Materials, Philip Pullman. Fantasy trilogy set partly in an alternative Oxford. Young Lyra Belacqua journeys to the far North to save her best friend and other kidnapped children from terrible experiments by evil scientists. 12 year-olds and up.
The Poison Tree, Tony Strong. In the wake of a failed marriage, feisty academic Terry Williams moves to Oxford to resume her doctorate in detective fiction. But her new home was previously the scene of a savage sexual murder and the past returns to invade the present with horrific consequences.
Oxford Exit, Veronica Stallwood. The fifth year in the series of Kate Ivory mysteries, all set in Oxford. The Bodleian Libary has a serious problem; valuable books have been disappearing from its closely guarded collections. The challenge for Kate is to find out how.
Adrian Mole: The Wilderness Years, Sue Townsend. Adrian is now twenty three, going on fifty, and working for the Department of the Environment in Oxford monitoring newts. His hopelessly flawed life remains relentlessly amusing.
The Travelling Horn-Player, Barbara Trapido. Twenty years on, Katherine and Jonathan (Brother of the More Famous Jack) have a daughter: "mad, bad, crazy Stella". Four narrators deal with an assortment of entangled plot-lines, a running theme of Múller's poetry and a lovely collection of cruelly perfect characterisations of various subspecies of Homo Oxfordensis.
The Men and the Girls, Joanna Trollope. Jude and Kate have apparently found true happiness with men old enough to be their fathers. When one of their partners knocks an elderly spinster off her bicycle in the centre of Oxford a chain of events is triggered in which many suppressed discontents and fustration emerge.
Brideshead Revisited, Evelyn Waugh. Charles Ryder is infatuated with the Marchmains and the privileged world they inhabit. Enchanted first by Sebastian at Oxford and then by his remote sister Julia, Charles finally comes to recognise his spiritual and social distance from them.




---

Some Oxford writers and their books

Author
College
Specimen Work
J.R.R. Tolkien
Exeter
The Hobbit, Lord of the Rings
Rose Macaulay
Somerville
Towns of Trebizond
Dorothy Sayers
Somerville
Lord Peter Wimsey - e.g.Gaudy Night
Graham Greene
Balliol
The Quiet American
Matthew Arnold
Balliol
Scholar Gipsy
A.E. Housman
St John's
A Shropshire Lad
Philip Larkin
St John's
High Windows
Robert Graves
St John's
Goodbye to All That
De Quincey
Worcester
Confessions of an Opium Eater
Richard Lovelace
Worcester
Lucasta
Barbara Pym
St Hilda's
An Academic Question
Sir Arthur Quiller-Couch
Trinity
The White Wolf
Algernon Swinburne
Balliol
Ballad of Bulgarie
T.E Lawrence
Jesus
Seven Pillars of Wisdom
Samuel Johnson
Pembroke
English Dictionary
Thomas Lovell Beddoes
Pembroke
Death's Jest-Book
John Donne
Hertford
The Flea
Evelyn Waugh
Hertford
A Handful of Dust
John Galsworthy
New
Forsyte Saga
C. S. Lewis
Magdalen
The Chronicles of Narnia
Oscar Wilde
Magdalen
De Profundis
Walter Pater
Brasenose
Marius The Epicurean
Thomas Hughes
Oriel
Tom Brown
Thomas More
St Mary Hall
Utopia
Max Beerbohm
Merton
Zuleika Dobson
T.S. Eliot
Merton
The Waste Land
Charles Dodgson
Christ Church
Alice in Wonderland
John Masterman
Worcester
An Oxford Tragedy
Brandon Thomas
Worcester
Charly's Aunt
Compton Mackenzie
Magdalen
Sinister Street
Edmund Crispin
St John's
The Moving Toyshop
Richard Mason
New
The Drowning People, Us
Adam Thirwell
New & All Souls
Politics aka Strategy; The Escape
James Gordon Farrell
Brasenose
Troubles, The Siege of Krishanpur
Michael Innes
Christ Church
Operation Pax




Are you a published author based in Oxford? Click here for Writers in Oxford, a local society with you in mind.